If you're like most people who eat at restaurants, your food repertoire can be predictable and monotonous. You order the same few dishes time after time. Sometimes making slight adjustments in the selection routine can spark a more enjoyable dining experience. Perhaps you'll even shave some calories off your daily intake. It's time to shake up your epicurean adventures, and we discovered three local eateries that offer plenty of virtuous choices.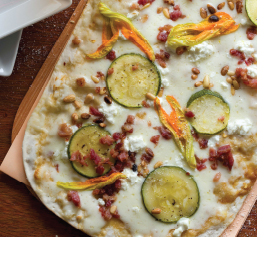 Patrick Jane's Gourmet Pizza Bar
It's hard to imagine anyone more committed to sourcing local and North Carolina-produced ingredients than Kevin and Ngiare Hubbard, husband and wife proprietors of Patrick Jane's Gourmet Pizza in Cary. The restaurant's comfortable, contemporary space offers a fresh alternative to typical pizza joints.
Certified organic flour for the pizza crust comes from Lindley Farms in Graham. Herbs are provided by Fuquay-Varina's Green Bee Farms. Goat Lady Dairy in Climax furnishes the goat cheese, and First Hand Foods in Durham supplies antibiotic- and hormone-free pork and beef. (Check out the website for a more comprehensive list of farms and suppliers.)
"I'm at the farmer's market six days a week," said Kevin, a Pennsylvania native who opened Patrick Jane's along with Australian-born Ngiare in 2013. The couple even grows basil, rosemary and mint onsite.
"We're dedicated to providing our guests healthy, high-quality ingredients so they can feel good about what they are eating."
Among the eclectic menu selections is zucchini flower pizza, which features a roasted garlic base with aged mozzarella, goat cheese, zucchini, zucchini flowers and pine nuts. Deliciously robust asparagus pizza comprises pecorino Romano cheese topped with fresh asparagus, ricotta and lemon saffron aioli.
Pizzas take approximately five minutes to cook, and the addictive crust is always crispy. Gluten-free and vegan pies are also available.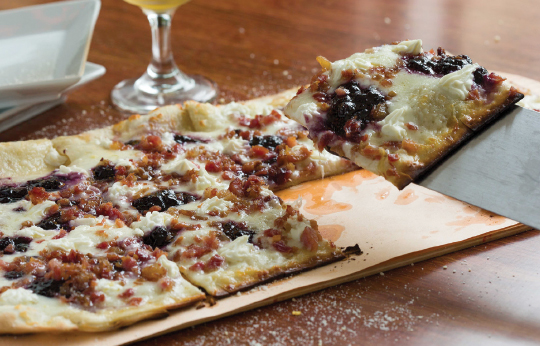 Recommendation
Rather than choosing pepperoni pizza, go for the savory-and-sweet bacon and blueberry jam pie. Created with a mascarpone cheese base, it's topped with aged mozzarella, house-made blueberry preserves, bacon and dollops of ricotta cheese.
"The mascarpone is rubbed in after the crust gets warmed up just a little bit, so it melts down into the crust and gives it a nice, buttery flavor," said Kevin.
Patrick Jane's Gourmet Pizza Bar
1353 Kildaire Farm Road
The Shoppes of Kildaire, Cary
(919) 388-8001
patrick-janes.com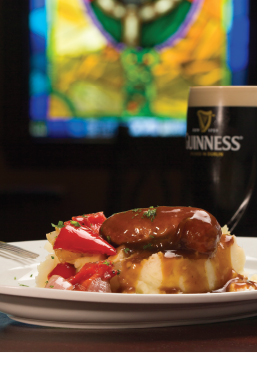 Tra'Li Irish Pub & Restaurant
Named after a town in southern Ireland, Tra'Li will make you think you've stumbled into a neighborhood pub right on the actual Emerald Isle. Handcrafted furnishings abound. Exquisite imported stained glass windows enhance the Celtic-style dining room.
Then there's the bona fide cuisine.
Requisite offerings such as bangers and mash, shepherd's pie and corned beef and cabbage are all hale and hearty. Same goes for the signature boxty, a staple from Irish farmhouse kitchens of yesteryear, which consists of shredded potatoes, bacon, flour, milk, egg and scallions. Add corned beef, grilled chicken, sliced steak or blackened salmon for an additional charge.
"We also have a carvery on weekdays where people can choose what they want to eat," said owner Martin Mahon, who additionally runs the original Tra'Li location in Raleigh. "The carvery features proper food with daily selections like roast beef and Yorkshire pudding, beef tips and fresh vegetables."
Mahon also avows that Tra'Li pours the finest pint of Guinness this side of Ireland.
"The pipes from the cooler come through the floor instead of the ceiling, so it's a shorter run. The quality is perfect," he said.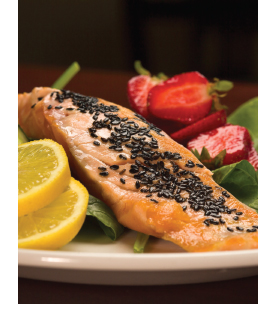 Recommendation 
Instead of eating a full plate of traditional fish and chips, consider a 4-ounce half portion of the fresh beer-battered cod  and sweet potato fries instead. Just don't skip the house-made tartar sauce.
"We use blonde ale from Fortnight Brewing Company in Cary for the fish," said Executive Chef Eamon Kelly, who grew up on a dairy farm in Ireland and is committed to supporting local food suppliers.
Not a fish and chips fan? Order the 10-ounce, guilt-free Kenmare salmon, which is lightly seasoned and grilled to your specifications. It's topped with creamed leeks and served alongside mashed potatoes and a seasonal vegetable.
Tra'Li Irish Pub & Restaurant
3107 Grace Park Drive
Grace Park, Morrisville
(919) 651-9083
traliirishpub.com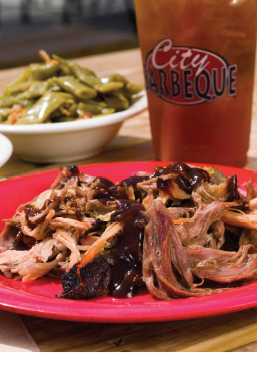 City Barbeque
Ohio-based City Barbeque has somehow managed to open its first North Carolina location in Cary only to see customers lined up out the door ever since. No doubt the recurrent queues are a testament to the legitimacy of the slow-cooked provisions being served.
What's the secret to churning out such satisfying food? Huge wood-fueled smokers filled with chicken, ribs, beef brisket and pork that's cooked for hours. The result is fork-tender, succulent meat that's as good as you'll find anywhere.
First-rate side items like baked beans with brisket, potato salad and corn pudding are worth contemplation. Impeccably brewed sweet tea is better than you'd find at a church potluck gathering.
"All our bread is locally made by Neomonde Bakery," said Market Leader Gregory Wittig, who hails from Chicago. "The Texas toast is really out of this world."
City Barbeque's fast-casual concept and rustic atmosphere make for a laid-back dining experience.
"Some people come in and expect to sit down first, but we work hard at getting them through the line as quickly as possible," said Wittig.
Recommendation 
In place of the traditional full helping of beef brisket, order the lunch portion, or "4 ounces naked." If you want a bit more protein for just a few added calories, choose the 8-ounce serving of smoked turkey. Low-carb sides such as cukes and onions, green beans and bacon and sweet vinegar slaw each score less than 100 calories.
"We also have premium fresh salads that you can top with your favorite smoked meat," said Wittig. A downloadable nutritional fact sheet is available on the restaurant's website.
City Barbeque
1305 Kildaire Farm Road
The Shoppes of Kildaire, Cary
(929) 439-5191
citybbq.com