Move over, craft beer. Nonalcoholic brews are trending upward, thanks largely to consumers seeking products with less risk of overindulgence.
We showcase three savvy local producers that are going all in on this niche beverage segment.
Quinnger Ginger Beer
Quinn McKee started brewing ginger beer at home almost 10 years ago. Using all-natural ingredients like ginger root, fresh lemon juice and organic cane sugar, he crafted a recipe that ultimately became the cleverly named Quinnger Ginger Beer (a combination of Quinn and ginger), a distinctive product that is available throughout the state.
"I started a sole proprietorship, and then introduced the ginger beer in bars and restaurants," McKee said. "Now we're in 130 locations and growing."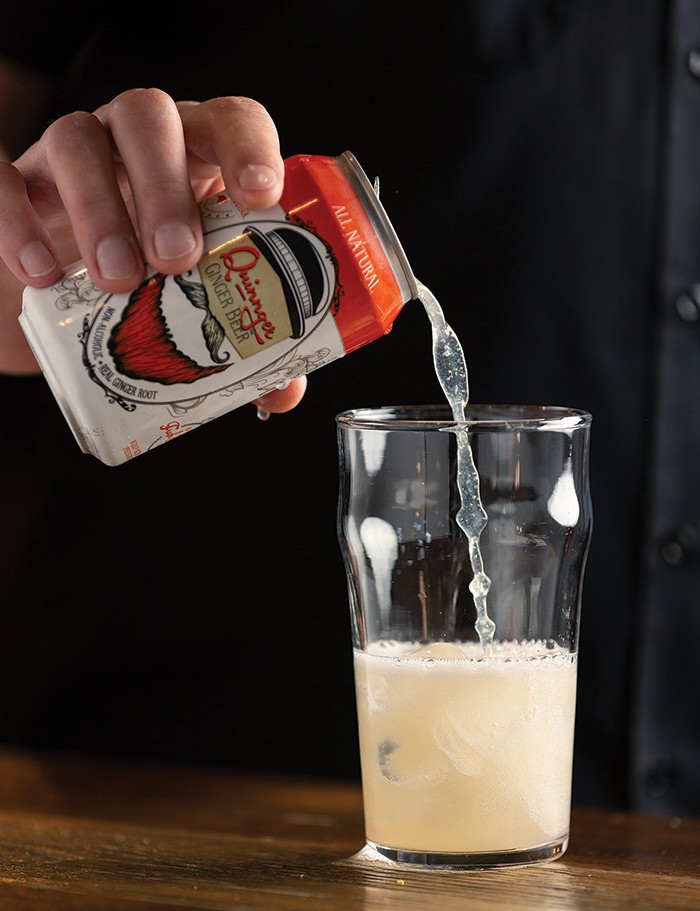 If you haven't tried ginger beer, think of it as a crisp, effervescent version of ginger ale sans the high-fructose corn syrup and other artificial flavorings.
"I juice all the ginger and citrus myself," said McKee, who lived in Tennessee and Georgia prior to setting down in North Carolina. "Freshness and balance are key, and I make it in small batches to ensure quality."
McKee brews and cans Quinnger at Fortnight Brewing Company in Cary, where the ginger beer is available on draft. Among the many other local spots where you can find it are Corbett's Burgers & Soda Bar, Ruckus Pizza, Pasta & Spirits, Doherty's Irish Pub, The Butcher's Market and Triangle Wine Company.
McKee plans to roll out a spicy version of Quinnger later this year, and he's also working on an alcohol-infused iteration. He and his wife, Beth, have invested their money, time and energy into the business. Even the couple's 7-year-old daughter, Grace, likes to help spread the word.
"This has turned into a full-time gig for us, and thankfully we don't have any business debt," he said. "Our footprint is spreading to the west. We're in Hickory, Asheville, Boone and Banner Elk. We're really pleased how it keeps growing in popularity."
In addition to brewing and peddling his namesake beverage, McKee also tends bar at downtown Cary's Academy Street Bistro on weekends. He uses Quinnger as a mixer during his shifts behind the bar.
"Ginger beer is really versatile and enhances spirits well," he said.
Larry's Coffee Nitro Cold Brew
When it comes to what's hot in the coffee sector these days, nitro cold-brew java gets top billing.
For the uninitiated, nitro cold brew is made by infusing nitrogen in coffee that is brewed using cold water. The result? Smooth liquid refreshment with robust flavor that's considerably less bitter than its conventionally brewed counterpart.
Among the local producers of nitro cold brew include Fuquay-Varina's Cultivate Coffee Roasters and two Raleigh makers — Larry's Coffee and Slingshot Coffee Company.
At Larry's Coffee, the nitro brew is cold-steeped for 24 hours using organic, fair-trade, shade-grown coffee beans. Each 12-ounce serving contains less than five calories.
"Nitro cold brew continues to be a really popular seller for us," said Jared Burton, vice president of sales and operations at Larry's Coffee, who added that founder and CEO Larry Larson has been in the cold brew game since 2011. "We anticipate increasing our cold brew sales fourfold, so it's definitely the main area of growth."
Burton says one Larry's Coffee client, a video game development company, has the nitro cold brew on draft at its offices in Cary.
"This coffee is so smooth that you can drink it straight," said Burton, who confessed that he drinks upward of five servings a day.
Larry's Nitro Cold Brew is available at Whole Foods, Fresh Market, convenience stores and at downtown Raleigh's 42 & Lawrence, an espresso bar and coffee lab owned by Larson.
"We're working to get placement on more grocery store shelves, and we're really close to having statewide distribution," Burton said.
While cold brew's popularity rises in warmer months, Burton contends that many people are choosing it as a go-to year-round beverage.
"The biggest challenge is getting typical coffee drinkers to try something new," he said. "But once they sample it, they typically love it."
Tribucha Kombucha
"We take a mind, body and spirit approach to life and business," said Adrian Larrea, co-founder and chief visionary officer of Tribucha Kombucha.
No doubt Tribucha's holistic philosophy is effective. Since Larrea and co-creator and lead brewmaster Jonathan York began brewing their increasingly popular fermented tea beverage, people have taken a liking what Larrea calls "the most approachable, drinkable kombucha on the market."
Investors have also noticed. Tribucha has raised approximately $1.5 million in funding over the last few years, and Larrea says the company is anticipating another influx of venture capital.
"We just brought in new CEO Paul Pritchard," he said. "He's been a kombucha drinker for years. He loves our product, and he wants to help take us to the next level."
Already available in more than 500 locations between Maine and Florida, there's no sign of Tribucha slowing down anytime soon. Also brewed at Fortnight in Cary, you can find it in cans or on draft at Whole Foods, Lowes Foods, Sassool, Diced Salads & Wraps, State of Beer and other Triangle spots.
"Now we're working toward the middle of the country," Larrea said. "We're planning to go national, and our goal is to disrupt the big beverage industry."
Tribucha's four core flavors – Brainiac, Controlled Burn, Flowers of Life and Café Con Bucha – have differentiated the company from other brewing concerns. Next in the pipeline is the fruit-centric Lemon Ginger Berry with whole dehydrated goji berries.
Kombucha resonates with many consumers due to its low-sugar content and all-natural ingredients and probiotics. Larrea also believes people enjoy drinking it because of its history.
"People in China and Russia have been drinking kombucha for thousands of years, and for good reason," he said. "Our kombucha is about timing and precision and craft, and we're very conscious about helping people to live better and more positive lives."