Written By Heather Green
Photos Courtesy of Gabrielle Revere

Imagine rummaging through the closets of America's worst-dressed citizens for a living and exposing these unassuming fashion victims to a whole new world of style. This job description pretty much sums up the weekly duties of television's high-energy host of What Not To Wear, Clinton Kelly.
Kelly wastes no time when it comes to helping put the fashion-challenged back on track. From his best-selling book, Freakin' Fabulous to his record-setting QVC sales and a nationwide Macy's tour, this superman barely has time to pick out his own clothes! Lucky for us, Clinton took time out of his busy schedule to update his faithful fans about top trends, terrific tips and what makes this television star tick.
CM: What got you into fashion?
CK: I sort of fell into it. I was a magazine writer and editor in New York City and I wrote about fitness, I wrote about travel, relationships and then I got a job at Marie Claire and it took off from there. I worked for Marie Claire first, then Mademoiselle magazine and then DNR where I got into men's fashion and Women's Wear Daily — the list goes on. Then one day my agent called me and asked if I would like to audition for What Not to Wear and I said, "What the heck, why not?"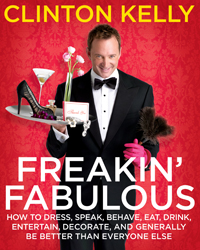 CM: If I told you that I was wearing parachute pants and a tube top right now, what advice would you give me?
CK: I would tell you to throw a blanket over yourself, go home and put something else on!
CM: What is hotter than hot right now?
CK: There are SO many things that are hot right now! The four biggest trends now are: the color purple, ruffles, vests are a big trend and plaid jackets. Specialty trenches are another big trend, and you want something that is classic with a modern twist. Whether it's a great color or print or fun button details, I think a trench is a nice option.
CM: Like millions of women, I get up in the morning and look through racks and racks of clothes and have nothing to wear. Where do I start if I want to change that but don't know where to begin?
CK: I'll tell you, if you have racks and racks of clothes in your closet, then there's a problem. That seems to me like a woman who buys clothes and doesn't think about the outfit that she's going to wear those pieces with. Also, you may be one of those women who has too many sizes in her closet. If you are a woman who is a size 10 and you have a closet with size 2 clothes because you used to be a 2, then I call that emotional baggage in your closet. No one wants to be reminded every single morning that you used to be a size 2! So you need to get rid of that stuff. I would tell you to do a great purge of your closet and spend an entire day, Iive done this myself and do it with people all of the time, going through your closet and trying things on and honestly asking yourself, "Does this flatter me?" and "Does this fit me?" If it doesn't, you've got to toss them. When I say "toss" I mean give it to charity. Then you make outfits on the bed, the couch, all over your apartment if you have to and if you can't make an outfit with a piece, then you have to decide whether or not to toss that too.
CM: So the best place to go shopping for clothes is to start with your own closet.
CK: Absolutely! People buy so much junk, and we are obsessed in this country with quantity, quantity, quantity! And that's the best way to get yourself into a pickle, and that is how this country has gotten itself into a pickle, just buying stuff unconsciously.
CM: I agree! I love designer clothes, but I'll go to Target and buy a shirt because it was $5, so I guess a good rule of thumb is just because it's on sale doesn't mean you have to buy it.
CK: Absolutely, say you buy five things for $10 each and you just spent $50 on things that don't fit right or don't look good on you, when you could have spent 50 bucks on a great jacket. People eat unconsciously and that's not good for you to shovel things into your mouth, and it's the same way with fashion.
CM: Do you select your own clothes, and where are some of your favorite places to shop (any favorite designers)?
CK: Because I am so busy these days I really don't have time to shop, so I have an assistant and a great wardrobe budget for What Not to Wear, so she knows what I like and shops for me. I shop everywhere! I have custom made suits and sweaters from Club Monaco, I wear a lot of Etro shirts because they're actually long enough for me. I am 6 foot 4 inches tall, so finding sleeves that are long enough is a challenge. I wear Diesel jeans and Rock & Republic jeans a lot, but I really shop everywhere.
CM: I checked out your Web site, www.clintonkelly.com, and you are truly one of the busiest people Iive ever interviewed. I learned that you made an appearance on QVC featuring your line of jeans that sold out in 7 seconds, thatis got to feel amazing! When are you going on QVC again, and are you going to try and beat your own record?
CK: I don't have a full show for a while, but I am doing an appearance. You'll have to check out the Web site for updates. It did feel great to sell out so quickly, and I think it's because I do know what cuts work on women. I tried to fit as many different body types as I could with one pair of jeans. I tried these jeans on a ton of different women, large rear ends, small rear ends and they really worked well for most women.
CM: Where can we find these Clinton Kelly originals, anywhere aside from QVC?
CK: No, they are exclusive to QVC, but check out www.qvc.com. They may still have some on the site.
CM: What is the worst case of distressed dressed you've ever come across? Anyone that stands out?
CK: I doni't know, I'm pretty numb at this point (laughs). I've really seen it all! I will say that the one person on the show that stands out in my mind was a woman named Joy. She was from Austin, Texas, and would attach a raccoon tail to everything she wore. Iim usually pretty mild mannered but they had to bleep me four times. She made me SO angry; she just infuriated me. I don't keep in contact with her, but I heard that she was doing really well and was even modeling.
CM: Do you and your co-host, Stacey London, ever disagree when it comes to fashion, or do you pretty much agree on everything?
CK: It's pretty rare when we disagree. I can recall a couple of disagreements in the last five years, but in general, she and I have very similar senses of humor and tastes in fashion, so it works out really well.
CM: Tell us about this Freakin' Fabulous book and who came up with this very straightforward title.
CK: (laughs) I came up with the title. I was at a Macy's event in Pennsylvania and a woman came up to me with a copy of the book in her hand and she asked, "Who came up with this title?" and I said, "I did," thinking she was going to compliment me. Instead she said, "Well, I think it's really below you." And I said, "Ma'am, you have no idea how low I can go!" Anyway, it's a book that I wanted to write and these are topics that I love and find really interesting. I love entertaining, I love to cook, I love the English language and the topics of etiquette and manners. It's just a book that I've wanted to write.
CM: Do you really throw away all of the clothes on the show? (Clintonis Web site states that this is the most asked question.)
CK: Why yes, I DO get asked that question quite often. Everything goes to charity, usually the Salvation Army, unless it's just a horrible sweater. You don't want to put that on someone who is already having a pretty rough time. What they don't really reveal on the show is that we do go through a person's wardrobe quite carefully. Because people do have some pieces that have potential, so we do let some people keep a good amount of their wardrobe sometimes.
CM: Have you ever felt bad about something you said on the show that may have made someone feel bad or thought later, "I shouldn't have said or done that?"
CK: Um, no. It is for their own good. You know, I think that if anyone ever left feeling sad or upset, I might have some remorse about that. But in the end, everyone leaves feeling pretty darn happy, and if they're happy, they know all of the comments were in good fun. So I don't have many regrets in general.
CM: When you get recognized in public, does it bother you or have you accepted it?
CK: I think I have gotten used to it. I think it's sad that people don't respect privacy when I think they should, like if I'm having lunch with someone and people interrupt that or when I'm on the phone, but most of the time people are very nice. However, I will say that I really don't like when people take my picture without asking me.
CM: Do you ever rest?
CK: Not much (laughs). I did just get through the most ridiculous travel schedule this month! Between the book and Macy's and the show, I think it was like 18 cities in the course of 20 something days. October, to me, is like a little blur. I woke up in my own bed Monday morning and I was wondering if that month was all just a dream. I really, really love what I do, but unfortunately it's a very large country and we haven't figured out how to teleport from one city to the next yet.
Catch up with Clinton at www.clintonkelly.com and for more information about What Not to Wear, visit www.tlc.discovery.com.