Local trendsetting cake bakeries, invitation companies and bridal gown boutiques give us the 411 on the styles, tastes and preferences of today's bride. Start planning all the details of your special day with this guide.
Cakes
1. Chocolate Butter Cream


Move over, fondant — butter cream icing is back! According to Blue Moon Bakery & Café in Cary, chocolate butter cream icing is in higher demand for wedding cakes while fondant requests have dropped significantly.
"More brides are telling us they like the taste of butter cream over fondant, and decorators are using techniques to really give the cakes a smooth side competing with the look of fondant," said Roger Dragon, owner of Blue Moon Bakery.
The bright colors of last year are being replaced with the use of chocolate on the outside of the cakes as opposed to keeping the chocolate on the inside.
"This year we have seen many cakes designed with chocolate butter cream decorations," Dragon said. "The designs have been white or ivory on a chocolate background or chocolate design on white/ivory."
Blue Moon Bakery & Cafe
115-G W. Chatham St., Cary
(919) 319-6554
www.bluemoonbakery.com

2. Black Accents


Throughout the years, Bonnie Lau, of Miel Bon Bons Patisserie, has created wedding cakes of all kinds, from topsy-turvy cakes to cakes inspired by elaborate print elements like invitations, replicate lace and embroidery from wedding gowns. Now, she is seeing more bling.
"We have been incorporating more black accents, often adding jewelry for sparkle," she said.
For a chic cake, rather than many different kinds of smaller flowers, Lau says they top the cake with one over-sized sugar flower. In this case, one over-sized diamond ring.
"We especially love the sophisticated and sleeker look; it is very elegant for a black-tie wedding," she added.
Regardless of how it looks, Lau says Miel Bon Bons believes the ultimate wedding cake must be an extraordinary dessert that will taste every bit as good as it look.
Miel Bon Bons Patisserie & Cafe
200 N Greensboro St., Carrboro
(919) 967-2313
www.mielbonbons.com

3. Ethnic Cakes
Brides are forgoing the traditional white wedding cake box and embracing cake designs that reflect their heritage, ethnicity and culture.
"Trend-forward brides are looking back, integrating traditional symbols and palettes from ancient cultures around the globe," said Katrina Ryan, owner of Sugarland Bakery in Chapel Hill.
Bold colors like turquoise, bright red and gold represent joy, good luck and riches.
"Beyond color, ethnic patterns like the 'double happiness,' Mehndi designs, African masks and tribal symbols can all be used as design inspirations," Ryan said.
The peacock, which is the symbol of benevolence, love and good fortune throughout Eastern cultures, was the focal design for cake for a traditional Indian wedding, and was based on a design on an antique Persian jewel box.
"It held special significance for the couple as it is associated with the Hindu God Lakshmi, the goddess of eternal wealth and prosperity," Ryan said.
Sugarland
140 E. Franklin St., Chapel Hill
(919) 929-2100
www.sugarlandchapelhill.com

4. Groom's Cakes


According to Sharon Campen, co-owner of Kat and Larry Cakes and Confections in Durham, there has been a groom's cakes renaissance, particularly in the South.
"Having a groom's cake allows flexibility when planning the wedding," she said. "It can serve as a way to provide flavor options in addition to the wedding cake, particularly if there are food allergies in consideration."
This tradition from the Victorian era is a gift from the bride to the groom allowing him to highlight his leisure activities, hobbies or favorite sports teams.
"We chose to show off a groom's love for rock climbing," said Campen "This type of cake, while whimsical and personalized to the groom, is also large enough to serve as either the dessert at the rehearsal dinner or to be given by the bride and groom as a favor to their guests at the end of the wedding celebration."
Kat and Larry Cakes and Confections
Durham
(919) 886-6004

Stationery
1. Destination Themes


When it comes to invitations, there are many unique and customizable options for brides, according to Kristen Klett, of The Green Kangaroo in Cary.
"It's sometimes hard to see specific trends or designs that are more popular than others," she said. "Each invitation we produce ends up being a unique reflection of the customer."
However, she has noticed a significant demand for destination-specific invitations.
"We're not just talking about tropical beach destinations," said Klett. "From seasonal autumn leaves, pine branches and acorns to mountain ranges, lakeside retreats and Northern nautical getaways, brides are putting a whole new level of personalization into their wedding invitations."
A destination invitation gives guests a "sneak peek" into the celebration, right down to their location, said Klett.
The Green Kangaroo
200 S. Academy St., Suite 200, Cary
(919) 468-5700
www.tgkdesigns.com
2. Letterpress Invitations on Bamboo Card Stock


Brides are making a statement with bold letterpressed fonts and prints on lavish bamboo paper, according to Holly Bretschneider, chief style officer at Salutations in Chapel Hill.
"The bamboo letterpress invitations are so popular because of their eco-friendly nature (bamboo is hugely sustainable) but also because the texture is so luxuriously soft and thick, taking the letter pressed impression beautifully," Bretschneider said.
The Smock line of letterpress wedding invitations is so popular due to their amazing designs, patterns and beautiful folio pockets, Bretschneider added. Smock is also the first print shop in the United States to offer printing on bamboo paper.
Salutations
106 Meadowmont Village Circle, Chapel Hill
(919) 918-1008
www.salutations.com

3. Decorating the Envelope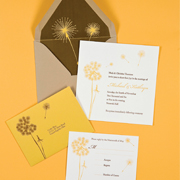 Wedding invitations are no longer all about what's inside. More stationery companies are creating full design suites that includes printing a bride's design or motif on the outside of the envelope or even a custom liner on the inside, according to Kelly Owens, owner of Daisy Notes + Paper and The Merry Martini in Durham.
"Designer envelopes give a hint to what is inside, and definitely make your invitation stand out from the stack," Owens said.
While envelope designs may add a bit to the total price of invitations, the overall appeal of a custom designed wedding suite is attracting brides with an eye for something a little extra, Owens added.
Daisy Notes + Paper & The Merry Martini
5826 Fayetteville Road, Suite 105, Durham
(919) 544-8491
www.themerrymartini.com

4. Seating Scroll
According to Maria Scheel, of Invitations and More in Raleigh, a seating scroll is an elegant alternative to escort cards. It can hang from a custom stand or displayed in a beautiful frame and placed on an easel at the entrance of the reception to tell guests where they are seated.
Seating arrangement software helps brides arrange everyone's seating correctly, in a very organized and efficient manner. It also includes live customer support if needed, Scheel added. Through the Internet, guest information is uploaded directly to the print company that will make the scroll, and the whole package is surprisingly affordable, Scheel said.
"The best thing about this product is that it is also a breathtakingly beautiful seating scroll," she said. "You get to keep it as a wonderful reminder of your special day and all those who attended."
Maria Scheel
Invitations & More…
1405 Hillsborough St. Suite 204, Raleigh
(919) 339-5233
www.mariascheel.com

Gowns
1. Tulle and More Tulle


Kate Price, one of the owners of Tre Bella Bridal boutique, said the hottest trend in wedding gown design utilizes lots of layers and accents of tulle, which is a sheer material made of silk, rayon or nylon.
"For 2011, designers are taking the unique textures of tulles and applying it to wedding gowns," said Price. "This fabulous trend creates gowns that have an ethereal effect — brides wearing this look will be stunning!"
Price added that brides who aren't in love with tulle should look for a gown with tulle accents. It will give a bride a pop of the trend without feeling like she went overboard.
Tre Bella Bridal
(919) 323-7167
www.trebellabridal.com

2. One Shoulder


It's sophisticated, asymmetrical and stylish. The one shoulder trend is not just for casual wear, but for bridal fashion as well.
"As on the couture runway the one shoulder is here to stay," said Anna Kemp, owner of Traditions by Anna in North Hills. "I am seeing this silhouette across the board in mother of the bride, bridesmaids and, of course, the bride herself."
Kemp suggests getting extra mileage out of a wedding gown and going with a one shoulder that is detachable so a bride can have two separate looks for the wedding and the reception.
Traditions by Anna
4209-100 Lassiter Mill Road, Raleigh
(919) 783-8652
www.traditionsbyanna.com

3. 3-D Floral Patterns


One of the season's biggest trends is incorporating romantic floral elements into the gown, said Alexia Joyce, owner of Lana Addison Bridal in Cary.
Three-dimensional flowers are accenting gowns throughout skirts, soft petals layered on bodices or flower corsages at the waistline or shoulder, she said.
"Pronovias, a designer found exclusively at Lana Addison Bridal, showcases bold uses of flowers in big rose clusters tucked in layers of billowy taffeta," Joyce said.
The featured dress called Mercadal by Pronovias is a strapless taffeta gown with an asymmetrical rouched dropped waist bodice and a pleated, pick-up skirt with scattered rose clusters.
"Floral accents are a great way to pull various elements of the wedding together and will be a lasting trend for many seasons to come," she added.
Lana Addison Bridal
302 S. Academy St,, Historic Downtown Cary
(919) 460-8822
www.lanaaddison.com

4. Ball Gown


Named Harlow, this gown exudes a timeless elegance with a silk organza ball gown skirt, dropped waist bodice and flattering strapless neckline, said Connie Merriman, fashion director at Raleigh's Priscilla of Boston boutique.
Any princess bride will relish the voluminous skirt that cascades into a sweeping chapel length train, or the Guipure lace on the bodice that floats over the organza, giving the dress a slightly modern twist.
"From the Melissa Sweet collection, one of Priscilla of Boston's six collections, Harlow evokes the feminine design, whimsical details and romantic embellishments that are characteristic of this line," she said. "The intricate floral design of the lace overlay is frosted with tiny crystals."
Merriman said this dress has all the fabulous elements that make it one of the favorite gowns at Priscilla of Boston.
Priscilla of Boston
2023 Cameron St., Raleigh
(919) 747-4707
www.priscillaofboston.com