Almost 37 million people made North Carolina their destination for adventure last year, making ours the sixth most visited state in the U.S.
While visitors come for our beaches, mountains and every wonderful thing in between, lucky for us, we already live here! And this year's summer adventures await, whether you're planning a vacation for two or for the whole family, or even a girls' weekend.
Here's a sampling:
Spa Splurge
If tranquility is your idea of vacation, there's no need to travel afar. The Spa at Fearrington, in Pittsboro, offers luxurious treatments promising relaxation and renewal, in a beautiful, natural setting. The spa, which opened last fall, resembles a Swedish farmhouse, overlooking an apothecary garden and complete with oversize couches and sink-into pedicure chairs.
Whether you visit solo, in a girls-only group or with that someone special, you'll find that even the spa's facial menu has a soothing sound, from the SkinCalm Facial to Exotic Moisture Dew.
Massage and body therapies include Massage Bliss for Two, Well-Being and the Exotic Lime and Ginger Salt Glow.
The spa is the newest addition to historic Fearrington Village, long known for its world-class lodging, unique boutiques and gourmet dining. Oh, and the Belted Galloway "Oreo" cows that graze the pastures here. For more information, call (919) 545-5723 or visit www.fearrington.com/spa.
Go Swashbuckling
Arrggh … experience the legend of Blackbeard the pirate at the Crystal Coast, along North Carolina's southern Outer Banks. Beginning June 8, explore relics pulled from Blackbeard's ship, the Queen Anne's Revenge, at the North Carolina Maritime Museum in Beaufort, the state's third oldest town.
Beaufort is also the site of Blackbeard's home, Hammock House. See that, and ride a double-decker bus through his stomping grounds to visit the jail, courthouse, apothecary, art gallery and the fascinating Old Burying Ground.
Paddle kayaks in once-buccaneer-infested waters, trek the "haunted" Fort Macon, and be awed by the wild Spanish Mustang horses roaming free at Shackleford Banks.
Find details at www.crystalcoastnc.org. And for more coastal fun, check out two events in Nags Head: The 39th annual Hang Gliding Spectacular, May 20–23, www.hangglidingspectacular.com, and the 29th annual Rogallo Kite Festival, June 11–12, www.kittyhawkkites.com/.
Tour Wine Country
Three days … scrumptious wines.
If you're a grape groupie, Yadkin Valley is the place to be. The first federally recognized American Vitacultural Area in North Carolina, the state which ranks seventh in wine production in the U.S., Yadkin Valley offers varieties from Merlot to Vermentino, Chardonnay to Shiraz.
The three-day Very Surry Wine Excursion allows you to tour and sample award-winning wines from 11 different vineyards and wineries, experience upscale dining and shopping, and sleep in cozy cabins.
The tour also includes the state's largest winery, Shelton Vineyards; one of the newest, Olde Mill Vineyards; an inside look at a century-old mill; tasting rooms created from renovated farmhouses and tobacco barns; firsthand looks at certified organic facilities; and strolls down vineyard trails.
For more info, visit www.verysurry.com/wine-excursion.
Also, the 10th annual Yadkin Valley Wine Festival will be held May 21 in Elkin. Get details at www.yvwf.com.
Get-Wet Adventures
Outdoor recreation plus environmental education: Can you say family adventure?
The U.S. National Whitewater Center in the Queen City of Charlotte offers an 1,100-foot MegaZip line, rock climbing, 14 miles of trails for mountain biking and running — oh, yes, and water!
Try flat-water kayaking on the Catawba River, or the unique, manmade multiple-channel whitewater river, the largest of its kind in the world, with Class II, III and IV rapids for kayaking and rafting.
Rafting is available for various levels of experience and daring, from Family, recommended for age 8 and up, to Adventure to all-out Rodeo. Eco-trekking allows the family, using a GPS, to hike a scenic trail while discovering facts about wildlife and ecology.
The newest additions here are the freefall-style Mega Jump, and the Adventure Course, an aerial obstacle course using ropes and plank bridges. Don't look down! The new Canyon Crossing lets kids and grown-ups traverse the south ridge gorge through the trees, via sky bridges 50 feet high. Getting back is even more fun, zip-line style.
Add fireworks and music to the mix, and it's the Whitewater Center's annual Fourth of July Festival, taking place July 1-4. For more information on the center and nearby attractions, visit www.usnwc.org or www.charlottesgotalot.com.
History & Honor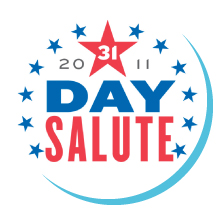 This Memorial Day, rediscover the heroic past that makes North Carolina's present possible.
Nearby Fayetteville, dubbed "America's Hometown," is indeed home to Fort Bragg, one of the nation's largest military installations; it's also the site of the impressive Airborne & Special Operations Museum.
Fayetteville hosts 31 Days of Glory throughout the month of May each year. A patriotic celebration featuring fun and education for the entire family, events include the Fort Bragg Fair; Red, White & Blueberry scavenger hunt at Cape Fear Botanical Garden; and even the crowning of "America's Most Patriotic Person," following the online "Patrioke" video singing contest. The featured tune? "Yankee Doodle Dandy."
Cumberland County Goes to War, at the Fayetteville Area Transportation & Local History Museum, is a special exhibit of artifacts and more, highlighting the county's role in the American Civil War.
This free exhibit is one of 150 events planned across the state by the North Carolina Department of Cultural Resources, to commemorate 2011 as the 150th anniversary, or sesquicentennial, of the Civil War. Events include battle re-enactments and hands-on history programs.
See www.31daysalute.com for the full Fayetteville event schedule, or www.visitnc.com for more on statewide sesquicentennial activities.