Don't let the mouthful-of-braces grin and "yes ma'ams" fool you — Rashawn King can teach us all something via some hard-earned wisdom.
"Never give up. Cherish every moment you have — never take life for granted," he said. "And work toward your goals."
These are the mantras of a young man who's already fought the battle of his life, and emerged victorious.
A standout football and basketball star, King was thrust into the larger limelight this spring when he donated lunch to all 1,900 students, staff and faculty at Middle Creek High School, via the Make-A-Wish Foundation of Eastern North Carolina.
The organization grants wishes to children and teens facing life-threatening illnesses. King, diagnosed with acute lymphoblastic leukemia in 2010, revised his wish from meeting NBA great LeBron James to feeding the community that supported him, from en masse hospital visits and raising money for medical expenses to organizing a "Pray for Ray" campaign.
"When I was down, at my lowest point, they were there for me," King said. "They did everything they could to get me back on my feet, and I wanted to thank them. It was a very happy day."
Make-A-Wish officials called King's wish unprecedented, creating a give-back category for wishes that usually fall into the four groups of be, go, have or meet.
Now, at 19, King is preparing to enter N.C. Central University on academic scholarship, to major in business and communications. His cancer is in remission, though he still takes two dozen medications daily and makes monthly trips to UNC Hospitals for IV chemotherapy treatments.
Oh, and he's restricted from eating much meat, a real drawback for a guy "obsessed" with Char-Grill hot dogs, he notes.
Most days he feels good enough to train in hopes of making the NCCU football team. Other days, especially after the IV treatments, he feels tired and unwell.
The chemo routine will continue through — just ask him — Sept. 24, 2013.
"Then I'll be cancer free!" King declares.
The self-proclaimed "wimpy kid" who struggled with stuttering as a child now knows that even life's worst fear can be overcome.
"This experience has changed my attitude," he said. "I'm more positive, and very thankful, determined and motivated. Since I've beaten this cancer, I feel like I can take on anything."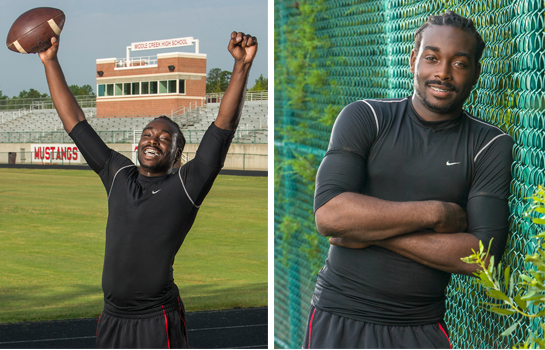 Though he knows his health and studies won't allow him to play both of his favorite sports in college, King will try out for football this season and see what happens.
"I'll keep trying out till I get on that team," he said.
Walking the path to remission with King is his family, mom Michelle Merritt, older sisters Tyesha and Ashley, brother Val, who's a rising senior at Middle Creek, and his father, Valentino King Sr.
"My mama is the sticky stuff that holds us together," King said, the one who reminds him to guard his companionship in keeping with his faith. "She tells me to 'keep the squares out of my circle,' and says sometimes you have to 'feed people with a long spoon.'
"And my brother and sisters — we don't even argue anymore. We just love each other and show each other respect."
Is there a girlfriend in the picture?
"My mama's my girl," King says with a grin. "Besides, I've got to stay focused."
His journey has also taught him a few "big picture" things.
"God puts us in situations to help others out. My faith is a lot stronger than it used to be, and I thank God for everything," he said.
As for friends, "People you didn't expect to be there were; for instance, Garrett Leatham, who's now at N.C. State, and his family constantly called and checked on me," he said.
King was recognized with the prestigious Rudy Award of high school football, honoring athletes nationally who have inspired and motivated their teammates, classmates and community. He takes seriously the role of serving as an inspiration to others.
"At first it didn't program in my head," he said. "But now I love making people happy. You build up a reputation by doing good, positive things. To be the man at your school or in your community, to have people call out, 'Rashawn, you're my hero,' I have to hold that torch up and be a good leader for them to follow.
"The three things I tell myself are to be right with God, at the right place, with the right people."
His new goals are to succeed in college, then found his own business so he can take care of his family, and a charitable organization so he can share his story.
"It's weird to be setting goals," he said, after fighting for his life. "But anything I can do, I will give it. If I could get one more wish it wouldn't be about meeting someone famous, but helping someone, giving back to those who are sick or going through a crisis.
"People being there for people is good, and makes the world a better place."