Taylor Moffitt was a sophomore at Holly Springs High School when she noticed something unsettling during lunch hour: Students sitting alone on hallway floors, in bathroom stalls and in their parked cars.
She approached school counselors with the idea of launching a Student Ambassadors club, to pair new or socially-struggling students with others who encourage involvement.
"It's so rewarding to see a student who was once sitting by themselves hanging out with other students, getting involved with clubs, and attending sporting events," said Taylor, a 2017 graduate of Holly Springs High.
She also initiated Friends for Friends, a club promoting inclusion of students with disabilities, that's reducing episodes of bullying.
"Unfortunately, disablist bullying is quite common," Taylor said. "Social skill challenges, physical and emotional vulnerability, and developmental delays all make those with disabilities easy targets. Many of these problems could be solved if mainstream students had the chance to get to know those who aren't like themselves, broadening their friend horizon."
With a mission to "destigmatize" students with special needs, Friends for Friends builds interaction through dance-offs, karaoke and games.
"It wasn't long before club members began defending students with special needs, and began accepting others despite their differences," Taylor said. "The best way to decrease bullying within schools is to get students involved. Involvement not only builds confidence, but it gives students a circle of peers with similar interests who will stand up for them and look out for their well-being."
These relationships build a culture of respect, Taylor believes.
"Being a friend can help us realize the difficulties that these students are going through, and will encourage us to stick up for others," she said. "We can all take steps to reduce (bullying) within our school or community."
The teal wristband
In 2014, Holly Springs Mayor Dick Sears launched the Mayor's Anti-Bullying Campaign, and every day wears a teal wristband bearing the group's name to invite conversation on the topic.
Community-wide initiatives such as this one, with members including Wake County teachers, pastors and business owners, are among the most promising bullying prevention strategies, research shows.
"I've learned that cyberbullying is the worst, and school bullying is second," Sears said. "I've learned that bullies can even be parents; it's not just kids. And while middle and high school are the most challenging, we've found bullying happening as early as kindergarten."
10 Ways to Prevent Bullying
Help children understand what bullying is, and that it's unacceptable.
Make sure kids know how to get help.
Encourage kids to speak to a trusted adult if they are bullied, or see others being bullied.
Give them tips for standing up to a bully, like using humor, saying "Stop," or walking away.
Check in with your kids often, and listen.
Know your kids' friends, and share phone numbers with other parents.
Read class newsletters, and attend school events.
Greet your child's school bus driver.
Encourage kids to take part in activities, to boost confidence and make friends.
Model good behavior yourself, by treating others with kindness and respect.
Information from stopbullying.gov
StopBullying.gov defines bullying as unwanted, aggressive behavior that involves a real or perceived power imbalance, and has the potential to be repeated over time. About one in three students nationwide say they have experienced bullying at school, reports The National School Climate Center.
"Awareness helps"
Morrisville Mayor Pro-tem Steve Rao got involved in the Mayor's Anti-Bullying Campaign after the suicide of a local Indian-American teen, which was attributed in part to cyberbullying.
While no direct link has been found between bullying and suicide, according to The Centers for Disease Control research does show that involvement in bullying — along with other risk factors — increases the chance that a young person will engage in suicide-related behaviors.
"I worked with the parents to learn more about bullying and how it can have a negative impact on our children's self-esteem and mental health," Rao said. "I started getting phone calls from other parents, letting me know that technology and social media are making bullying easier."
The Mayor's Anti-Bullying campaign has brought an anti-bullying presentation to Triangle Math and Science Academy in Cary, and an interactive musical on bullying prevention to Holly Grove Middle School, which has "bully boxes" for students to use in reporting bullying incidents.
At Holly Springs' recent July 5 celebration, members offered the free MyePal app, a "panic button" that can pinpoint users' locations and sound a siren or silent alarm. The app was developed by Software Goldsmith Inc., of Holly Springs.
Funding for the Mayor's Anti-Bullying Campaign comes from individual donations, and from the proceeds of shows produced by inclusive theater project Together On Center Stage, based in Apex and led by Alan Rosen.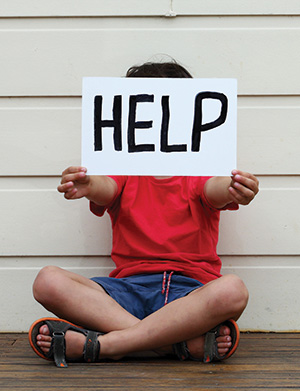 "The number one thing I tell (students) is, 'You are not alone,'" said Sears. "The answer depends on the situation, but in general, tell your parents. If they can't help, tell a teacher. Tell a guidance counselor. Tell the school resource officer. Tell the principal. Tell the school board. Awareness helps."
Over the past year, Rao says he has leveraged the expertise of local experts and counselors to lead forums against bullying.
"Our Crusade Against Bullying Forums are bringing more awareness, but also forcing our community to have an honest conversation about bullying," he said. Long term, he'd legislative bills imposing stricter penalties for cyberbullying, and tighter school policies on social media.
"Finally, I want more parents to come together," Rao said. "Even if our own kids do not suffer from bullying, someone else's child is experiencing the trauma."
More Resources