Cary SuperSkippers hop, skip & jump into life skills
It's surprising, what kids can do with a couple of jump ropes and the call of "Ready, set, go."
Those ropes turn quickly then disappear, other than a whir in the air and a fast tap-tap on the gym floor. Thirty seconds of speed jumping becomes a minute, then three — the equivalent of nearly 800 running steps.
But we haven't seen anything yet at this practice session of the Cary SuperSkippers jump rope team, based at Cary Family YMCA and made up of kids ages 8 and older.
"What we're doing in the sport of jump rope today was not possible five years ago," said SuperSkippers head coach Gary Anderson. "Now 10-year-olds are doing things 18-year-olds used to do, and we're adding gymnastics elements."

"You learn the jump rope short term, and the life skills long term," says head coach Gary Anderson.
Jumpers "mule kick," aka handstand, into double Dutch ropes, which turn in opposite directions, and perform fancy footwork to high-energy beats.
Kids "handle switch," swapping spots with rope turners in the blink of an eye, crouch down and pop back up without missing a jump, and high-step with hands behind their backs.
It's all impressive, and how the Cary SuperSkippers earned back-to-back USA Jump Rope National Championships, in 2012 and 2013. They also have hundreds of medals in USA Jump Rope and AAU Nationals to their credit and earned an overall gold in 2006 FISAC World Competition.
In 2012, SuperSkippers even performed a double Dutch routine on TV's Live with Kelly, and were surprised onstage by a visit from First Lady Michelle Obama, who jumped rope with them.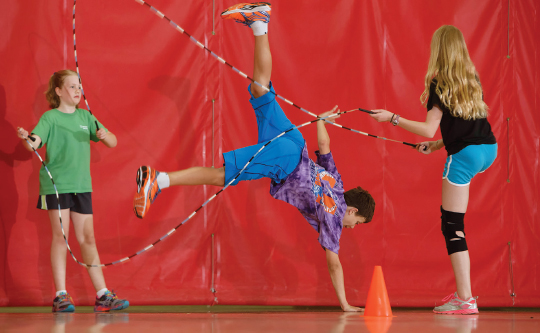 But competitions and appearances are just part of the SuperSkippers experience, their coach says.
"One, we're the competitive jump rope team of the YMCA of the Triangle," Anderson said. "Two, we're a performance team doing shows at retirement homes and local festivals. And three, we're teaching other kids via summer camps at the Y and clinics across the area and doing outreach into diverse neighborhoods."
The SuperSkippers program, launched in 1994, has grown to the point that Anderson and his Y colleagues are now working to start jump rope clubs among the 13 branches of YMCA of the Triangle.
"Over the next year we expect to raise awareness, perform at other branches, and start non-competitive clubs to make jump rope accessible," said Emily Behr, branch communications and administration director for YMCA of the Triangle.
Anderson, a longtime sports coach and USA Jump Rope board member who holds a degree in psychology, notes that Skippers tend to be good students who enjoy additional sports, are hard workers, and stick with the team long-term.
"Being on the team teaches good time management, taking responsibility, confidence and patience," he said. "Skill is not enough — you have to be able to work with others, learn how to help someone else overcome a challenge.
"The older kids serve as role models and mentors for the younger, and we spend more time teaching teamwork; it's beyond necessary here," Anderson said. "You learn the jump rope short term, and the life skills long term."
The teamwork concept is evident at practice, where 11-year-old Grace helps Kennedy, the youngest member of the team, wrap her rope.
Later, Kennedy partners with 9-year-old Julia to develop a routine. The ropes get tangled, but there's laughter in the interaction.
"Can you do this?" is a common refrain among the sea of bobbing ponytails, freckles and braces. Even the youngest team members create their own single and partner routines, with help from Anderson and assistant coaches.
Anderson choreographs group routines to carefully-selected music.
His mantra? "I'm always thinking, 'What's never been done?'" he said.
But even at competitions, teams share routines with others.
"No secrets, it's that kind of community," Anderson said. Next up for his 72-member team is the 2014 U.S. National Jump Rope Championship, June 26-29 in Long Beach, Calif., and the AAU Junior Olympics, July 23-26 in Des Moines.
Scoring for jump rope routines is similar to figure skating, Anderson says, with points for difficulty, presentation and required elements. Team members train three days a week — five at competition time — on speed, endurance, strength and freestyle skills.
While the routines are complicated, required equipment is simple: running shoes and a long-handled, plastic "licorice rope," priced under $3. Heavier beaded ropes, more visible and better at holding shape during tricks, are also common.
Tryouts for the Cary SuperSkippers are held annually in August. Information and videos regarding required skills are posted at ymcatriangle.org, and the Y offers summer camps focused on developing these skills, beginning this month.
"The cool thing about this program is its focus on relationships," Behr said. "The team is well-recognized as national champion, but the SuperSkippers also further our mission by building character and teaching leadership skills. It fits perfectly with the Y mission; whether jump rope or soccer or any youth program here, it's about much more than the sport."
For more about the team, see superskippers.org.

Overheard:
Erin, 12
On mentoring: "We help the younger ones focus and do everything right."
Likes: Meeting new people and traveling to new places
Hardest part: "It's frustrating when I can't get a new trick. Sometimes we ask the coach, but usually we work with friends to put together our routines."
On her 5 regional and 3 out-of-state competitions: "I was ready, but a little nervous!"

Grace, 11
Favorite: Double Dutch
On competition: Worlds last year — "pretty scary!"
"SuperSkippers is really fun! We get to do a lot of different events, and communicate with friends we don't usually see, who don't go to our school."
Spencer, 11
Likes: Competitions. "They're the most fun. It's cool to watch other kids do their routines. We watch and get ideas."
On creating routines: "We put in tricks we've learned, and we add fun and get creative."
Julia, 9
Hardest part: Memorizing routines. "But we have mentors; if we have questions, we can go to them."

Kennedy, 8
On remembering routines: "It's mostly 8-counts."
John, 11
Likes: Competitions. "I have stage fright but it's good for me, and I like being with friends."