Generations reconnect in wireless wonderland
Sometimes to connect, you have to unplug.
That's why the Keighley family of Clayton — mom Eileen, Sean, 5, and Grace, 8, are regulars at Go Play Outside Now.
"I say, 'Put away the iPod Touch and let's go outside," said Eileen. "We swing, play laser tag and ride the water slide. They love, love, love Go Play Outside Now."
A family recreation center carved from dense woods, Go Play Outside Now is the vision of Ann VanTiflin, mother of four and a longtime marble master — as in stone.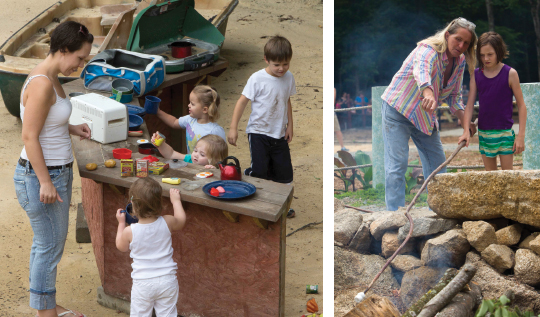 With the goal of encouraging multi-generational outdoor play, offerings at Go Play Outside Now run the gamut from age-adaptable laser tag to water slide, beach volleyball and giant tire swings. "We have no arcade or tokens, no Wi-Fi, and everybody is welcome," says founder Ann VanTiflin, pictured above right helping Victoria Larocque roast marshmallows.
With the goal of uniting families through play, VanTiflin led more than two years of construction to create a park larger than she even imagined, using natural resources.
Imprinted in the park's basketball court are her hope-filled words, which fueled the project: Someday, kids will play here.
"We have no arcade or tokens, no Wi-Fi, and everybody is welcome," VanTiflin said, adding that the park features handicapped-accessible paths. "Families of all ages, sizes and abilities can play outside together here."

Adelie Sabo and Amber May "hang out" on the monkey bars.
And the park name? That's an encouraging phrase VanTiflin often heard as a child, from her own mom.
"'Go play outside now' is a phrase all moms said to their children in earlier days," she said. "From changes in society, children are no longer able to play freely through the neighborhood. It's my hope that they can re-engage in outdoor play in a safe place."
Family bonding is hands-on at Go Play Outside Now, where moms and grandparents push kids on Tarzan-style ropes and recycled-tire swings, and dads join tykes in pedal car races at Fast Eddie's Used Cars.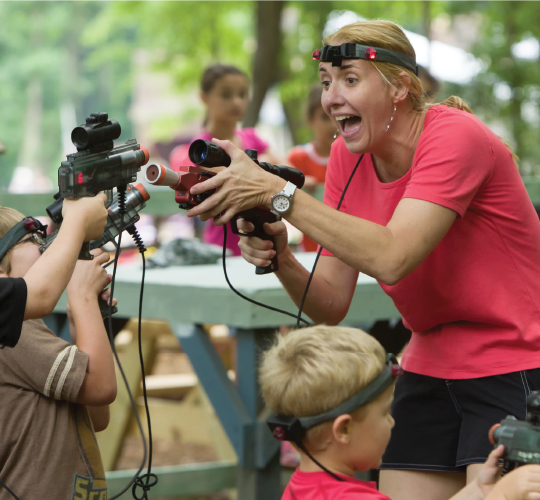 Willow Springs Elementary teacher Joanna Cash gets laser tagged by some of her students during a track-out day at the park.
"It's all imagination; there's nobody telling you, 'This is how it goes,'" said Paula VanTiflin, Ann's youngest daughter and a park employee. "The kids make new friends. It's beautiful, really."
A wish-you-were-here beach offers 10,000 square feet of sandy dunes, volleyball and wading pools, and at the nearby campsite kids cook and serve pretend foods from the kitchenette.
Linking play areas is a trek through the Mine Shaft, built to withstand tornado-level winds and double as an emergency shelter.
The Shipwreck, made of pilings washed ashore in Hurricane Irene, serves as a greeting center in the shadow of Mount Bradley, an adventurous climber offering bike and tire-roll options to get back down.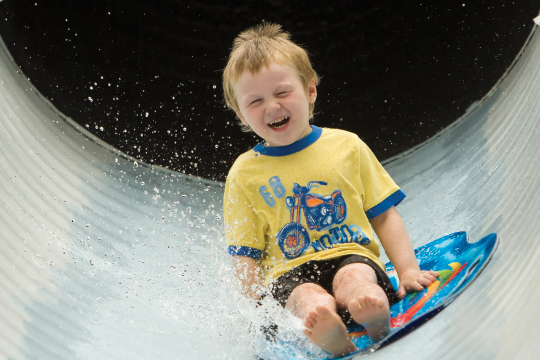 Constructor Bradley Wright says his namesake peak is in use year-round, and in winter sports manmade snow drifts 10 feet high for sledding.
"We want you to play hard and sleep well at night," Wright said of the play, as he leads the way to the 2-acre Laser Forest. Families run, jump, and hide behind homemade teepees and painted barrels while aiming "laser beams" at their targets.
The European-style laser tag, adaptable for various ages, features a high-tech headband and gun; long-distance scopes add challenge for teens.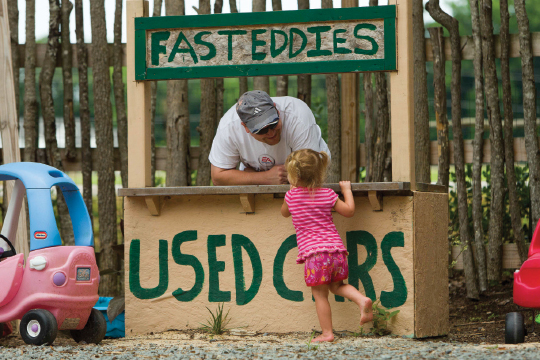 Zebulon resident Michael Alford plays used car salesman with his daughter, 2-year-old Miranda, at Go Play Outside Now, an outdoor park in Garner.
"We give continuous 'lives,' so there's no win or lose," Paula said. "We have 2-year-olds and 92-year-olds playing, and everybody has fun."
All-day, all-inclusive play is included in Go Play Outside Now's $10 admission fee, $5 for toddlers.
The hot-weather highlight of the park is its three tube slides, including a 45-foot, get-wet experience that elicits gleeful shrieks from all ages, and smiles from a supervising Ann VanTiflin.
"It's a great, safe environment, and I love that," said Keighley, who has also hosted birthday parties here for each of her children. "It's such a large area, with friends and so much to entertain. We'll be here for hours."
Shady picnic areas invite families to pack a lunch, or bring hot dogs and s'mores fixings to cook over the large fire pit.
Go Play Outside Now also has homemade air hockey tables, oversized chalkboards, and a cozy cabin offering air-conditioned respite for active youngsters (and grandmas), filled with puzzles, games and books.
"We've seen five generations playing the same things and enjoying them together," VanTiflin said. "Young parents need a place to enjoy their children, to communicate and play. And I've had grandmothers thank me and say, 'You gave me my family back.'"
Go Play Outside Now
44 Cornwallis St., Garner
(919) 796-5601
goplayoutsidenow.com