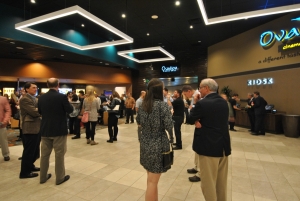 Fred Van Noy has come a long way since high school when he peddled popcorn at the local Carmike theater. Today, he's chief operations officer for the Carmike Cinemas chain, in town to share its grandest achievement to date, the Ovation Cinema Grill 9 in Holly Springs.
The Ovation theater concept includes reclining leather seats, a full-service menu, and the Carmike "Big D" movie experience, its version of IMAX.
"Big D stands for Big Digital Experience; this is the premium Carmike experience, and
we're very proud of it," Van Noy said. "We have an almost 70-foot screen, and the best sound system you can purchase, acoustically adjusted, measured and designed to hit every seat. You can't enter a market like this one and not be best at your game.
"You have to be creative, open-minded, and understand where the demographic is headed," he added. "This is a social event. We've consolidated the movie-going experience with dinner, and condensed the time frame from four or five hours to two and a half. We're amazed by the feedback."
Holly Springs has been on Carmike's radar for some time, Van Noy said, based on the area's growth. This theater is the first Big D site to be built as a dining concept from the ground up. Three others nationwide were converted from traditional theaters, and four more are under construction.
Along with the Big D theater are smaller auditoriums Van Noy calls "right-sized" to a movie's audience, which allow the films to be shown for a longer period.
Plans also call for the theaters to be used for concerts and sports showings; they're available for rent as sites of business meetings.
Van Noy notes that families are welcome at Ovation.
"We think Hollywood offers great movies in all demographics, so we're showing everything from G-rated Disney to R-rated movies. And our menu is formulated that way too," he said.
"Our industry is fragmented; there are so many ways to watch movies. We want to serve all walks of life and age groups."
The food
The menu at Ovation Cinema Grill covers all the bases, from starters like Boom Boom Shrimp to Cavatappi Pesto Alfredo, Pear & Gorgonzola Flatbread, salads, wraps and the Triple Bacon Burger, plus a kids' menu.
You can also order up wine, beer, cocktails and martinis, and desserts such as Peanut Butter Silk Pie. And of course, there's popcorn and candy.
"We've spent a long time and a lot of effort to make this work for the Holly Springs area," said kitchen manager Ed Tamper, who lives in Cary. He and Van Noy add that the menu will likely evolve to include breakfast foods and local audience preferences.
Van Noy points out that this site represents a "900-seat restaurant," also serving dine-only patrons who don't plan on watching a movie.
He adds that Carmike management is impressed with talent pool here in Wake County.
"Our training program emphasizes all aspects of the experience," he said. "Staff are eager to learn, and they understand our model and the urgency to deliver a great product."
Scott Manning, president of the Holly Springs Chamber of Commerce, also commended staff at Ovation's grand opening celebration, adding that the theater is an economic development tool for the community, helping to make it attractive to other companies interested in locating here.
As a show of community support, Ovation donated the proceeds from $3 movie preview days totaling $12,000 to local entities Meg's Smile Foundation, Holly Springs Food Cupboard, Holly Springs Elementary School, Holly Ridge Elementary School, Holly Grove Elementary School, Holly Grove Middle School and Holly Springs High School.
For more information on Ovation Cinema Grill 9, click here.
Photos courtesy Carmike Cinemas