Step into the kitchen of Chef Elise Johnson, as she dishes up her family's favorites with hearty sides of boisterous laughter, and hugs all around.
Her laugh, she'll admit, leans toward loud, but it's completely contagious. Her culinary training is informal, she loves the farmers market and doesn't even own a microwave. And her motherly style, extended to all who enter here, is captivating.
Johnson, known for her blogging, cooking classes and TV segments called Cooking with Elise, recently added author to the menu of her life. Funny thing is, this new cookbook is also a parenting manual of sorts.
From her home outside Garner, Johnson jokes about being dubbed by fans as the "Portuguese Paula Deen," and makes self-deprecating short jokes. Animated and expressive, her hands do a lot of her talking.
But Johnson is quite serious about the objective of her book, titled You Never Cook Alone: Stirring Memories, Feeding Souls & Building Legacies: To help families grasp that cooking and eating together can have great power in building healthy relationships.
"The whole premise of the book is to encourage families to cook together," Johnson said. "You can love people through food — that's the secret ingredient."
Johnson, married to Mike and mom to college-aged sons Nathaniel and Alexander, and cat Isabel, has research to back up her passionate assertions on family meals.
"Kids are safer, more communicative and more committed via sharing a sit-down family dinner. Helping prepare it makes kids proud, and gives them self-esteem. Research shows they get higher grades, and are less likely to drink, do drugs or have premarital sex," she said.
"Eighty percent of parents say they value and understand this, but only one in three families is doing it even a couple times a week. That's a massive disconnect."
In the Johnson home, every Friday is homemade pizza night, a tradition her parents in Massachusetts have also adopted.
"They're a thousand miles away, but they're making the same pizza dough as my kids — that's the connection," she said.
Johnson credits daily doses of love and acceptance as a child, found in her late grandmother's kitchen and around her family's dinner table, for her ability to overcome a severe and isolating speech impediment.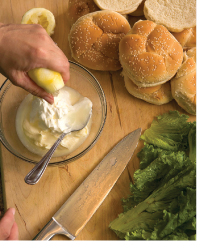 Working side by side, the otherwise-bubbly child who couldn't speak and "Vavo," her Portuguese grandmother who spoke little English, created many of the generation-spanning meals and memories recorded and celebrated in You Never Cook Alone.
As readers get to know Vavo, Nate, Alex and even Uncle George through the stories that serve as recipe illustrations, Johnson aims to inspire new family traditions.
"My grandmother invested time with me. My mission is to let people know that if sitting and cooking together can make a child talk, what can it do for your family?" she said. "When you know something works, you want to share it, and I know this works."
Vavo's Pan Fried Fish and Red Gravy is in the cookbook, along with the oh-so-finely-textured chicken salad made by Johnson's mother, Mary, and Portuguese favorites like Massa Sovada, aka sweet bread.
The book's Eventful Meals section runs the gamut from themed family game night menus to murder mystery dinners and sock hops. There's even a menu for a Star Trek-Klingon birthday banquet enjoyed by Alex, complete with Romulan Ale.
"Events are what we do; this is entertainment for us," Johnson said of her family. "But people can take from these themes what they need or can do."
Recipes include basics from Old Faithful Whipped Mashed Potatoes to fun-loving how-tos on The Great BLT with a Kick and Everything but the Kitchen Sink Breakfast Pudding.
Don't tell Johnson that you can't cook, or that you have to work: "Anybody can cook," she said firmly. "And my mother and grandmother both worked, too. With a little effort, you can schedule meals and still get to the soccer game or play. You just have to commit to cook together.
"Homemade is easy and therapeutic to me, and worth the effort. But if you can't do homemade pasta every time, use quality dried pasta and just make the sauce with your kids. The point is how valuable it is to be together."
Part two of her cookbook is No Passport Necessary, featuring recipes from her Portuguese heritage, and from around the world. Many of these dishes were discovered during home-school geography studies with her sons.
From Indian Naan Bread and Irish Beef Stew to French Coq au Vin and Mediterranean Baklava, these recipes help families journey together, meal by meal.
With national book-promoting appearances now on her to-do list, the Johnson family works harder to maintain its traditions.
"To make sure we still eat around the table together daily, we still plan all our meals," Johnson said. "And with my sons home from college this summer we cook together each day.
"Going from a stay-at-home/homeschooling mom of 21 years to the president of a corporation has enhanced our family relationships in many ways," she added. "My boys accompany me on my trips to book signings and media appearances when they can; they even added their own stories to my book. Like everything else we do, it's a family affair!"
The kitchen is the heart of the home, the old saying goes. Johnson wants you to join her in stirring up meals and memories.

Editor's note: You Never Cook Alone is available via Johnson's website, cookingwithelise.com, and at area bookstores.