Alton Parker is a teenaged ad-libber who's been known to deliver his lines in French, or lead an audience in singing the national anthem in the middle of a stage show.
But no one cares that these moves weren't in the script. That's the beauty of Together on Center Stage, a theater arts program offering on-stage and backstage opportunities for people ages 6 and up, regardless of ability.
"Together on Center Stage is an inclusion project, and that's really important," said Alan Rosen, volunteer director of this performing arts group, which is supported by the Holly Springs Civitan Club. "I believe everybody can do it; we look not at limitations, but at possibilities."
Playing the Wicked Witch, Emily Dethlefsen of Holly Springs exclaims, "I'm melting!" as others pretend to shower her with water during a rehearsal of TOCS Meets the Oz Wizard. Shows are developed by participants, with themes like tolerance and humility. Registration for the spring session of TOCS begins Dec. 1.
Alton, 16, takes part in the twice-annual theater productions of TOCS, where participants from across the Triangle create and perform original works following six to eight weeks of study on topics such as script and song development, stage blocking and sets.
"Alton loves theater and music; he's very retro, and his favorite show is The Lawrence Welk Show," said his mom, Tracey Parker. "Together on Center Stage means a lot to him. There's a real sense of family, and it's done a lot to boost his confidence.
"It's a unique opportunity; there's absolutely nothing like it," she said, noting that the family drives from Raleigh to take part. "Every year Alton shows us something new, and I see it in the others too, the sense of pride it gives them. These shows produce little miracles."
TOCS works to build social and performance skills, self-esteem, discipline, responsibility and positive values, says Rosen. Disabilities don't matter, but respect does.
"We storyboard, and always have a theme like tolerance, respect or humility," Rosen said. "The participants come up with ideas and we put it together."
Alton Parker, 16, left, has grown in confidence since taking part in TOCS, says his mom, Tracey Parker. Director Alan Rosen, right, says, "It's an inclusive project, and that's really important. We look not at limitations, but at possibilities."
The resulting fun includes original plays such as It's A Backwards World … So Who Is LAMRON?, performed for audiences at the Holly Springs Cultural Center in partnership with the town's Parks & Recreation department.
Most recently, the cast performed TOCS Meets the Oz Wizard, in October.
On Dec. 1, registration begins for the spring session of Together on Center Stage, which begins March 1 with Tolerance & Respect as its theme. Participants will create an original show to be presented in mid-April.
A lifelong educator, Rosen is also the creator of Through Our Eyes, an inclusive musical theater production featuring true stories told by those with special needs. The show was performed at the United Nations in 2008, and at the National Down Syndrome Society's Buddy Walk in 2009.
Rosen, who moved to Cary from New Jersey in 2009, is a recipient of the Dare to Imagine Award given by VSA (formerly called Very Special Arts), an international nonprofit providing arts and education opportunities for people with disabilities.
VSA is part of the Department of VSA and Accessibility at the John F. Kennedy Center for the Performing Arts in Washington, D.C.
Dick Sears, Holly Springs' mayor and a charter member of the Holly Springs Civitan Club, says TOCS is a perfect example of the club's mission to build good citizenship, and serve individuals and community.
Bella Koran of Holly Springs ad-libs during a theater acting exercise.
"In other words, we work to make the world a better place. Together on Center Stage fits this mission 100 percent," Sears said. "It provides our citizens with what 'inclusion' means and that definitely promotes community spirit.
"Watching these great shows is not only heartwarming, but shows us what participants' abilities and positive attitudes bring to the table," Sears said. "I feel that anyone who watches will come away from the shows as a better person."
Rosen and other volunteers are working to develop further partnerships with local schools and communities, and enlist new volunteers and people who can carry the program into the future.
"When people work together on projects like this," he said, "it makes the world a more inclusive place."
Get Involved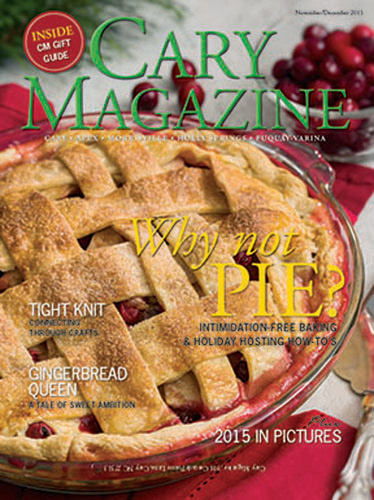 Let's Get Together on Center Stage