After watching the devastating effects a magnitude 7 earthquake unleashed on Haiti on Jan. 12, there's a call to action in our hearts to do something. In Haiti's greatest time of need, organizations, charities and churches in the Triangle are looking for volunteers, donations and items to help the relief efforts in Haiti. Here's how you can help:
Rotary International
Local Rotary clubs in conjunction with Rotary International have arranged for six Beechcraft Barons planes to deliver emergency supplies to rural areas of Haiti where first responder resources are not available. These planes will land on small remote airstrips and reach people who would otherwise depend on Port-au-Prince for resources, which are no longer available.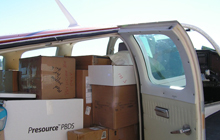 Rotary and Bahamas Habitat volunteers loaded up a plane that arrived in Haiti earlier this week.
The following items are needed:
over-the-counter pain relievers
medicated skin lotions
bandages, sterile gauze and pads
wound care items/medical supplies
water purification tablets or devices (available from camping stores like REI)
non-bulky feminine supplies (ultra thin pads)
light, non-bulky blankets (fleece material cut into 6-foot lengths is a good option)
baby formula
cloth diapers and diaper pins, no disposables

Donations will be accepted at the Handmade for Haiti retail location in Cary at 1883 Lake Pine Drive (Highway 64 & Lake Pine Drive next to Courtney's Restaurant) from noon–2 p.m. on Jan. 22 & 23. Outside retail hours, donations may be placed in the orange plastic bin at 302 Bordeaux Lane in the MacGregor West subdivision.
For more information on Rotary efforts, contact PDG Don Buckner District Relief Chairman Rotary district 7710 by e-mail at donb@roxboro.net.

ABC 11 & Harris Teeter
ABC11 Eyewitness News has partnered with Harris Teeter to provide relief funds to Haiti. Beginning Jan. 15, all Harris Teeter stores will sell $1 and $5 Haiti Earthquake Relief cards and all the money raised will directly benefit the American Red Cross International Response Fund.
Shoppers who want to contribute to the cause should pick up either the $1 or $5 card and tell the cashier they would like to make a donation. The cards will be scanned and added to the grocery total. There is no limit on the number of cards that may be purchased.
ABC11 Eyewitness News anchor Larry Stogner is providing live updates from Haiti as the information unfolds. Stogner traveled to Haiti with the 82nd Airborne Division in its mission to provide humanitarian support to the country on Jan. 12.
NC Baptist Men
A medical team arrived in Haiti on Jan. 20 in order to replace the current team that is assisting a local community hospital east of Port-au-Prince. NCBM sees this as a long-term ministry. Volunteers will be needed, however, they do not have a timetable established at this time. Check them on Twitter for updates http://twitter.com/NCBMHaitiRelief
Donation checks designated for NCBM Haiti Relief Fund can be sent to:
North Carolina Baptist Men
P. O. Box 1107
Cary, NC 27512-1107
First United Methodist Church — Cary
People are asked to assemble health kits at home and bring them to FUMCC for distribution to Haiti Jan. 24 and 31. Items required include:
1 hand towel (15" x 25" up to 17" x 27")
1 wash cloth
1 comb (large and sturdy, not pocket-sized)
1 nail file or fingernail clippers (no emery boards or toenail clippers)
1 bath-size bar of soap (3 oz. and up)
1 toothbrush (single brush only in original wrapper; no child-sized brushes)
1 large tube of toothpaste
6 adhesive plastic strip bandages
All items should be placed in a gallon sized zip-close bag. Please note that no extraneous items, no notes or cards, etc. should be included. A collection bin will be located in the large narthex. Trucks will be outside the church during their three worship services taking donations. For more information, visit www.fumc-cary.org/.
The Salvation Army of Wake County Hope for Haiti
The Salvation Army is continuing to support movement of personnel and materials to Haiti to support its 700 officers and staff who have been responding to the needs of residents. Citizens can donate online at www.salvationarmycarolinas.org/news/haiti-earthquake, call (800) SAL-ARMY or text "HAITI" to 52000 to donate $10 to the Haiti relief fund. The charge will appear on your mobile phone bill.
Teens for Jeans
Aeropostale will match the first 100,000 jeans donated to any of its retail locations nationwide with a new pair of jeans to Haiti during its third annual Teens for Jeans donation program from Jan. 19–Feb. 14. Donators get an additional 25 percent off the purchase of new jeans with their donation. For more information, visit www.teensforjeans.com.
Greater Good.org
Animals are also suffering and in need of care. Haiti has an estimated 5 million head of livestock, a large stray dog population, native wildlife and an untold number of companion animals. Through Greatergood.com, International Fund for Animal Welfare has partnered with the World Society for the Protection of Animals to launch an animal relief response to treat critically injured animals, vaccinate, distribute food, water and basic medical care. Donate at greatergood.org and click on Help Animal Victims in Haiti.
Faith Missionary Baptist Church
Faith Community Mission Initiative of Faith Missionary Baptist Church will be having a BBQ pulled pork plate sale on Jan. 23 at the Auto Zone parking lot on Main St in Fuquay-Varina. Proceeds from the sale will go to The Haiti Connection in Raleigh and Joy in Hope in Cary.
The Fuquay-Varina Jr. Woman's Club is pre-selling BBQ by the pound ($8 per pound or $35 for 5 pounds) as a fundraiser for Haiti. To place your order by phone, call Megan Olson at (919) 633-5318.
Joy in Hope
Crosspointe Church in Cary is the largest supporting organization of Joy in Hope, a parent organization for Haitian Children's Home. This organization was founded with the mission to support, encourage and build Haitian families in order to provide them with the spiritual, educational, cultural and physical foundation needed to impact their community, their nation and the world for Christ. Donate to their efforts at www.helphaitikids.org/donate.asp. For more information, visit joyinhope.org or call (919) 439-7038.
Dine Out for Haiti
Rocky Top Hospitality's restaurants will participate in a Triangle-wide Dine Out for Haiti relief fundraiser on Jan. 24 and donate 10 percent of all sales to support aid efforts in Haiti. Michael Dean's, Bogart's, Red Room, Hi5, Twisted Fork and the Mash House will host the event. Chef Amy Tornquist, of Watts Grocery, has organized the event and other restaurants including Six Plates, Rue Cler, and Pop's (Durham); Lantern Restaurant, Saxapahaw General Store and Crooks Corner (Chapel Hill); as well as Globe Restaurant and Ruckus Pizza Pasta and Spirits (Raleigh) will host the event on Jan. 24 and 25.
Proceeds will go to Partners in Health (http://www.standwithhaiti.org/haiti) and Family Health Ministry (http://www.familyhm.org/.)
Stop Hunger Now
Local organization Band Together is working with Stop Hunger Now to contribute to shipping more than 250,000 meals, bottled water and medical supplies to Haiti. Band Together will match your donation dollar for dollar up to $5,000 total. The goal is to raise $10,000. Please donate before Jan. 31 and help Band Together send a clear message that the Triangle supports humanitarian efforts around the world. Visit bandtogethernc.org/tickets/donate.aspx to donate.
An Restaurant
Cary's An is partnering with American Red Cross to donate 20 percent of their proceeds from food sales during Jan. 25-Jan 30. For reservations, call (919) 677-9229 or visit www.ancuisines.com
Cupcakes
Swank Cake Design, Papertown, the Cotton Room (at Golden Belt) and Jenn Carlin at Triangle Catering have joined forces to help Haitian earthquake victims in need. You can participate in "Cupcakes for Haiti" by going to Papertown in Raleigh on Jan. 21 and donating a minimum of $5 to Direct Relief International, which is a nonprofit humanitarian medical relief organization. Each $5 donation gets you six cupcakes. Donations must be made in person to receive the cupcakes.
Papertown is open until 7 p.m. and is at 2821 Spring Forest Rd in Raleigh. Their phone number is (919) 876-0215. For more information about Direct Relief International, visit www.directrelief.org.

BEWARE OF RELIEF SCAMS
Make sure money you donate to earthquake relief efforts in Haiti goes to disaster victims rather than scam artists, says Attorney General Roy Cooper. Although his offices have not yet received complaints about fraudulent fundraising efforts for Haiti relief, Cooper encourages North Carolinians to give generously but to watch for charity scams. Consumers can report potential scams to the Attorney General's office by calling 1-877-5-NO-SCAM or filing a complaint at www.ncdoj.gov.
To avoid scams and make sure your donations go to legitimate charities:
Don't respond to unsolicited e-mails and text messages asking you to donate
Watch out for pushy telemarketers
Don't give cash
Protect your personal information
Check out charities before you give www.secretary.state.nc.us./csl, www.guidestar.org
Other Links:
Hope for Haiti Children's Center
www.danitaschildren.org
Hope for Haiti Foundation — Cary-based foundation
P.O Box 4794
Cary, NC 27519-4794
www.hopeforhaitifoundation.com
Contacts/Founders: Jean Elade & Cherlyne Eloi
jeloi@hopeforhaitifoundation.com
The American Red Cross
Donations to the International Response Fund can be made by phone at
1-800-REDCROSS or 1-800-257-7575 (Spanish) or online at www.redcross.org
U.S. State Department's Operations Center
To find out about U.S. citizen family members in Haiti, call (888) 407-4747.
The Better Business Bureau
A list of national charities that meet the BBB Wise Giving Alliance's Standards for Charity Accountability
www.bbb.org/us/haiti-earthquake-relief