Three things have helped Gemimah Hernandez Fuentes through many challenges — family, faith and service.
Fuentes was born in Cuba, the daughter of Christian missionaries. Although they had faced persecution for years, in 1990 the family was at a crossroads.
The Communist Party caused Fuentes to be fired from her prestigious job as the director of finances for the Construction Division in Havana, telling her, "You cannot be a believer and be in this position."
A church contact arranged refugee visas to Peru, and another church friend offered to get Fuentes' mother out of Cuba, to Miami.
Through the National Evangelical Council of Peru, Fuentes worked in family counseling and health. By 1992 she had joined her mother in Miami and was working as a substance abuse counselor.
Today Fuentes lives in a Cary split level home with her mother and father, who are still going strong at 85 and 97. Two brothers and a sister also live in the area. Her son runs the counseling business she started in 2008, and her daughter just graduated high school.
"I am always grateful to this country that has received me and given me all these opportunities," Fuentes said. "I am blessed."
Although she works part-time as a substance abuse counselor and leads Spanish language worship services around the area, she has found her passion at SAFEchild, a child abuse prevention agency in Wake County where she has led the Crianza con Carino program for 12 years.
She loves the work.
"I really have a passion to work with children," Fuentes said. "If you help the children to grow healthy, you can have better adults, better families in the future."
The 15-week education program blends child-rearing information with social support to strengthen Spanish-speaking families. Up to eight families participate in each session, some referred by social services agencies and others through word of mouth.
"I see myself as a bridge," Fuentes said. "Because Hispanics are isolated, they have fears. They don't know the services around them. They try to hide. They go everywhere, but they don't trust people. I see myself as hands to hold them — to guide them to the services. I also help them learn how to live here in the United States."
While SAFEchild serves families from all backgrounds, participants in the Crianza con Carino program come from Central and South America, all with different cultures and customs. For example, in other countries everyone in the neighborhood keeps an eye on the children, so they run around freely. Or at night, children might be left at home sleeping while parents run to the grocery store.
"We try to fill this cultural gap between the laws here and customs in the home countries," said Fuentes. "We don't try to make them feel bad or guilty. We focus on the culture. In some countries you can see 10 people inside a car built for five, but you can't do that here. So we talk about the importance of car seats and seatbelts. Now they learn a different way."
Transportation is provided, as many participants can't drive legally, and families share a meal before the evening activities. Children play games while parents learn positive discipline techniques, how to establish house rules, and the importance of regular mealtimes and bedtimes.
Fuentes has received many cards and letters from families thanking her, but one woman's story still inspires her. During a SAFEchild workshop about 10 years ago, this mother walked in with bruises all over her face.
"Her husband had hit her badly, many times," Fuentes said.
At first, the woman refused help, but Fuentes was able to gain her trust over the course of the program. After weeks of assuring the woman there was help for her, Fuentes got a call. The woman had left her husband.
Fuentes immediately got the woman and her children to InterAct, a Wake County nonprofit which supports victims of domestic violence. InterAct helped them move out of state, obtain legal residency and get the therapy they needed.
Years later Fuentes ran into the woman, who had returned to North Carolina.
"The children were big, I didn't recognize them," she said. "But she was so happy. She was crying, hugging me. She told me, 'I would not be here without SAFEchild.'"
Fuentes says that if she can change just one life, then all her work has been worthwhile.
"If we can give a little help to a person and train that person to do a little bit for others, the little we do becomes much," Fuentes said. "We cannot change the world, but if we can help at least one person to improve his life, then our little help can change a person, a family, a community, a country and the world."
Title: Program coordinator at SAFEchild; owner of A Better Choice: Rise Up Counseling in Cary
Education: Bachelor's degree in economics and business administration from Havana University in Cuba, and master's in theology and counseling from Universidad Teologica Cientifica Mundial de Costa Rica
Family: Son Joany Rosales, 35, and daughter Sari Rodriguez, 18
Hometown: Santa Maria del Rosario, Cuba (a suburb of Havana)
Lives in: Cary
First job: Taught logic and statistics while a student at Havana University
For fun: Loves to swim and spends her free time at the beach. "I love the sea, the beach, the sound of the ocean."
Philosophy: "The best way to succeed in life is to love what you do and to follow the advice you give to others."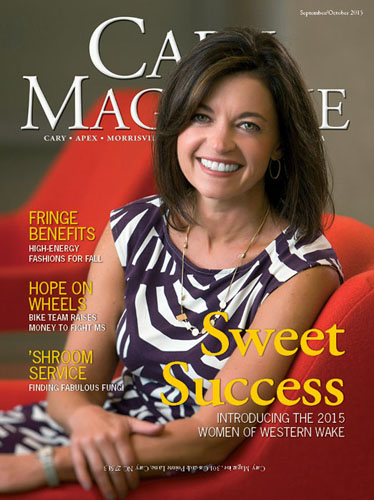 Gemimah Hernandez Fuentes, Program Coordinator, SAFEchild; Owner, A Better Choice: Rise Up Counseling