There's a lot going on in Garner this weekend, from an All-America City tribute to the annual Technology Spring Clean and Strawberry Festival fun. Here's the scoop:
See the All-America City Quilt
Today through Sunday, various locations
This weekend is your last chance to view the 2013 All-America City quilt during its visit to Garner!
Each year, finalists in the All-America City Award program submit quilt squares representing something special about their communities. The squares are stitched together into a quilt that tours the country, visiting each finalist community.
Garner's square was made by Linda Junk with the non-profit group On the Mend, which is based at Garner Senior Center.
Garner was named an All-America City in June 2013.
Here's where to find the quilt:
Thursday, April 24: Garner Chamber of Commerce, 401 Circle Drive
Friday, April 25: Garner Senior Center, 205 E. Garner Road.
Saturday and Sunday, April 26-27: Garner Performing Arts Center, 742 W. Garner Road
For more information, visit garnernc.gov.
Technology Spring Clean
Saturday, 10 a.m. to 4 p.m.
WingSwept, 605 Poole Drive
It's spring! That means it's time to venture into your garage or basement to clean out all of your unwanted items — especially that old Windows 98 desktop computer that you've been neglecting ever since the first laptop came out.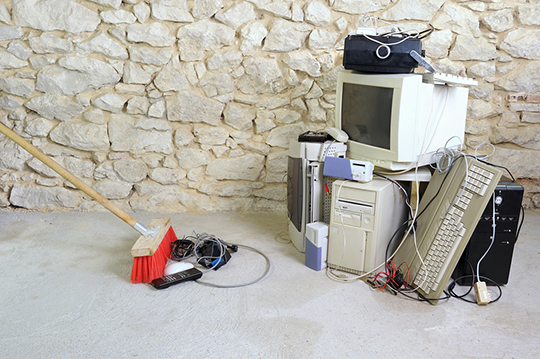 Let's face it, everyone wants the latest technology. Whenever the newest gadget is released, we're quick to drop our current electronics. But what happens to all those old desktops?
WingSwept, the award-winning technology firm in Garner, has come up with a solution: Technology Spring Clean. Since 2011, the company has collected more than 50,000 pounds of technology equipment dropped off by residents in the community, to be recycled for free.
According to the Environmental Protection Agency, recycling electronics helps reduce pollution that would be generated while manufacturing a new product and reduces the energy used in a new product.
Since disposing of electronics in landfills is banned in North Carolina, it's a great opportunity for people to avoid improperly disposing of their unwanted electronic items and causing harm to the environment.
What can you drop off at Technology Spring Clean?
Computer/CPUs, UPS, printers, monitors, copiers, keyboards, mice, circuit boards, mainframes, hard drives and phone systems.
To ensure your privacy, WingSwept removes and shreds all hard drives from electronics, so personal information is permanently deleted.
You can find more about the event at wingswept.com/wci/about/recycle.html.
Strawberry Festival
Saturday, 9 a.m.
Exit 312 off I-40 (40/42 exchange)
Experience a full day of fun at the annual Cleveland community's Strawberry Festival, featuring food, inflatables, pony rides, and vendors offering crafts, art, jewelry and more.
And of course, locally grown strawberries … yum!
For more information, contact the Cleveland Chamber of Commerce at (919) 773-8448.