Raleigh's Brewgaloo began in 2012 with a humble mission: To create an all-local festival, showcasing the best of North Carolina craft brewing.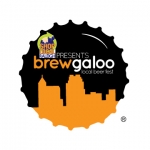 "We want the entrepreneurs to have the opportunity to showcase their talent, their art, the science that goes behind this, and show what they've been able to make and create," said Jennifer Martin, executive director of Shop Local Raleigh, which presents the event.
Since those early days, the two-day festival has grown into the country's second-largest craft beer festival, following only the Great American Craft Beer Festival in Denver. More than 100 North Carolina breweries will be represented, serving more than 300 beers.
This year's festival is 6-10 p.m. Friday, April 27, and 2-10 p.m. Saturday, April 28. The event will go on rain or shine.
Martin says Brewgaloo has gotten bigger as more N.C. breweries have come online, and the festival's reputation has spread as well. She attributes much of that success to the input they've gotten from craft brewers.
"When we first started we only did Triangle breweries, but in working with brewers, we found that they considered the entire state as part of the community. We made the decision to expand the festival," said Martin.
Crowds have grown as well — from about 4,500 the first year to around 30,000 attendees from 44 states in 2017. About that many are expected again this year.
"Those are all people coming to try North Carolina beer," she said.
Friday's tasting event — billed as the Brewgaloo Block Party — will be in Raleigh's City Plaza. Tickets to the all-you-can-sample event are $45, and designated drivers get in free. Taste beers and ciders from around the state and grab a nosh from local food trucks.
On Saturday, the festival is free and open to the public. More than 50 food trucks, vendors and live music from local bands will be set up along Fayetteville Street. Beer will be sold by the pint or the 3-ounce sample.
Worth noting this year is Founding Fathers Hemp Ale, a carbon-neutral beer from Four Saints Brewing Company. The Asheboro, N.C., brewery, with guidance from Greensboro-based Urban Offsets, calculated the carbon emissions associated with the brewing process and then sponsored a tree-planting project to offset those emissions.
All the ingredients for Founding Fathers comes from growers within 52 miles of the Four Saints brew house. A pilot batch of 31 gallons was created especially for the Brewgaloo festival.
"They came to us and asked if they could tap it here: 'Because your event is the size that it is, we want our specialty beer debuted there.' That meant a lot to our organization," said Martin. "We're honored to showcase that beer at this event — to officially launch it."
See shoplocalraleigh.org/brewgaloo for ticket information and more details.