WQDR 94.7
Having been on the air for 64 years, and a two-time winner of the Maggy Awards' Best Radio Station, WQDR 94.7 consistently supplies our area with chart-topping country music.
On-Air Schedule:
Q Morning Crew: 5:30 to 10 a.m.
JJ: 10 a.m. to 3 p.m.
Lisa McKay: 3 to 6 p.m.
Cody Clark: 6 p.m. to midnight
Steve Maher: Midnight to 5:30 a.m.
"The hardest part of the job is getting up and getting here."
– Crew member
Mike Wheless
"We are all so excited about the award! Connecting with our listeners is always the best part of the job."
– Lisa McKay,
WQDR program director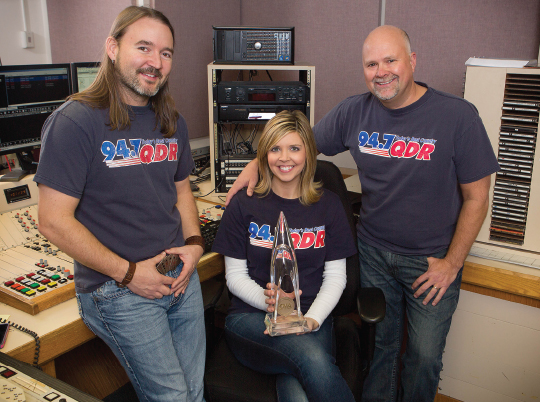 Left to right: Marty, Janie and Mike
Mike Wheless, Marty Young and Janie Carothers of the Q Morning Crew won a Country Music Award in November, for Large Market Broadcast Personality of the Year.
The trio has been together for seven years and has been nominated for a CMA four times.

What do you love about being on the radio, and WQDR in particular?
Mike: "The listeners are so dedicated. A lady said this morning, 'You guys are just like family,' and it's uplifting to be out and hear that."
Janie: "Having a love for the music, and we get along, not just in the studio, but we have a genuine friendship together and I think that certainly comes through."
Marty: "I love the energy of the crowd, when I'm at a concert and you can feel the energy getting louder and louder. That's what it's all about; there's nothing better than that feeling."
Off-air parts of your job:
Janie: "The meetings, planning, and thinking ahead toward the production. We're not just sitting in there with our feet up laughing, but we're glad it comes across that way!"
Marty: "Taking an interview that lasted 15 minutes and making it 3 minutes, to where the listeners get the best."
Janie: "When we go to Nashville, we have two to three days of rigorous interviews, one right after another. We counted the list this year and we had over 40 interviews in one day, and that was coming off of a five-hour show. You barely have caught your breath with one artist before another one is coming up."
Mike: "They just think we're partying with the stars, but we're doing interview after interview, after we've done the show, and then we have to edit those interviews."