Best Preschool
For ABCs and 1-2-3s, parents of preschoolers prefer Primrose Schools, which has independently owned franchises in Apex, Cary, West Cary, Holly Springs and Morrisville.
So just what takes place in a preschooler's day? Tori Scuderi, owner of the West Cary Primrose School, offers a peek at the fun.
Favorite theme: "Favorite Team Day is always a hit. The children come dressed in hats, jerseys, cheerleading uniforms, tattoos, and we all tease one another when they root for different teams. It's a lot of fun!"
Favorite activity: "The Dramatic Play center — where else can you cook spinach for Superman with a cup and spatula and be told it's delicious? Art projects and the playground are happy places, too."
Messiest activity: "Finger painting … spaghetti day is a close second!"
Surprise favorite lunch: "You'd expect the answer to be chicken nuggets or mac and cheese, but I'm happy to report the children in our school love this meal: Fire-braised boneless chicken (with barbecue sauce for dipping), roasted red pepper with egg potato salad, green beans, mandarin oranges and skim milk."
Think you're busy?
Try being a preschooler:
7 a.m.: Learning centers
8:30 a.m.: Circle time, Spanish
9 a.m.: Phonics, reading, writing, art and computers
10 a.m.: Music class
10:25 a.m.: Outside time
11 a.m.: Math manipulatives
Noon: Character development
12:50 p.m.: Post-lunch story time, quiet time
3:20 p.m.: Outside time
3:55 p.m.: Art
4:25 p.m.: Learning centers
5 p.m.: Story time
5:35 p.m.: Reflections of the day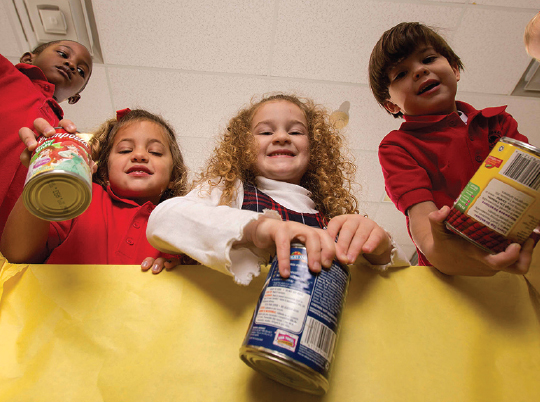 Primrose students Dylan, Beatrice, Addie and Luke.