Neomonde
Headquartered on Chapel Hill Road in Morrisville, Neomonde encompasses three cafés, two markets and one commercial baking company, sending breads and pastries as far as Maine and Texas.
The Saleh family, who founded and runs the company, hails from Lebanon. Many of the recipes cooked in the cafés every day are original to the family's matriarch, Cecilia. We stopped by to get the details on their traditional Mediterranean favorites.
Salads & Sides
1. Fatteh – Mixture of yogurt, chickpeas, spices and herbs.
2. Pomegranate salad – Crisp lettuce mixed with walnuts, feta cheese, strawberries and pomegranate dressing.
3. Tabouli – Finely minced parsley, scallions, tomato, cucumber and cracked wheat tossed in a blend of olive oil and lemon juice.
4. Baba Ghanouj – Roasted eggplant blended with tahini, garlic, lemon juice and spices.
5. Pumpkin, Pomegranate and chickpea salad – Seasonal mix of pomegranate seeds, roasted pumpkin, chickpeas, herbs and spices. Part of the café's rotating seasonal menu.
Neomonde Daily totals:
500 pounds of hummus
300 pounds of baba ghanouj
1,000+ hand-rolled grape leaves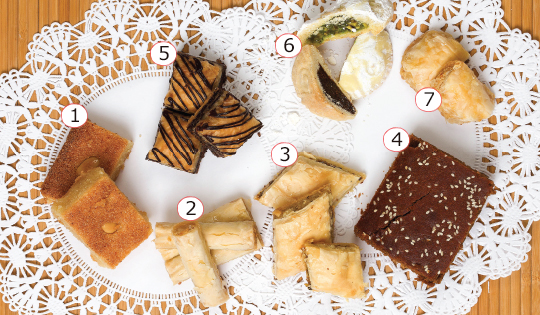 Desserts
1. Namoura – Semolina baked with butter, milk, sugar and almonds.
2. Lady Fingers – Flaky, rolled phyllo dough baked with cashews.
3. Baklava – Traditional and well-known, containing layers of phyllo dough and nuts, drizzled with authentic syrup and baked.
4. carob Molasses cake – Natural carob molasses baked in a seasonal cake.
5. Choclava – Baklava with an inspired American twist — chocolate!
6. Mamoul – Dates, pistachios or walnuts wrapped in sweet semolina dough. A traditional Middle Eastern celebration cookie.
7. mini rose – Phyllo dough and chopped cashews baked until crisp.