Best Radio Station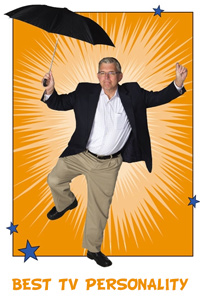 WRAL 101.5
HM: WQDR 94.7
HM: WDCG 105.1
Best Radio Personality
Bob Dumas, G105
HM: Vanna Fox, MIX 101.5
HM: Brooke "Peanut Butter" Hoover, G105
Best TV Station
WRAL-5
HM: ABC-11
HM: Fox 50
Best TV Personality
Greg Fishel, WRAL-5
HM: Elizabeth Gardner, WRAL-5
Don Schwenneker, ABC-11
Best Radio Personality
From the onset of the Maggy Awards in 2006, radio host Bob Dumas has captured the lead every year in the Maggys, thanks to fans of his offbeat on-air humor via G105 morning show, Bob & the Showgram.
Dumas has long credited his loyal listeners for the show's success.
"Listeners feel like we're a big family," he said. "We're honest, and we care. I think it's very unique."
Best TV Station
WRAL by the numbers:
27: Number of anchors and reporters
6: Meteorologists
8: Sports staffers
21: Station engineers
10: Years that readers have voted WRAL 5 Best TV Station. Talk about Staying Tuned! That's each and every year since the Maggy Awards began!
Best Radio Station
500,000 people tune in to MIX 101.5 each week.!