Best Active Adult Community
Glenaire
HM: Carolina Preserve
HM: SearStone
Best Charity
Dorcas Ministries
HM: SPCA of Wake County
HM: Transitions LifeCare (formerly Hospice of Wake County)
Best Coffeehouse
La Farm Bakery
HM: It's a Grind Coffee House
HM: Java Jive
Best Preschool
Primrose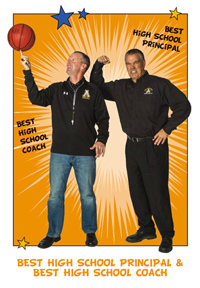 HM: Bright Horizons
HM: St. Michael's Early Childhood Center
Best Golf Course
Prestonwood Country Club
HM: MacGregor Downs Country Club
HM: Knight's Play Golf Center
Best Home Building Company
Royal Oaks Homes
HM: Rufty Homes
HM: Poythress Homes
Best Interior Design Company
Ivy Cottage Collections
HM: Southern Studio Interior Design
HM: Design Works Studio
Best Music Venue
Koka Booth Amphitheatre
HM: Walnut Creek Amphitheatre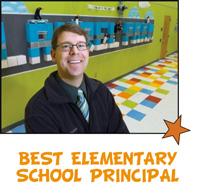 HM: Durham Performing Arts Center
Best Local Event or Festival
Lazy Daze Arts & Crafts Festival
HM: Beer, Bourbon & BBQ Festival
HM: Apex PeakFest
Best Elementary School Principal
Burt Batten, Laurel Park Elementary
HM: Mike Regan, Mills Park Elementary
HM: Melanie Parish, Middle Creek Elementary
Best Middle School Principal
Trent Evans, Reedy Creek Middle
HM: Herbert Allen Ellzey, Salem Middle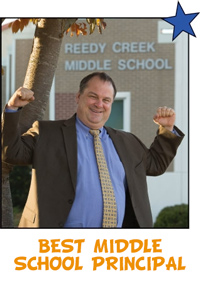 HM: Emily Mountford, Holly Ridge Middle
Best High School Principal
Matt Wight, Apex High
HM: Jacob Bryant, Cary High
HM: Tim Locklair, Holly Springs High
Best High School Coach
David Neal, Apex High
HM: Roy Cooper, Apex High
HM: Brian Miller, Holly Springs High
Best Place To Walk, Run Or Bike
American Tobacco Trail
HM: William B. Umstead State Park
HM: Fred G. Bond Metro Park
Best Place To Take Children
Pullen Park
HM: Marbles Kids Museum
HM: North Carolina Museum of Life & Science
Best Place To Take Visitors
Raleigh Farmers Market
HM: Downtown Raleigh
HM: Sarah P. Duke Gardens
Best Fitness Club
Cary Family YMCA
HM: Rex Wellness Center
Kraft Family YMCA
Best Yoga/Pilates Studio
StudioVIBE
HM: Cary Family YMCA
Cary Yoga & Wellness
Best Kids' Program for the Arts
Cary Arts Center / Town of Cary Cultural Arts
HM: Academy for the Performing Arts Dance Company
HM: KidzArt
Best Kids' Program for Sports
Town of Cary Parks & Recreation
HM: Capital Area Soccer League
HM: YMCA
Best Active Adult Community
Elvis showed up at the Halloween party — no wonder Glenaire was voted Best Active Adult Community for seniors, for the fourth time since the category launched in 2011!
But seriously, the most popular Glenaire activity by far is Oktoberfest, says Laura Lowe, director of sales and marketing, followed by the New Year's Eve party, Mardi Gras party, Halloween Festival and 4th of July.
"Just about all residents who are able turn out for our very special Veterans' Day service each year," she added. "Non-holiday favorites are chair volleyball, corn toss, Bunco, bridge and shuffleboard. Residents also very much enjoy day trips."
Serving the community for more than 20 years, Glenaire is currently at work on a transformation of its healthcare center to the "household model" of care, featuring households of 20 residents, each with its own front door, living spaces, full-service kitchen and spa.
"We have some amazing residents who are so fun and energizing to be around," Lowe said. "They motivate our staff to be their very best and to work hard to provide an active and fulfilling lifestyle at Glenaire."
A new 120-car parking deck is slated to open soon, and 12 new apartment homes will be under construction. Lowe also notes that Glenaire continues to contribute to the local economy, to the tune of more than $16 million.
Best Home Building Company
Cozy kitchens and snug-as-a-bug bedrooms are all part of the charm for readers who voted Royal Oaks as Best Home Building Company for its new-home work in neighborhoods like The Peninsula at Amberly and Bella Casa Parkside in Apex. And making home sweet home even sweeter is choosing the perfect flooring, cabinets and countertops, lighting and more in the fast-growing company's Design Center!
Royal Oaks Homes also builds Hero Homes for Operation: Coming Home, a nonprofit that provides custom-built abodes to disabled combat veterans.
Best Preschool
In this super-close Maggy race, just eight votes separate the top two vote-getters for Best Preschool … and Primrose came out the winner!
With five-star accreditation and locations across Western Wake, happy tykes and their parents count on the care and learning at Primrose, which is why the brand has won the Maggy six times.
Rhonda Blades, franchise owner of Primrose schools at West Lake and Holly Grove, offers these insights into life at Primrose:
Favorite activities: Primrose's Rhythm & Notes Music curriculum, in which students use instruments while learning about rhythm, patterns and tones used in music from country to classical. Take-home CDs encourage sing-alongs in the car or dancing in the living room.
Community service: In partnership with Save the Children, each school has adopted a Primrose Pal, a child in a rural impoverished area in southeast America. Local students developed their own book on North Carolina to provide their pal a glimpse into our state.
In Caring and Giving, children complete age-appropriate chores at home in exchange for canned goods for the classroom donation box. Last year Primrose students earned more than 6,000 cans that they hand-delivered to the ABC11 Heart of Carolina Food Drive.
Best Yoga/Pilates Studio
Bend and stretch, and breeeeathe …
StudioVIBE, formerly known as Triangle Pilates, has landed on the top of the Maggy listings almost every year since 2006!
Best Place to Take Children
Parents, grandparents, aunts and uncles cast their votes for Pullen Park, named Best Place to Take Children. Kids love it for the carousel, train and pedal boats, but here are a few figures to chew on:
No. 1: Pullen Park was the first public park in N.C., opened in 1887
5: Pullen is the fifth oldest operating amusement park in the U.S. (and 16th oldest in the world!)
42: How tall (in inches) you must be to ride the circa-1911 Gustave A. Dentzel Carousel all by yourself.
1/3: The park's C.P. Huntington miniature train is a one-third size, near-replica of the famous locomotive of the same name.
7: The two honorable mentions in this category, Marbles Kids Museum and the North Carolina Museum of Life & Science, were separated by just seven votes.
Best Fitness Club
The place for fitness is Cary Family YMCA. It's no wonder, with an Aerobics-to-Zumba class roster plus kickboxing, spinning and strength conditioning. Toss in amenities like basketball courts, pools, indoor track and sauna, and we're talking home away from home!