So, got any plans for this coming Monday?
Beyond coffee, you might want to hop online to order 2015 N.C. State Fair tickets!
Monday, Aug. 3 at 10 a.m. marks the launch of discount advance admission and ride tickets — and a big concert line-up was just announced this week.
The 2015 N.C. State Fair runs Oct. 15-25, with new ticket packages and specials including the Mega Pass and the Mini Pass, only available during this advance-sales period; the Family 4-Pack and Friday Frenzy, offering discounts for students showing a school ID or report card.
Discount advance admission and ride tickets are available online at ncstatefair.org through Oct. 15 at 11:59 p.m.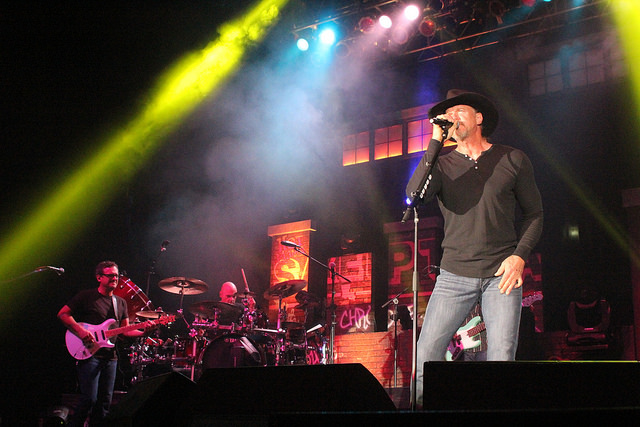 Trace Adkins in concert at last year's N.C. State Fair. This year's Fair boasts an all-N.C. lineup, see below.
Concerts, Too
This year the State Fair offers its Homegrown North Carolina concert series in Dorton Arena, featuring a mix of rock, country, R&B, contemporary Christian, indie, salsa, Indian, beach and gospel music by acts that call the Tar Heel state home.
"We are excited to showcase even more of the musical talent that this state is known for," said Agriculture Commissioner Steve Troxler. "There is no shortage of talent, including several nationally-known recording artists. We are proud to offer the performers a stage for their music, and hopefully, fairgoers will discover some new music while at the fair."
All concerts are free, but floor seating closest to the stage will require a ticket, which can be picked up beginning at 9 a.m. the day of the show at the Dorton Arena Box Office. There is a limit of six tickets per person and tickets will only be available for that day's show.
First-come, first-served seating will be available in the arena's permanent seating section. Doors will open at 6:15 p.m., with shows starting at 7:30.
Here's the entertainment lineup:
Oct. 15, Firehouse with The Fifth
Oct. 16, The Great I Am with The Summit Church featuring Kaimy Masse, Hank Murphy and Summit Worship
Oct. 17, Jason Michael Carroll with Luke Combs and Stephanie Quayle
Oct. 18, Orquesta GarDel
Oct. 19, Nuv Yug presents Bollywood Night
Oct. 20, Black Sheep with Shadina
Oct. 21, Band of Oz & The Embers
Oct. 22, A Night of Praise featuring the Wake Chapel Choir, Instrument of Praise Gospel Concert Chorale and Watts Chapel Gospel Choir
Oct. 23, The Love Language with supporting act to be announced
Oct. 24, Charlie Daniels Band with Kasey Tyndall
Oct. 25, Nantucket with Sidewinder
For more information, see ncstatefair.org.