On a warm afternoon in late winter, Joanne St. Clair leads several families in a game of nature bingo along the American Tobacco Trail in Apex.
The Wake County environmental educator gives out laminated bingo cards with pictures of possible forest sights. She encourages the kids to fill out the cards, checking off items they see on their walk.
Even the most pedestrian subject is an opportunity for learning.
"What is scat?" one of the kids asks. "It's poop!" another answers eagerly.
St. Clair chimes in: "What kind of things can we learn from scat?" The responses come back quickly: what kind of animal it is, what it's been eating.
The group strolls leisurely, marking off spaces on their cards for a fallen log, a tree cavity or an animal track. St. Clair pauses beside the trail and points into a shallow pool of water. These vernal pools, which dry up in summer's heat, are vital to amphibians, she explains.
"Do you see those things floating under water that look like clouds? Those are salamander egg masses, probably spotted salamanders."
"Does anyone want to touch an egg sac?" St. Clair asks.
"It feels like Jell-O," said Alex Erling, 9. He and his brother Aiden, 7, are with their grandmother, Marlene Bush, who signed them up to be Wake County Junior Park Naturalists. The program challenges youth ages 5 to 15 to visit all the county parks and participate in activities at each one. Participants get commemorative pins, and when the challenge is complete, an official Wake County Junior Park Naturalist backpack.
"The thing I love about this, is they're at the age that little kid things aren't right, and the big kid programs aren't right. But these programs are so well done, they absolutely engage them," said Bush of the program.
A number of engaging nature-related activities are planned this spring at Wake County and other area parks — too many to list. But area environmental educators offer the following highlights.
Lake Crabtree County Park, Morrisville
(919) 460-3355
wakegov.com/parks/lakecrabtree/Pages/programs.aspx
"Our more popular programs are always the ones that have to do with anything on the water," said Colleen Bockhahn, assistant park manager.
Canoe tours, which are open to families, are held regularly, and Bockhahn says groups can also call the park to schedule a two-hour tour.
The park's free fishing program, Crabtree Casters, attracts anglers of all ages, she says.
"We promote fishing as a hobby. We teach folks how to do it," said Bockhahn. "It's all catch-and-release here at the lake, so they can keep catching bigger and bigger fish."
Another highlight is the park's new Backpack Bin. Three packs filled with activities and equipment are available for visitors to borrow. The birdwatching pack contains binoculars, a field guide and a checklist of common species. Another pack is a nature scavenger hunt.
"We have a lot of folks who come out to the park to play on the playground, or to picnic with their family," Bockhahn said. "This is a little extra something that, if it's a day that we don't have a public program scheduled, they can still have that experience."
Harris Lake County Park, New Hill
(919) 387-4342
wakegov.com/parks/harrislake/Pages/programs.aspx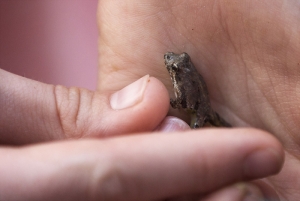 Jackie Trickel, assistant park manager at Harris Lake County Park, says evening programs fill up quickly, whether it's a hike or a campfire program.
Park staff are also planning noteworthy events pegged to the North Carolina Science Festival, April 7-23. The Science of Fire, for ages 16 and up, will examine the role of fire in a longleaf pine ecosystem. During Microscope Discoveries, families will get an up-close peek at the natural world using a variety of microscopes.
"We'll have a lot of things for people to look at and do," said Trickel.
Crowder District Park, Apex
(919) 662-2850
wakegov.com/parks/crowder/Pages/programs.aspx
Yates Mill County Park, Raleigh
(919) 856-6675
wakegov.com/parks/yatesmill/Pages/programs.aspx
Rebeccah Cope, who develops programming at both Crowder and Yates Mill, says the two parks attract different sorts of visitors. Families with younger kids flock to Crowder, attracted by its playgrounds. Yates Mill is a destination for history buffs, who want to tour the historic water-powered mill. "Yates is the last operating water mill, grist mill of its kind — out of about 70 that once existed — in Wake County. It is fairly unique on a national scale because of the technology and how old the mill is," said Cope.
Volunteers and park staff will dress in 1860s costumes for a corn-grinding weekend March 18-19. Also for the spring, Cope is planning a Laura Ingalls Wilder program called Farmer Boys and Pioneer Girls.
"Anytime we offer anything that has to do with the Ingalls, it explodes," she said.
At Crowder, the park's largest event of the year is coming up April 8: Frog Fest usually attracts more than 2,000 people eager to see live animals and learn about water quality and biodiversity.
Stevens Nature Center, Cary
(919) 387-5980
Townofcary.org
(search "nature programs")
At the Stevens Nature Center located in Hemlock Bluffs Nature Preserve, there is always something going on, but spring is a great time to investigate this unique habitat.
"March is a big wildflower month for us, and into March and April is a good time for birds," said Morgan Bosse, program specialist at the center. "The warmer it gets, the more we start seeing our reptiles. In March we're going to be talking about spring frogs, and there's a few salamanders that are still around."
Visitors to the preserve must stay on designated trails, but many of the events give folks a chance to explore a little more.
"Especially with the kids, we try to go off the trail, off the beaten path," Bosse said. "With the younger kids, we try to include some crafts and games to make it enjoyable for them. But we're outside, we're rolling logs, we're looking off the trail."
One popular program, Night Out in Nature, is offered once a month, usually 6 to 9 p.m. on a Friday. The topics vary seasonally, and the evening ends with a campfire and s'mores, which are always a big hit, says Bosse.
Also helpful are some of the reptile education programs, she says. Because snakes are common in North Carolina, residents of all ages can benefit from sound advice on how to deal with the creatures.
"A lot of people are concerned about copperheads in their yard, so even as young as age 5 we start talking about snakes, what copperheads look like," said Bosse.
Other area programs
Bass Lake Park, Holly Springs
(919) 557-2496
hollyspringsnc.us/320/Bass-Lake-Park
Learn about nature at the North Carolina Environmental Education Center, or venture out with a backpack full of games, tools and books. The free Discovery Backpack Loaner Program invites visitors learn bird calls, study insects through a magnifying glass, discover animals in the lake, or practice journaling techniques.
Umstead State Park, Cary
(919) 571-4170
ncparks.gov/find-an-activity/events-and-programs
Park rangers lead themed hikes and other seasonal learning activities for all ages. Most events are free, but require registration.
Museum of Natural Sciences Prairie Ridge Eco Station, Raleigh
(919) 707-8888
naturalsciences.org/calendar/venue/prairie-ridge
Visit a wildlife-friendly landscape that includes 45 acres of Piedmont prairie, forest, ponds and a stream. Explore this outdoor learning space during Citizen Science Saturdays, weekly science walks for visitors 8 and older. Topics vary but may include gathering data on tree and garden budding, pond dragonflies, ladybugs or birds.
American Tobacco Trail, Apex
(919) 387-2117
wakegov.com/parks/att/Pages/programs.aspx
Among other activities, visitors can search for salamanders or learn geocaching as they walk along the trail.