Step off the streets of Durham and onto the island of Madagascar with a trip to the Duke Lemur Center.
Currently, about 250 lemurs call the 80-acre center home. More than 100 additional animals are on loan to other accredited facilities for breeding or observation.
Out of more than 70 varieties of lemurs, the center houses more than 20 different species. "It's the largest and most diverse collection of lemurs anywhere outside of the island of Madagascar," said Niki Barnett, the tour and education coordinator.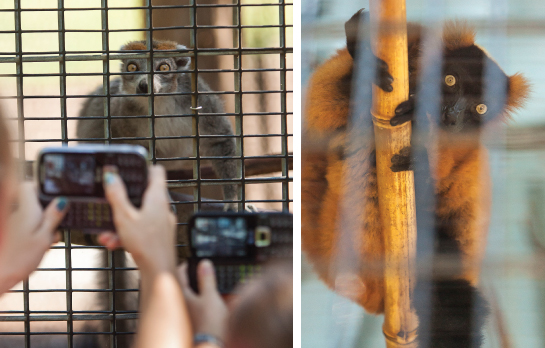 The majority of the campus consists of nine natural habitat enclosures, ranging from 1.5 acres to 13 acres, where the lemurs are given free roam during the warmer months. From June through October, Walking with Lemurs takes patrons inside the habitats for an unencumbered look as the animals feed, play and sleep. Offered year-round, the most popular tour is Lemurs Live. It takes groups around the outside of smaller enclosures, typically showcasing 10 to 12 species.
Two wide-eyed non-lemur primates also reside at DLC, lorises and bush babies. "We use them to highlight the similarities and differences between animals," Barnett noted.
"Every lemur gets something to do every day that's novel," Barnett said. Enrichment activities include placing perfume or other scents in the enclosures to entice their noses, or hiding food items in paper bags or cardboard tubes to encourage foraging.
Visitors can even participate in enrichment activities for the curious creatures in Painting with Lemurs. Guests get to choose paint colors, then observe as the lemurs create personalized works of art, which then become take-home souvenirs.
A very special opportunity will be available in October: the chance to visit Madagascar with Conservation Coordinator Charlie Welch, who lived and worked there for 15 years.
Tours are currently scheduled seven days a week and require reservations. During the summer a two-week advance booking is recommended. See lemur.duke.edu for more information.