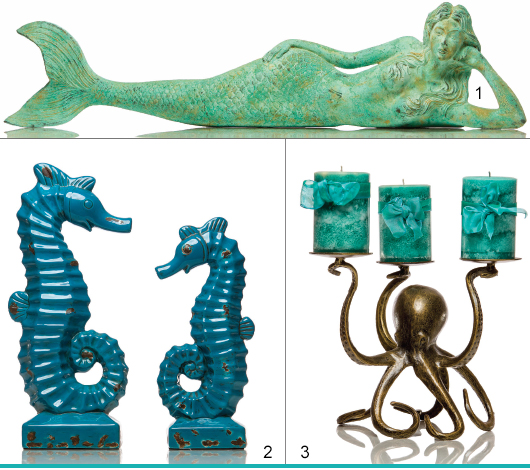 1. Laid-back lady
Liven up your seasonal décor with a mermaid on your mantel. $269.
Simply Must Have
2. Ocean Blue
This pair can add a pop of color to your porch or patio. Large ceramic seahorse, $25; small ceramic seahorse, $22. theperfectpiececary.com
3. Eight is enough
Made of rustproof cast aluminum, this octopus doesn't mind the water. Candleholder, $109; aqua candles, $12 each.
Simply Must Have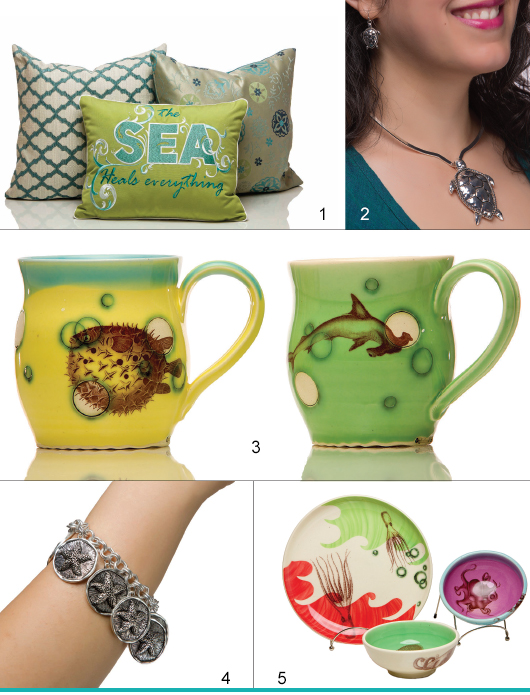 1. Aqua Accessories
Indoor-outdoor "Sea Heals" pillow, $49. Simply Must Have; Custom pillows in shades of blue and cream, $38 each.
Anne Made.
2. Coasting
Show off your style and your support for endangered sea turtles. Earrings, $7.95; necklace, $12.95.
Regal Designs
3. Something Fishy
Fuquay-Varina artist Tanya Casteel takes her inspiration from nature for these mugs. $36 each. Cephalopodink.com
4. Beach-y Keen
Some starfish bling will jazz up that poolside cover-up. $14.95.
Regal Designs
5. Make Some Waves
Casteel's custom pottery is microwave and dishwasher safe. Cereal-size bowls, $36 each; dinner plate, $50.
Cephalopodink.com
Where to Shop
The Perfect Piece houses several boutiques including Regal Designs, Simply Must Have, and Anne Made.
The Perfect Piece
212 E. Chatham St., Cary
(919) 460-9841
theperfectpiececary.com
Cephalopod Ink Ceramics
Cephalopodink.com
etsy.com/shop/cephalopodink