For gardeners, patience is not only a virtue. It can be rewarding — and ginger lily (Hedychium sp.) proves the point. This intriguing import from the tropics of Asia has graced Southern gardens for decades with its flowing foliage and enchanting, fragrant flowers, but each spring, backyard growers begin to wonder if their exotic beauties have made it through the winter.
This is because ginger lily waits … and waits. A true heat seeker, it will not sprout in a planting bed until the ground has been fully infused with the sun's warmth, usually very late in the spring. But sprouting doesn't immediately lead to blooming. That's because ginger lily blossoms wait … and wait. It is normally past midsummer before these dazzling flowers come out for their garden party, which lasts into the fall.
So, if instant results aren't ingrained into your gardening psyche, ginger lilies can be a treasure, in time.
A member of the ginger family (Zingerberaceae), but not the plant that produces the famous spice, ginger lily grows from rhizomes, which can still be bought at this time of year, especially from online nurseries. It flowers best in locations that bask in full to part sun — that is, as long as soil conditions are just right.
Ginger lily is not a trooper when it comes to drought, so settling this beauty into proper growing ground is crucial. A mulched site that has been heavily amended with compost or other organic soil conditioners is perfect, because they are not only good sources for slow-release, all-natural nutrients, but more importantly, drain well while still retaining enough moisture to prevent ginger lilies from slipping into a flowerless sulk under the searing summer sun.
Ginger lilies should be watered often during extended arid periods in the summer, but the garden hose can be tucked away for the winter. After these herbaceous perennials die down in the fall, drier soil will help prevent root rot while they are dormant.
And if you are an unfettered fertilizer flinger, feel free to incorporate more nutrients every few weeks around these heavy feeders through the growing season, but stick to mild organic additives to prevent overdosing.
As far as ginger lily choices go, there are enough to make your head spin. One fairly easy find is white ginger lily (Hedychium coronarium), which can grow up to 6 feet tall and shines with fragrant, pale, butterfly-shaped blooms. Prefer more spunk? Selections of the popular H. coccineum oblige by sporting upright, spiked racemes in simmering colors ranging from yellow to orange to red. There are many more variations with Hedychium cultivars, including variegated foliage floozies, with 'Dr. Moy' being a top pick.
Basically, ginger lilies come in a wide range of pretty, which means paying attention to their water and nutrient needs will make them showstoppers in the mature summer garden — and well worth the wait.
Timely Tip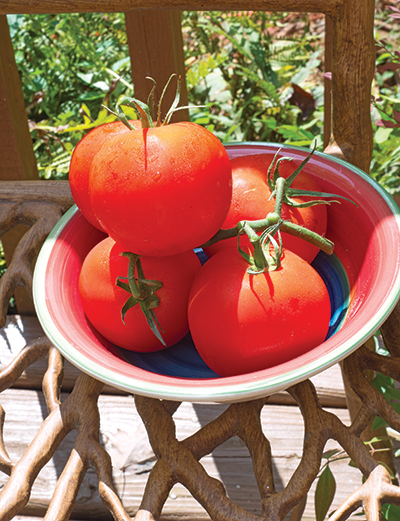 Blossom-end rot — that yucky dark brown splotch on the bottom of an afflicted tomato — is the scourge of backyard growers everywhere, but it can be prevented.
It is caused by calcium imbalance related to wild swings in soil moisture, so average out the ground water supply by adding a 3- to 4-inch mulch around the plants and irrigating regularly during the driest times — a maturing 'mater patch needs at least an inch of water a week.
As extra insurance for unblemished fruit, check your local garden shop for commercial calcium-laced foliar sprays specifically formulated to stop blossom-end rot.

To Do in the Garden
June
Growing such lanky veggies as green beans, cucumbers and squash up a fence or trellis not only saves garden space, but it actually also helps reduce pest problems.
Have an established daffodil bed? Was its springtime flower show a bust? The plants might have become overcrowded. Now is a good time to dig up the dormant bulbs and spread 'em out — or give some away to gardening buddies!
Continuously blooming plants such as alyssum, impatiens, ageratum, salvia, cleome, scabiosa and vinca require little deadheading, meaning less snipping and more time to enjoy their flower shows.
Remove spent daylily blossoms to prevent seed formation. This conserves the plant's energy for next year's floral show, and for rebloomers, it encourages more flowers this growing season.
July
Now is not too soon for Halloween — pumpkin seeds started at the beginning of this month outdoors should mature into plump jack-o-lanterns just in time for the season of goblins and ghosts.
Harvest okra, cucumbers, squash, green beans, peppers and indeterminate tomatoes once or twice a week — the more they are picked, the more they are stimulated to produce additional veggies well into the summer.
Continue filling the bird bath with fresh water at least once a week, but also give this refreshment stand for your feathery friends a good cleaning every month with a stiff brush.