If you're looking for an upscale dining experience that's guaranteed to make a lasting impression, G.58 Cuisine in Morrisville will not disappoint.
It's difficult to determine if people come to the restaurant for the delectable modern Chinese fare or for the breathtakingly stylish surroundings. Most likely it's a bit of both. G.58 serves as an ideal spot for a business lunch, a romantic dinner or a special occasion, but undoubtedly you will find yourself wanting to enjoy it at every possible opportunity.
Open since July 2018, the expansive, 200-seat restaurant features exquisite imported artwork, floor-to-ceiling windows, custom leather seats and silk lotus light fixtures. Each table is appointed with a white tablecloth and fresh flowers.
Additional enhancements include a chic bar area, two private dining rooms and an outdoor patio with a serene koi pond. No detail has been left unattended.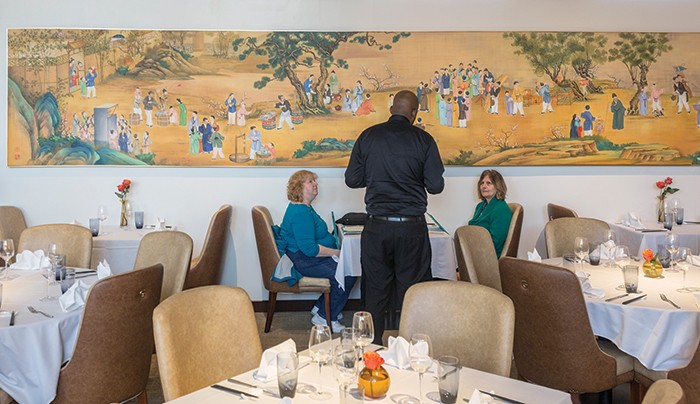 Just inside the eatery's main entrance, a fascinating bas relief sculpture features numerous men using rope to climb a stone wall.
Proprietor Farrah Li and her sister Julia Li, the restaurant's general manager, say the sculpture represents their high hopes for the business.
Indeed, the culinary possibilities at G.58 are boundless.
A plethora of sophisticated starters includes pan-seared crispy veal, honey-tinged lotus root and the picture-perfect foie gras mousse with a translucent apple gelee. Be sure to order the flavorsome Chinese yam topped with citrus and blueberry sauce, which is sweet enough to order as a dessert.
A modest assortment of dim sum and noodles incorporates Chinese buns with sweetened condensed milk, ginger- and soy-imbued scallion noodles and Dan Dan noodles with sesame chili oil and peanuts.
Two distinctive soups deserve serious consideration. Creamy crabmeat chowder contains lump crab meat, tofu, carrots and celery. Shizitou meatball soup, also known as Lion's Head soup, features a braised jumbo pork meatball in a savory clear broth.
Classic and experimental dishes grace the main menu, which changes with the seasons, mostly representing Cantonese, Huaiyang and Sichuan flavors. Choose from braised beef short ribs, cumin-infused New Zealand lamb chops and the signature pork belly with kumquats.
Among the seafood options, you can't go wrong with supreme sea scallops, Chilean sea bass or a 12-ounce deep-fried lobster tail served tempura style. All dishes are plated with precision and flair, and many arrive at the table garnished with edible flowers.
Without question, G.58's top delicacy is the perfectly roasted Peking duck, which is carved tableside. The bird — with traditional golden, crispy skin — comes accompanied with thin pancakes, fresh vegetables and traditional black bean sauce. Be advised: It's wise to call ahead to ensure the duck's availability.
According to the website, dishes are prepared by four master chefs from China, each bringing their expertise and creativity to the food of the eight Chinese culinary regions. One chef has more than 15 years of experience preparing and carving the Peking duck.
Save room for dessert, which ranges from a gluten-free flourless chocolate torte to carrot cake to fruit-infused sorbet.
Inventive craft cocktails, a superlative wine selection and local and imported beer pairs nicely with the food.
"We make new drinks all the time, so people can enjoy trying different and exciting cocktails," said Julia Li.
Service is refined and efficient, and the waitstaff is more than willing to make helpful recommendations.
G.58 serves lunch and dinner Monday through Saturday. The full dinner menu is available at lunchtime on Saturdays. Reservations are accepted by phone or online.