Kids EveryWEAR Consignment Sale – Shop for a Cause PRE-SALE
March 4 @ 10:00 am - 8:00 pm
Free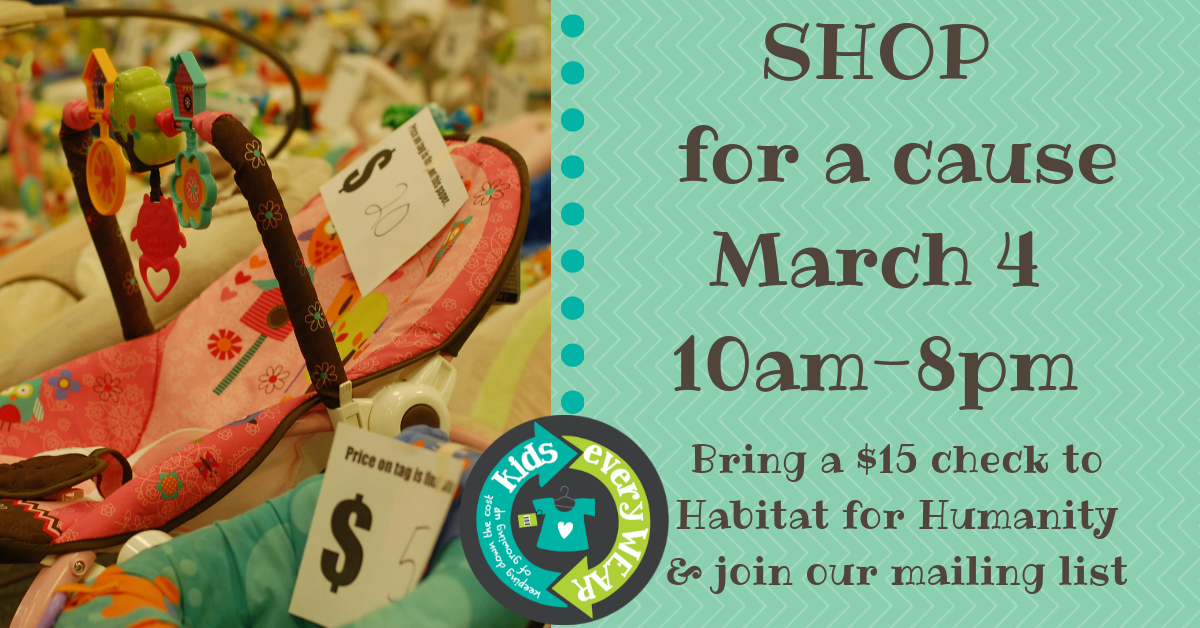 Everyone is invited to attend the Kids EveryWEAR Consignment Sale Shop for a Cause Charity event on Monday, March 4, 10am-8pm where you will find gently used toys, clothing, equipment plus housewares, ladies, teens and mens stores! Find us at our NEW LOCATION – at the former Sears store at Cary Towne Center in Cary, NC! Voted BEST in the Triangle and Top 10 in the Nation! Come see why! Bags provided. Bring a wagon or hamper with a rope attached to hold your finds!
Join our email list at KidsEveryWEAR.com & you can come shop March 4 at 10am with $15 donation by cash or check written to Habitat for Humanity – OR – at 4pm by bringing 3 canned food items.
A copy of the confirmation web page or email showing that you've joined our mailing list is required, along with a gift to donate to local charities or to Habitat for Humanity. (If you are already on our mailing list, just tell us so at the door. No need to print a new confirmation. You could print one of our emails to speed up your entry into the sale.) Gifts accepted includes a check for $15 or more made out to Habitat for Humanity.
Kids EveryWear Consignment Sale at Cary Towne Center 💛💛 VOTED a TOP 10 sale in the U.S.A!!! 1105 Walnut St. 1200 families selling! 92,000 square feet!
ALL MARCH 4 shopping times require you to show the email confirmation that you have joined our email list www.KidsEveryWEAR.com
⏰Mon, March 4 is the Shop4aCause PRESALE -$15 donation by check written to Habitat for Humanity (or cash) to enter – 10am – 8pm.
⏰Expecting, 1st x, Foster, & Adopting parents shop Monday, March 4, 2pm-8pm
⏰Heroes shop Monday, March 4, 3pm -8pm (First Responders, Military, Public Servants, Teachers (Home schoolers too), Doctors & Nurses)
⏰Bring 3 canned goods items to shop Monday, March 4 , 4pm-8pm
⏰Teen Night – ages 13 & up – parents welcome with your teen! March 4 , 6pm-8pm
⏰Open to the PUBLIC
Fri, March 8 , 10am-8pm
Sat, March 9 , 10am-7pm
⏰Sun, March 10, 1pm -6pm- 50% off black & green ink prices!
⏰Mon, March 11, 10am-8pm- 75% off black ink prices!
Children and strollers welcome!
Join our mailing list at KidsEveryWEAR.com so you don't miss our events twice each year!
💕💕 Public shops 3/8-11💕💕