Nothing says "I love you" quite like gourmet chocolate.
Here at Cary Magazine, we've had the opportunity to sample some amazing treats. In honor of Valentine's Day, may we suggest a few of our favorites?
Videri Chocolate Factory
At this bean-to-bar haven, each chocolate bar is hand-wrapped with love.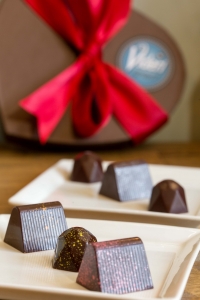 "When you open your box, two gorgeous, shiny bars are waiting for you," said co-proprietor and chocolate-maker Starr Sink Ratto.
Her husband, Sam, is fellow co-owner/chocolate maker, while convivial manager Chris Heavener rounds out the partnership team. Gracious customer service, social responsibility and attention to detail are fundamental tenets at Videri. The factory opened in December 2011 in the former Raleigh train depot.
"We are group- and family-friendly," Starr said. "A free self-guided tour is available anytime we're open."
Endeavoring to source fair-trade, organic ingredients whenever possible, Videri uses select cacao beans from Central and South America. Employees hand sort the beans before winnowing, roasting and grinding.
Videri offers chocolate bars and truffles made from the bean; full-size bars, $6-$7.50; truffles, $3 each; box of 50 mini bars, $65. viderichocolatefactory.com
Escazu Artisan Chocolates
A former chef, head chocolate-maker Hallot Parson visited Costa Rica in 2005 and met a farmer who was growing organic cacao and making chocolate.
"That trip spurred my imagination, and I realized not many people in the U.S. were creating chocolate this way," said Parson, who named his shop after the Costa Rican town he visited.  He joined forces with Danielle Centeno, a Venezuela native and Culinary Institute of America-trained chef, and opened Escazu in 2008.
Not many chocolatiers visit the sourcing farms, but Parson and Centeno believe relationships with growers are vital.
"These connections help ensure the quality and integrity of the chocolate," Parson said.  Traditional methods of sorting, winnowing and grinding involve using a vintage 1920s roaster and stone grinder imported from Spain. The grinding process lasts four days, allowing for sugar crystal reduction and evaporation of volatile flavors. The result? Superior handcrafted bars and an ever-evolving assortment of confections.
Besides eclectic truffles and confections like clove orange and honey chamomile, popular bars include the best-selling 65 percent dark chocolate with sea salt and 74 percent chipotle chili. Decadent hot chocolate is prepared using rare recipes from yesteryear.
Confections are roughly $2 each. Chocolate bars are $6.50-$8. escazuchocolates.com
Chocolate Smiles
2019 marks the 35th anniversary for the downtown Cary chocolatier.
"It's great to own a place where everyone coming in is happy," said proprietor Melanie Williams. The store is known for exceptional customer service and wide product selection.
"During the holidays, the wait time can be an hour or more, so calling ahead is wise," she said.
Premium milk, dark and white chocolate is crafted using six tempering kettles. Pennsylvania-sourced chocolate arrives in 10-pound blocks.
Seasonal specialty truffles include champagne, cherry blush and pistachio (call for availability). Locally grown chocolate-dipped strawberries are available at Valentine's Day and beyond.
"Sometimes I even go to the fields and pick them," Williams said. "We also dip Maraschino cherries in dark or milk chocolate."
Chocolates are available by the piece, although most candy is sold by the pound. Ordering ahead of time is recommended. chocolatesmiles.com
Chocolate Fix
Opened by husband and wife George and Kelly Burnett in 2016, this neighborhood candy store in Fuquay-Varina offers excellent customer service along with addictive chocolate-covered potato chips and to-die-for sea salt caramels.
"We do have several Valentine's treats – pretty assorted heart boxes, wrapped gift boxes, Valentine pops, and vegan truffles," said Kelly Burnett. "That's along with over 100 varieties of our case chocolates we have every day, and the crazy popular and hard-to-find Sponge Candy too!"
Chocolates and candies are available by the piece, by the pound, or choose from the many pre-boxed gift options.  facebook.com/chocolatefixfv
Chocolat GRACE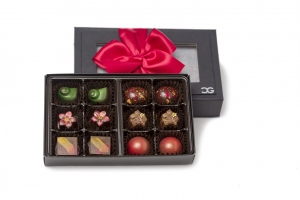 Master chocolatier Grace Stocker launched her online chocolate business in 2016, and quickly gained international acclaim for her meticulously crafted sweets. The former engineer has won several awards including the prestigious Golden Bon Bon Award for her Maracaibo and Cranberry Caramel at the Academy of Chocolate Awards 2018 competition in London last year.
Based in Cary, Stocker makes her chocolates in small batches, using top of the line Grand Cru Swiss chocolate, high quality natural ingredients from around the world and fresh products from local farmers. Flavors include dark chocolate, kirsch and cherry; passion fruit and orange caramel; aged rum and raisin; and Assam tea and wildflower honey caramel.
Assorted hand-painted chocolates are sold online for pickup or delivery and available by the piece at Tin Roof Teas in Cameron Village, Raleigh. Gift boxes of her award-winning confections are available in 2-, 9-, 16- and 25-count boxes for $6 to $50. chocolatgrace.com