Why not elevate your Valentine's Day with some home-baked chocolate goodness? We offer two classic recipes that you can make ahead of time and surprise your sweetie with on the big day.
Easy enough for novice bakers, the Angus Barn's chocolate chess pie is a great way to wrap up a romantic dinner. If it's been hiding in the fridge, the pie should be warmed slightly for maximum yum.
Fudgy chocolate walnut cookies from Cary's Chanticleer Café and Bakery are gluten-free, but big on deliciousness. The recipe makes a dozen cookies large enough to share with your sweetheart.
Angus Barn Chocolate Chess Pie
"The Angus Barn Chocolate Chess Pie is timeless," said Chef Walter Royal. "It is best served room temperature, or slightly warm. To take your guests back in time, make it a la mode!"
1 unbaked pie crust
1 stick butter
2 squares baker's chocolate, semisweet
1 cup sugar
2 eggs, beaten
1 teaspoon vanilla
Dash of salt
Melt butter and chocolate, then mix with other ingredients which have been blended together. Pour into pie crust and bake for 35 minutes at 350 degrees F. Top with fresh whipped cream.
Chewy Chocolate Walnut Cookies from Chanticleer Café & Bakery
"They have a crispy outside, and a soft, fudgy, brownie-like center," said Chanticleer owner Craig Freeman. "There's a lot to love about this cookie."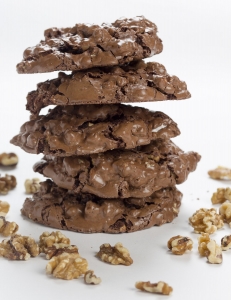 2½  cups walnut halves
3     cups powdered sugar
¾    cup cocoa powder (use Dutch-process cocoa for a darker color and a more intense flavor)
¼    teaspoon salt
4     large egg whites
1     tablespoon vanilla extract
Preheat the oven to 325 degrees F.
To toast walnuts, spread in a single layer on a baking sheet. Toast in oven for 8 to 10 minutes, or until the nuts are light brown and fragrant. Once walnuts are cool, chop coarsely.
Line two baking sheets with parchment paper.
In a large bowl, combine the powdered sugar, cocoa powder and salt; mix with a rubber spatula until thoroughly blended. Stir in chopped walnuts, and mix until they are coated with dry mixture. Add egg whites and vanilla. Mix until batter is moistened; it should be thick and goopy.
With an ice cream scoop or level 1/3 cup measure, scoop the batter onto the prepared baking sheets, about 3 inches apart. The cookies will spread considerably.
Bake at 325 degrees for 16 to 18 minutes, or until the tops become shiny and small thin cracks appear on the surface of the cookies. Let cookies cool completely before removing from the pan. Store in an airtight container for up to two days.
Note: If making smaller cookies, reduce the baking time slightly.