When Bill Wigington and his wife Karyl opened their boutique wine-and-beer shop Cellar 55 in 2016, they knew incorporating food would be a winning proposition. Laurel Bar + Food opened last fall in the back portion of the business, and locals are finding much to love about the warm, cozy dining space.
"We've been doing wine and beer tastings on Fridays and also some wine dinners, but we're really pleased that we could add a small restaurant," Bill Wigington said. "People come from Fuquay and Holly Springs, but they also drive in from Raleigh."
The Wigingtons partnered with seasoned chef Regan Stachler, known for his erstwhile farm-to-table outpost Little Hen in Apex. At Laurel, Stachler has created a Mediterranean-inspired menu that leans vegetable-forward by design.
"I had a heart attack at age 36 when I was running my former restaurant, so for my own health I started eating a Mediterranean diet," he said. "Nowadays, I'm just passing this healthy approach along to the guests."
Stachler says after he closed Little Hen, he took some time off from working in the kitchen.
Eventually Stachler started taking on some catering gigs and private dinner events. He also sold hummus and other scratch-made items at the farmer's market.
Bill Wigington approached the chef on social media and began a conversation about potentially joining forces. Ultimately, the two men forged a partnership, and Laurel came to fruition.
"The food is mostly eastern Mediterranean," Stachler explained. "We focus on cuisine from Italy, Turkey, Greece and Morocco."
A limited yet focused menu includes Stachler's hummus, garlic-cured marinated olives, and green beans with cucumbers and feta. Artisan toast options are fashioned with La Farm Bakery bread. Try the brie toast featuring wine-poached apricots and toasted walnuts or the roasted shallot spread crowned with lemon-and-dill mayo and fresh crab meat.
"It's great to have a local place where you can try different wines and enjoy healthy food options that are not your typical bar fare," said regular guest and Fuquay native Ward Proctor. "And the rotating wine wall and draft beer selections mean there is always something new to explore."
Stachler selects the wines to pair with the food himself. At any given time, 16 wines are available by the glass. Beer is also accessible on self-serve taps.
"I also offer a good selection of salads," Stachler said. "The whole idea with the cuisine is that it's very shareable. It's communal food. Just like drinking is social, we want the food to be social as well."
Saturday food specials include heartier items like Italian meatballs, lamb and beef ragu and warm prosciutto-wrapped asparagus toast.
If you just want a snack, Laurel can accommodate.
"We showcase great artisan cheeses, and it's a priority for us to pair that with beer and wine," Stachler said. His go-to purveyors are Hilltop Farms in Willow Spring and In Good Heart Farms in Pittsboro.
Whenever you visit Laurel, chances are good you will eat on a plate or serve food from a platter Stachler created himself. He enjoys making pottery, which he considers therapeutic as well as functional.
"I go to Cary Arts Center, and they have everything I need there," he said. "Monday is normally my designated pottery day. I put my earphones in and go to my own little world."
Laurel is open Thursdays from 4-8 p.m. and Fridays and Saturdays from 4-9 p.m. Reservations are not accepted, so go early to secure a table.
LAUREL BAR + FOOD
1351 East Broad Street, Fuquay-Varina
(919) 446-1156
cellar55nc.com/wine-bar
You Need a Date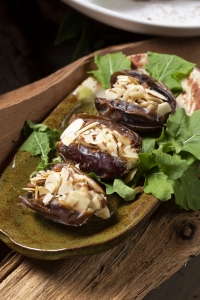 Among the tastiest menu items chef Regan Stachler creates are goat-cheese-and-almond stuffed dates. He shared his simple yet picture-perfect recipe. The key is a good-quality goat cheese, and Stachler sources his from Hillsborough Cheese Company in Orange County.
"Dates are delicious and versatile, not to mention they are very healthy," Stachler said. "I love using them in sweet and savory dishes."
Slice each date in half and remove pit.
Place 2 ounces of lightly salted goat cheese inside individual date.
Roll goat-cheese-stuffed date in sliced or chopped almonds and enjoy.