At several Western Wake eateries, dining out earlier saves you money
If you are like many people during these tough economic times, you've curtailed discretionary pleasures like dining out. No doubt most restaurants have felt the sting of having fewer patrons in the seats. The result? Restaurateurs have become savvier, offering a variety of attractive deals to lure customers.
One trend seemingly making a comeback is the "early bird special," which is offered to those who dine during off-peak hours. Another popular money-saver, the senior citizen's discount, typically involves a fixed price or certain percentage markdown.
Whether you choose to eat early or qualify for reduced-rate fare, here's the good news: You don't have to drive far to find great deals on appetizers or main courses. But don't just take our word for it. Check out these featured places for yourself.
Amici's Pasta & More
1305 NW Maynard Road, Cary
(919) 467-0004
Spaghetti and meatballs is among the made-in-house senior citizen specials offered at Amici's
Tucked away in Maynard Crossing shopping center, Amici's is a small, family-owned Italian restaurant that continues to build a loyal following. Whether it's the fresh eggplant or the hand-rolled meatballs, Amici's fresh cuisine definitely makes a lasting impression.
Senior citizens are treated especially well, as evidenced by the $4.99 special offered Monday through Saturday from 11 a.m.–4 p.m. Among the featured menu items for seniors are spaghetti and meatballs; baked ziti; soup and salad; and soup and senior sub sandwich.
Also appealing for all customers is a weekday $6.99 lunch buffet that includes assorted house-made pasta dishes, pizza, bread, salad and drink. "We make it easy for people to get in and out really fast," said Chef-Owner Trey Smith.
An additional bonus: Kids eat free every day. "The only requirement is an adult has to buy an entrée," Smith said.
K&S Cafeteria
1177 Buck Jones Road (South Hills Mall), Cary
(919) 462-8404
www.kscafeteria.com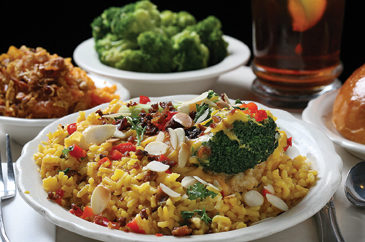 Best-selling entree San Francisco Chicken (fried chicken breast with cheese and brocolli, served over seasoned rice)
When it comes to bona fide early bird specials, you might say K&S has a corner on the market. Each weekday, this family-run business offers a main entrée, two vegetables, choice of bread and bottomless coffee or tea for $6.19 plus tax. Early bird lunch runs from 11 a.m.–12:15 p.m.; dinner is available from 4–5:15 p.m.
Among the tantalizing menu choices are baked spaghetti, hot roast beef sandwich, baked ham, country style steak, fried trout, BBQ pork and much more. "The San Francisco chicken is our most popular early bird dish," said Diane Smith, who, along with dapper husband Sylvester, has successfully operated K&S for more than 11 years.
Smith said some loyal patrons even come in twice a day. "Especially the bachelors who don't like to cook," she revealed with a laugh.
It's worth noting that early bird specials are not available on holidays. A print-friendly early bird menu is available on the K&S Web site.
Ruckus Pizza, Pasta & Spirits
8111-208 Tryon Woods Drive, Cary
(919) 851-3999
www.ruckuspizza.com
The house specialty Mama's Cannelloni teems with Angus beef and pork rolled in fresh sheets of pasta.
While pizza is the core staple at Ruckus, ambitious entrees, burgers, sandwiches, wraps and salads give diners plenty of other solid options. "Among our biggest sellers are spicy chicken alfredo and house-specialty mama's cannelloni," said Managing Partner Ryan Pilz. "Invariably, when customers try our pasta, they are really impressed."
No less impressive are the half-price appetizers offered daily from 3–5:30 p.m. and 10 p.m.–closing. What's more, senior citizens receive 10 percent off their bills anytime day or night.
Ruckus now features an easy-price option for lunch where people can order any wrap, burger or sandwich with a side item and drink for $7.77. "We're also a kid-friendly place," he added, indicating that half-price kids meals are available on Mondays and Tuesdays.
Ruckus also offers regular drink specials, such as $10 off bottles of wine on Mondays and Tuesdays. Additionally, a mobile VIP club (more details available at the restaurant) and Facebook page provide regular customers with exclusive offers.
Bentley's at Crossroads
2007 Walnut St., Cary
(919) 854-0644
www.bentleysatcrossroads.com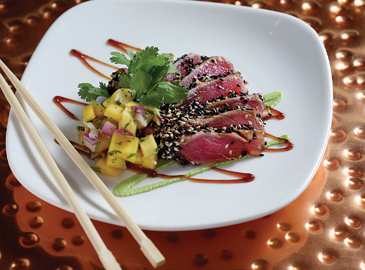 The sesame-encrusted Ahi tuna appetizer at Bentley's is served rare with mango ginger salsa, wasabi and soy dipping sauce
"We're the best-kept secret in Crossroads," proclaimed Bentley's Assistant General Manager Joshua Stack during a recent chat. Perhaps equally undisclosed is the impressive $5 appetizer special available from 4:30–7 p.m. Sunday through Friday in the restaurant's bar area. And we're not talking about potato skins and nachos.
Consider, for instance, the sesame-encrusted Ahi tuna starter served with mango ginger salsa, wasabi and soy dipping sauce. Or — get this — blackened beef brochette, which consists of tenderloin tips with Roquefort cream sauce and buttermilk mashed potatoes. Salivating yet? Six more succulent choices are just waiting to be devoured.
Everything is prepared by well-known Executive Chef Franz Propst, formerly of Apex's Peak City and Ocean Grill restaurants. Surprisingly affordable for such an upscale establishment, Bentley's specializes in aged steaks and fresh seafood.
A rewarding Sunday brunch buffet is served from 10 a.m.–3 p.m. "Just look for the giant clock tower," Stack said.

---
More Places to Score a Deal
Andy's Burgers, various locations
(10 percent senior discount anytime)
Dixie Belle's BBQ, Apex
(early bird and senior specials)
Mimis Café, Cary
(half-price appetizers Monday–Friday 4–7 p.m.; 9 p.m.–close)

The Loop Pizza Grill
(10 percent senior discount anytime)