Need evidence that downtown Cary finally has a legit nightlife scene? Look no further than SideBar, a full-fledged cocktail joint that's quickly become a popular drinking spot for locals after work, in the evenings and on weekends.
After only a few months in business, SideBar received enough votes from Cary Magazine readers to merit an Honorable Mention in the Best Cocktails Maggy Award category.
"I'm a firm believer that really great bars are part of the fabric of the community," said co-owner Matthew Bettinger, who created SideBar with his wife, Catherine Bettinger, and business partner Jeff Kinard. "We like the energy and progress that's happening in downtown Cary, and we want to be here for the long haul."
No stranger to the local hospitality scene, Bettinger was the general manager for Raleigh cocktail bar C. Grace and helped run another bar for his wife's family in the Glenwood South district.
"I'm still involved in those businesses, but for our first venture together we wanted to open our own place in a smaller, growing area," said Bettinger, who grew up in Fuquay-Varina.
Located in the Mid-Town Square building, SideBar is open six days a week and provides quality hand-crafted cocktails while fostering a sense of community for the 21-and-older crowd.
With seating for about 50 people inside and another 40 on the patio, nothing about SideBar feels contrived or over the top. Crystal light fixtures and other stylish appointments combine with cozy furniture, beckoning guests to relax and enjoy themselves. In addition, the intentional absence of any televisions provides a welcome respite from overly intrusive background noise and visual distraction.
"Great bars don't just mix drinks; they also mix people," Bettinger said. "We want to create a space where the company you keep is the company that's there. We're really into conversation and interaction, not only from staff to guest, but from guest to guest.
"We're all about having a comfortable place to hang."
When it comes to drink offerings, SideBar's menu boasts a combination of classic cocktails and nouveau concoctions, ensuring something for the traditionalist and explorer alike. Timeless standards such as the cosmopolitan and margarita can be found along with half a dozen other interesting twists on go-to favorites.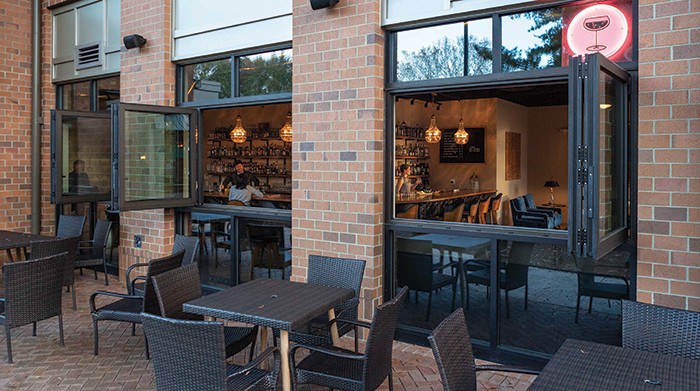 But it's the inventive signature cocktails that woo the adventurous imbibers and set SideBar's selection apart. Consider the bestselling gin-based Bruléed Greyhound with fresh grapefruit and lime, burned sugar and salt. Carolina's Gold is a blend of rice milk, demerara sugar, rum and cinnamon. The cleverly named Last Call and Quick Decisions involves a montage of scotch, bourbon, Montenegro, Drambuie and cocoa, all artfully proportioned and blended to deliver a unique expression worthy of its name.
"The world of spirits can be intimidating," said Bettinger, who spends several shifts behind the bar each week. "If someone is wary about trying a gin, bourbon or tequila, we can frame it within a solidly poured cocktail and a set of flavors they are familiar with. That gives people the opportunity to open up to a whole new realm of things they will enjoy."
The SideBar staff creates house-made syrups using fresh juices and seasonal fruit. And if patrons are feeling peckish, Pizzeria Faulisi is conveniently located next door.
"All our nearby business neighbors have been friendly and welcoming," Bettinger said.
SideBar also offers beer and wine, with a limited selection of varietals by the glass and drafts on tap. Multiple mainstays from the craft beer world are available alongside two additional rotating taps and a few bottles and cans just to shake things up.
Bettinger said he has been pleased with the response from guests so far.
"The biggest positive is that we have been able to establish the neighborhood feel from day one," he said. "We have regulars who have been coming in since the day we opened the door. For me, that's not only a sign that we're doing something right, but it makes going to work every day great."
SideBar
215 East Chatham St., Cary
(919) 588-3063 | sidebarnc.com