Since opening its doors in 2010, Bellini Fine Italian Cuisine has become the most highly favored restaurant in Fuquay-Varina.
That's not surprising, especially since everything is executed with aplomb: irresistible food, polished service and classy ambiance.
If you're wondering how this delightful, strip-mall-situated restaurant became so fine-tuned, it's all thanks to unpretentious chef/owner Abel Atauchi and his equally modest brother, Adan.
Off-menu specialty creations such as the mixed grill platter and the stuffed Branzino alla Marechiara with fresh asparagus and black mussels turn heads and delight patrons. When it comes to ambiance, white table linens provide a sense of casual elegance.
The two natives of Ecuador work long hours each day in Bellini's kitchen, churning out soul-satisfying dishes at lunch and dinnertime. Solid front-of-house management also ensures customers' expectations are met and exceeded.
On the day the Cary Magazine team showed up for a scheduled photo shoot, chef Abel was determined to pull out all the stops. He proceeded to present a cavalcade of picture-perfect appetizers, entrées and off-menu specials. Among the array of menu standouts included über-rich lobster ravioli brimming with a pink-hued vodka sauce, and house-made gnocchi bolognese incorporating mascarpone cheese, potatoes and meat sauce. A red beet salad suffused with capers and goat cheese added to the bliss.
The crowd-favorite lasagna abounding with ricotta, Parmesan and mozzarella cheeses is as luscious as you'll taste in any Italian eatery. Most pasta dishes are fashioned from scratch, a commendable effort in a day when foodservice distributors provide premade products to restaurants.
Additional selections not found on the printed bill of fare: braised lamb shank, an audacious rib eye steak and pan-seared yellow fin tuna with balsamic glaze.
"We also serve a delicious veal osso buco that's very popular," said Abel, who spent more than 20 years of his career cooking in New York.
Weekend specials are often determined by the availability of fresh fish and other proteins.
"We have a mixed grill platter with rib eye steak, lobster tail and pan-seared jumbo shrimp that's one of my favorite dishes," Abel said. "It's served with a cherry tomato sauce that adds a nice sweetness to it."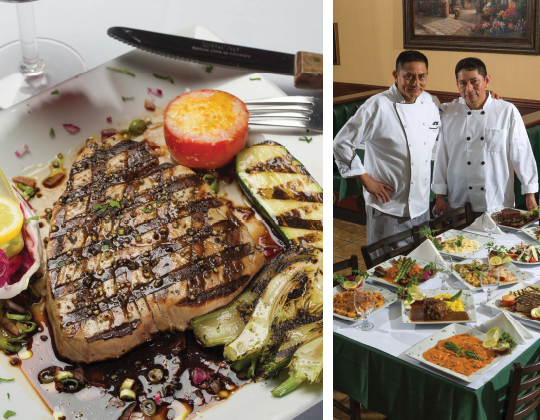 LEFT: Grilled Bluefin tuna steak is topped with black peppercorn and served alongside grilled zucchini, fennel, stuffed plum tomato and homemade balsamic vinegar glaze.
RIGHT: Chef Abel Atauchi, left, and his brother, Adan, work long and hard to provide authentic Italian provisions at their bistro-style restaurant.
Superb hand-tossed pizzas, most popular at lunchtime, are available during the evening as well. During lunch hours, pies are offered on a buy-one-get-one-free basis (toppings are extra). Also well liked during the midday meal, calzone and stromboli will satisfy the hungriest of eaters.
Be sure to save room for dessert. Among the can't-go-wrong options: apple crumb crowned with brown sugar and raisins; the house-favorite classic crème brûlée; and a decadent chocolate soufflé that's cooked to order in a convection oven and served warm. Most desserts are accompanied with a scoop of ice cream.
"We have such wonderful and supportive clientele here at Bellini," said General Manager Frank Anderson, who originally hails from New Jersey. "The locals have really embraced us, but we also have people who regularly drive in from Durham, Chapel Hill and Raleigh because they appreciate the quality and consistency of the cuisine."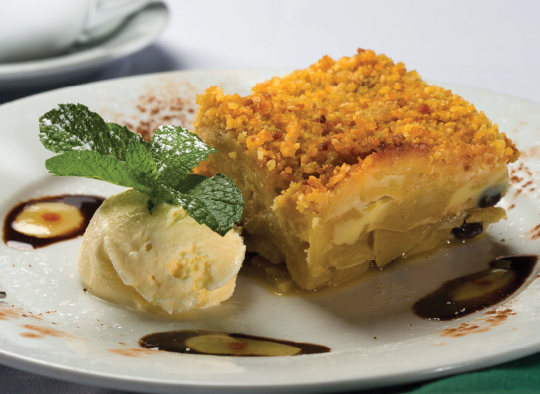 Served with a scoop of vanilla ice cream, the apple crumb dessert features warm apples soaked in Grand Marnier liqueur. It's topped with brown sugar and raisins.
Decor at Bellini is warm and inviting. Buttercream colored walls, dark wood furnishings and white table linens provide a casually elegant vibe. The main dining room is split into two equal sections, making the restaurant flexible enough to accommodate larger group events. A small, easily accessible bar is situated near the kitchen.
Impressive four-course wine dinners occur every several months and showcase chef Abel's most imaginative creations. Half-price bottles and glasses of wine are offered on Sundays. If you prefer a cocktail instead, choose from more than a dozen tempting specialty concoctions.
Bellini is open seven days a week for lunch and dinner. Reservations are accepted and are highly recommended on the weekends.
Bellini Fine Italian Cuisine
1436 N. Main St., Fuquay-Varina
Sexton Commons Shopping Center
(919) 552-0303
bellinifineitaliancuisinefuquay.com