Patriots versus Seahawks, head to head in Phoenix this Sunday.
It's a little different than State versus Carolina in our own backyard, but hey, the Superbowl is universal. And whether you watch for the passes or just the commercials, you'll need munchies.
Pulled from the Cary Magazine archives, here's a trio to get you started!
Sausage Stuffed Mushrooms
Makes 25-30 mushrooms
2 6-ounce packages button mushrooms, medium size
1 medium yellow onion
1 8-ounce package cream cheese
2 tablespoons butter or oil
1 16-ounce package ground sausage (I like Jimmy Dean Regular or Sage)
1 teaspoon salt
1 teaspoon ground black pepper
1 teaspoon minced garlic
Parmesan cheese
Clean the mushrooms with damp paper towel and remove stems. Dice onion into small pieces.
Set out cream cheese to soften to room temperature. Preheat oven to 350 degrees.
On medium heat, add butter or oil to a sauté pan and cook onions till almost caramelized. Add in ground sausage and brown till cooked.
Remove from heat and add cream cheese, salt, pepper and garlic. Stir together till mixture is creamy and ingredients are blended. Spoon mixture into mushroom caps evenly. Sprinkle tops with Parmesan cheese.
Bake for 30 to 40 minutes. Remove from oven and let sit for 5 minutes; they will be HOT! – Rebecca Reed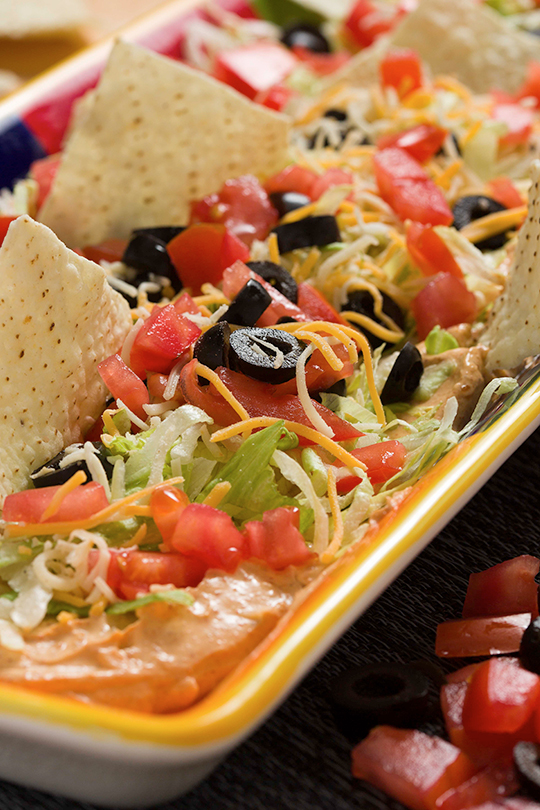 Best Taco Dip Ever
8 ounces sour cream
8 ounces cream cheese
1 packet taco seasoning
1 can refried beans, optional
Toppings: Shredded lettuce, diced tomatoes, sliced black olives, chopped onion, shredded cheese
Mix first three ingredients, and mix some more. If you want to get really crazy, you can add a layer of refried beans.
Top with shredded lettuce, diced tomatoes, sliced black olives, chopped onion and shredded cheese.
Serve with tortilla chips, then sit back and take all the kudos for the best dip at the party. – Marilu McQuilkin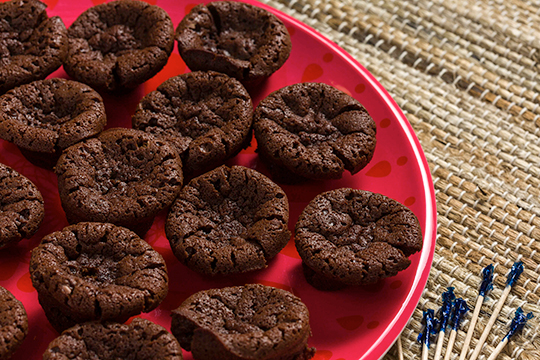 Chocolate Chili Bites
Makes about 72 mini bites
2 sticks butter
7 ounces good quality dark chocolate
1 ¼ cups sugar
5 eggs
1 rounded tablespoon all-purpose flour, or equivalent of gluten-free flour
1 ½ teaspoons ground ancho chili pepper*
Pinch of salt
Melt the butter with the chocolate in a small saucepan or in a bowl in the microwave. If melting in the microwave, be sure to do it slowly, blending with a spoon between each pass.
Transfer into a mixing bowl, add the sugar, mix with a wooden spoon and let cool a little. Add the eggs one by one, mixing well after each addition. Add the flour, the ground chili pepper and salt, and mix well.
Scoop the batter into a mini-muffin tin (use a silicone one, or butter the tin generously), and bake at 400 degrees F for 10 to 12 minutes. The top should look set, but the inside should still be soft.
Let the mini bites cool down enough to unmold them, then transfer to a rack to cool completely while you cook the other batches. Store in a plastic container, refrigerate, and take out about an hour prior to serving.
*Available at specialty spice shops, OR ¼ teaspoon cayenne pepper. You may use other chili peppers, but adjust amount depending on heat and preference. Note: Do not use chili powder. – Amber Keister
Want more recipes? Click here.