When you are through carving your jack-o-lantern, don't toss those pumpkin seeds. Once your pumpkin's sticky innards are scooped out, rinse the seeds thoroughly and roast with some oil and your favorite seasonings. The result is a tasty snack that's also good for you.
"Pumpkin seeds are an excellent source of iron and protein," said Parul Kharod, clinical dietitian at WakeMed. "A quarter cup of pumpkin seeds have about nine grams of protein and almost 14 percent of daily recommended iron. They are also rich in tryptophan, the amino acid that helps the body make serotonin, which is the feel-good neurochemical that helps you relax and unwind."
If you prefer your seeds shelled, spread the clean seeds out on a kitchen towel, and roll a rolling pin over them. Use enough force to crack the shells, but not enough to crush the seeds. Place the cracked seeds in a pan of boiling water for five minutes, or until the shells have slipped off the seeds. Remove the seeds promptly from the heat. Spread them out to cool and dry.
You can also buy the shelled seeds, or pepitas, in the nut aisle of your favorite grocery. They are a prime ingredient in this tasty, seasonal salad dressing. The Edison at the Omni Grove Park Inn serves it on their kale salad with pickled cauliflower and shaved radish.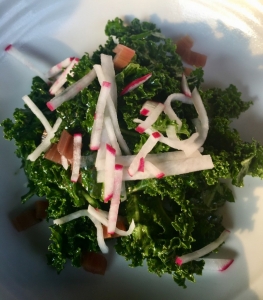 Toasted Pumpkin Seed Dressing
Courtesy of Josh Thomsen, executive chef at the Omni Grove Park Inn
2 cups cilantro leaves, lightly packed
½ cup pumpkin seeds, toasted
2 cloves roasted garlic
2 tablespoons lime juice
2 tablespoons real maple syrup
1 tablespoon brown sugar
1 teaspoon grated ginger
½ teaspoon kosher salt
½ cup grapeseed or canola oil
Place all ingredients except oil in a blender, and process until quite smooth. Remove the circle stopper in the lid of your blender. With the blender motor running, add the oil in a slow stream until all the oil is incorporated and emulsified. Use immediately or refrigerate until ready to use.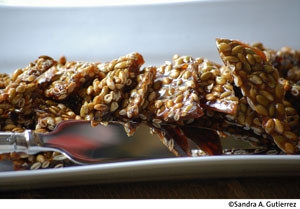 For a sweet treat, try the seeds in this traditional Guatemalan variation on peanut brittle from Cary cookbook author Sandra Gutierrez.
Pumpkin Seed Brittle
This traditional Mayan treat popular in Guatemala is sugary and crunchy with a nutty taste that will please anyone with a sweet tooth. The addition of sugar is actually a modern touch; the Mayans used only honey to sweeten it.
2 cups raw pumpkin seeds
1 3/4 cups sugar
1/4 cup honey (raw preferred)
Butter a large metal baking pan. Place the pumpkin seeds in a large skillet over medium heat; toast, stirring, until they're golden and puffy, 5–7 minutes. Remove to a plate and cool. In a medium saucepan, combine the sugar and honey and cook, stirring, over medium-high heat until the sugar melts. Reduce the heat to medium and cook, stirring for 8–9 minutes, or until it turns a dark amber color; it should register between 300 F and 310 F on a candy thermometer (or a little of the mixture dropped into iced water will turn hard as glass). Remove from the heat and stir in the seeds. Spread the mixture carefully onto the prepared pan (it will be very hot). Cool completely (about 25 minutes) and break it into pieces.
Serves 6–8
From THE NEW SOUTHERN-LATINO TABLE: RECIPES THAT BRING TOGETHER THE BOLD AND BELOVED FLAVORS OF LATIN AMERICA AND THE AMERICAN SOUTH. Copyright © 2011 by Sandra A. Gutierrez. Used by permission of the University of North Carolina Press. www.uncpress.unc.edu