Arguably the most ubiquitous food on the planet, pizza often gets relegated to pedestrian status.
Well, take this culinary staple for granted no longer. We found five local eateries going to great lengths to perfect the dough, tinker with ingredients and ultimately create gourmet pie like a fine-crafted work of art.
Maximillians Pizza Kitchen (Pictured right)
It may be the most tucked away restaurant in Cary, but this cozy spot is absolutely worth seeking out. Innovative owners Michael and Gayle Schiffer, also proprietors of flagship restaurant Maximillians Grill, are known for fashioning superlative stone-baked pizzas.
High-crowned Neapolitan-style pies leave the classic Bari pizza oven with just the right amount of char.
"There are certain laws that we follow such as not over-mixing the dough, using fresh yeast and adding honey to the crust," Michael said.
Well-regarded chef Donny Gilliam is now assisting in the proceedings, which adds strength to an already robust kitchen. "I've been cooking for 30 years, and I've known Michael and Gayle for more than 20 of those," he said.
Maximillians Pizza Kitchen is open Tuesday through Saturday for dinner only. Reservations are accepted.
Must-try specialty: Big Jeff
Named after a regular customer, baby shrimp, spicy demon pesto, arugula, prosciutto, goat cheese, mozzarella and lemon zest embolden this transcendent pie.
"The spicy cilantro pesto has a great energy and harmony about it," Michael said.
8306 Chapel Hill Road, Cary
(919) 461-3882
Bella Mia
A coal-fired oven sweltering between 750 and 900 degrees sets this first-rate operation apart from other pizza purveyors. The standard 12-inch pie, the only available size, also helps keep things authentic.
"The secret involves using the best ingredients to produce the best possible product," said proprietor Dan Morrison, a former stock trader and native of Long Island, N.Y.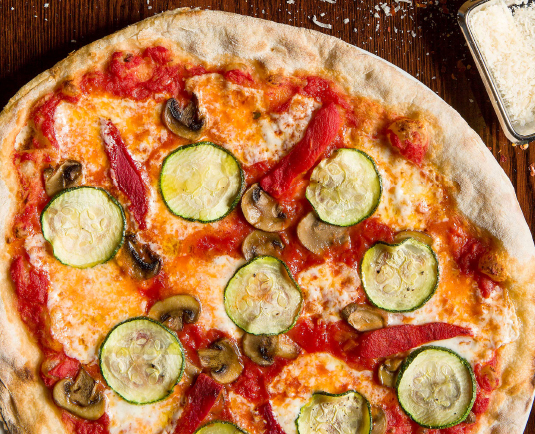 Dough and sauce are made fresh daily. Cheese is imported from Brooklyn. Virtually everything else is sourced locally.
Pies are named after well-known New York locales and cook in just four to six minutes. Each one churned out boasts a reliably crispy, delicate crust.
"The coal-fired oven gives a flavor that nobody else around here can do," Morrison said. "The taste profile of our pies is definitely unique."
Open for lunch and dinner Monday through Saturday, Bella Mia is closed on Sundays.
Must-try specialty: Union Square
This delightfully simple offering involves a tomato sauce base with fresh mozzarella, mushrooms, roasted red peppers and zucchini.
"At times it's a painstaking love to meet a farmer here at 5:30 in the morning to select vegetables, but ultimately it shows when people taste the pizza," Morrison avowed.
2025 Renaissance Park Place (The Arboretum), Cary
(919) 677-3999
bellamiacoalfiredpizza.com
Travinia Italian Kitchen & Wine Bar
"Our pizzas are like what you would find at an artisan bakery," said veteran restaurateur Ira Freedman, managing partner and general manager of Morrisville's Travinia Italian Kitchen & Wine Bar. "The primary goal is to provide consistent service and quality food to keep patrons happy."
The dough is hand-crafted and then grilled before it goes in the oven.
"This makes for a thinner crust that has a great texture," Freedman explained. "We also add lemon oil to give it a bit of citrus-y pop."
Individual-sized pies are cooked at 500 degrees for about five minutes. Pizza crust and red sauce are made fresh daily. "We use San Marzano tomatoes, which are a sweet plum variety, in our house-made sauce," said Freedman.
Travinia is open seven days a week for lunch and dinner. Complimentary valet parking is provided all day Friday and every evening. Reservations are available for parties of six or more.
Must-try specialty: Prosciutto and fig
Infused with arugula, mozzarella, black mission fig glaze and prosciutto ham, the pie achieves a nicely balanced sweet and savory interplay. "Some people are surprised to see the arugula, but it has a strong flavor that adds to the mix," Freedman said.
1301 Market Center Drive (Park West Shopping Center), Morrisville
(919) 467-1718
Mellow Mushroom
Eclectic eatery Mellow Mushroom boasts a cult-like following — and for good reason. Delectable pies are cooked in Montague pizza ovens and then served up in a laid-back atmosphere.
The restaurant's expansive interior features framed artwork and custom blown glass hanging from the ceiling. Never mind a year-round outdoor patio with seating for 100 patrons.
Mellow's pizza crust elevates its pies to near-addictive status. The secret behind the shell?
"It's small-batch made with a lot of whole-wheat grains to give it a memorable flavor," said easygoing owner and front-line manager Will Greczyn. "We also use molasses instead of refined sugar."
Mellow Mushroom is open seven days a week for lunch and dinner.
Must-try specialty: Holy Shiitake
Don't let the edgy name keep you from ordering this exceptional offering. Consider the flavorsome blend of locally obtained shiitake, button and portobello mushrooms on an olive oil and garlic base. What's more, the pie also is suffused with truffle oil, caramelized onions and MontAmore cheese.
"Fresh-cut chives go on after we pull it out of the oven," said Greczyn.
4300 NW Cary Parkway, Cary
(919) 463-7779
Amante Gourmet Pizza
"Everything here is scratch-made daily, from dough to sauces," said Indiana native Brian Bock, owner of Amante in west Cary.
Blodgett brand deck ovens are turned to 650 degrees. Pizzas cook on a screen until almost done and then rest on a stone for a crispy finish.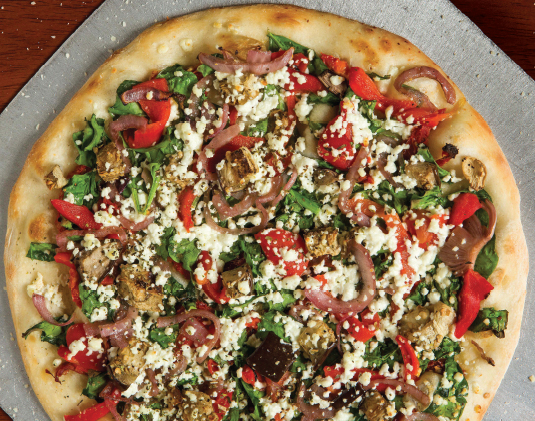 Locally sourced produce arrives fresh daily. The restaurant provides plenty of dining room and bar seating for patrons, yet the lion's share of business consists of takeout and delivery.
"We make it easy for people to choose how they want to enjoy our pizza," Bock said.
Amante is open daily for lunch and dinner. Everyday specials also are available.
Must-try specialty: Tuscany
This olive oil glazed selection comes with spinach, roasted red peppers, eggplant, caramelized onions and — best of all — goat cheese. "It's bold," said Bock, who grabbed a pizza cutter to slice the enticing pie.
10110 Green Level Church Road (Cary Park Town Center), Cary
(919) 380-8410