A tasty trek through Downtown Cary serves up unique eats
Starting from First United Methodist Church near the corner of Chatham and Academy streets, a group of 10 soon-to-be friends gathers with comfortable shoes and empty stomachs. Some participants are newcomers to the area, others are commemorating a special occasion and still more are long-term residents ready to learn about their hometown. They're about to embark on the Downtown Cary Food Tour, one of five walking tours run by Triangle Food Tour.
The experience promises an introduction to the food, drink and ambiance of several local establishments, on a casual guided tour walking from place to place. Meet the proprietors, learn town history and sample a smorgasbord of Downtown Cary's cuisine — all in about three hours.
2:00 Group introductions and a little Cary history kick things off.
2:06 Eat dessert first, of course. @Once in a Blue Moon

2:07 Eclairs with pastry crème and chocolate ganache.
2:33 Cary's historic soda fountain and lunch counter. @Ashworth Drugs

2:40 Pork, beef and veggie hot dogs washed down with Cherry Coke.
2:50 First chance to stretch the legs, heading down Chatham Street.

3:03 Tour Guide Marthe Williams, center, introduces the next stop.
3:07 Sandwiches keep coming: Reuben, Philly-style Steak and Cheese. @Dorry's Downtown Deli

3:11 Light and refreshing house-brined cucumber salad.
3:29 Samples are flowing. @Peak Olive Oil Company

3:37 Take home Basil Olive Oil or Espresso Aged Balsamic Vinegar? Tough call.
3:49 Another stroll down Chatham Street. Good, I'm stuffed already.

4:03 Chef and owner Robert Cardoso greets the tour. @Havana Grill
4:04 Authentic Cuban roasted pork, rice and beans topped with a plantain.

4:11 Tour guests attempt a nonpareil with owner Melanie Williams. @Chocolate Smiles
4:21 So that's what they are supposed to look like!

4:23 A truffle for the road … er … walk, yes please.
4:31 Light tapas in a relaxed atmosphere. @Unwine'd Wine Bar.

4:32 Pair perfectly with boutique wines.
4:45 Last stop. Potato pancakes to remember. @Klara's Restaurant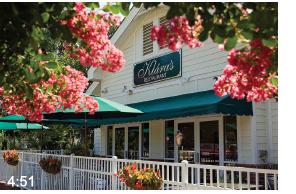 4:51 Authentic Czech cuisine. Only in Downtown Cary. (Editor's note: While the Raleigh location of Klara's is open, the Cary site has closed since this tour took place.)
Ready to Walk, Talk, Taste and Sip?
Tours take place on select Saturday afternoons and can fill up almost a month in advance. Restaurant stops vary according to availability. Visit trianglefoodtour.com for more info and to reserve a spot. Triangle Food Tour also leads excursions in Raleigh, Durham and Chapel Hill.