Sparks fly when Peter Geiger's at work … literally, as he grinds old license plates into one-of-a-kind art.
No letter, number or symbol on a license plate is safe from Geiger's snips and grinder. Every piece is recycled into details appearing on his customized metal art guitars, from hometowns and honeymoon spots to nicknames and birthdays.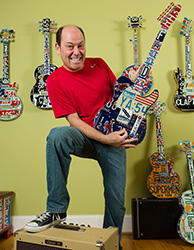 Geiger's unique works have developed a nationwide following, but even more fun, he says, are the stories they impart.
"People and their stories are what drive this art," Geiger said from his workshop in Cary. "These are pieces of a family, places lived … it's their life story in the artwork."
For example, there's the guitar made from old tractor plates, memorializing a client's father. An AC/DC piece commissioned by a fan, complete with horns. And even a baby blue Stratocaster owned by former UNC-Chapel Hill Chancellor Holden Thorp.
Among Geiger's favorites is a Telecaster hanging in the Nashville home of country star Brad Paisley, who submitted his own vanity plate to Geiger to be styled into the work.
Always an artistic and musical soul, Geiger says he "stumbled" on this now full-time career during the family's previous life on Long Island, N.Y.
"I was in the car business, so I had (license) plates," Geiger recalled. "I was playing guitar at home and my wife asked me to turn it down for the kids, so I was knocking around and looked at my guitar and thought, 'There's no art to represent guitar players.' I decided to create it."
His earliest pieces, circa 2005, were two-dimensional. Today, the art is 3D and even more colorful, like the Jimmy Buffett Margaritaville model complete with parrot, or a Johnny Cash Man in Black piece featuring Cash's photo inside the song title Ring of Fire.
Friends' interest first led Geiger to place works in former Cary gallery Imaginese, where they sold within a week. A 50-guitar order came from a California bar chain owner who happened upon the gallery while visiting Cary.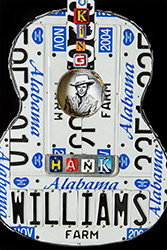 "After I made those, something just clicked," said Geiger, who will take part in six or more art shows nationwide this year, including Cary's Lazy Daze. "People would come by the booth and say, 'If you just had a Tar Heels guitar,' or some particular place. I took notes, made those for the next show, and hit it out of the park!"
Geiger's work earned national notice when he won the 2012 Design Rascal Flatts' Tour Guitar contest. Made from band members' home state license plates, his winning design was transformed into a functional guitar played onstage throughout the band's tour.
'I'm Listening'
Internet orders roll in at petergeigerart.com, as clients spin their own ideas for custom pieces on guitar styles from Gibson to Les Paul. Each signed and numbered piece takes about a week to complete.
"Any shape or style of guitar is my secret, like the request for a Gibson ES335," Geiger said. He's open to creating non-guitar forms as well, such as letters or company logos.
Along with orders, Geiger often receives license plate donations from admirers of his work; one was so impressed that he offered up his Purple Heart plate.
Using his grandfather's files and tools, set atop old IBM workbenches, Geiger attaches the snipped license plate details to guitar-shaped wooden cut-outs with screws and rivets.
"The process is just me, grinding up stuff on the wheel, with my music playing. See that face, that smile?" he asked, pointing to a plate's 8D. "I see the tag in my head and know where each piece will go.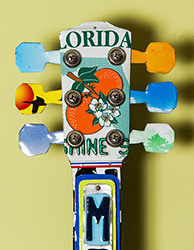 "And when it's done I have to sight it, to make sure it's all straight. When everything's 'on' to the eye, the whole piece draws you like a magnet."
The work is constantly evolving, Geiger says, and alongside the sparks of his grinder is the spark in his eyes, the sign of a man who loves what he does.
"It's unbelievable. People see it and their wheels start turning, too; they keep coming up with more ideas.
"Some artists have a problem listening to other people tell them how to create — but I'm listening. And it's all about the stories."