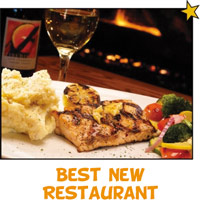 Best New Restaurant
Firebirds Wood Fired Grill
HM: City Barbeque
HM: Blackfinn Ameripub
Best Appetizers
Bonefish Grill
HM: Lucky 32 Southern Kitchen
HM: Tribeca Tavern
Best Place To Get A Cocktail
Bonefish Grill
HM: Tyler's Restaurant & Taproom
HM: Jimmy V's Steakhouse and Tavern
Best Bakery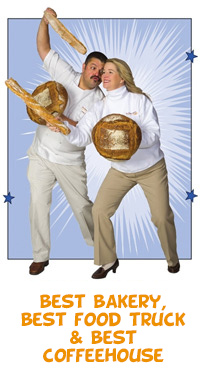 La Farm Bakery
HM: Once in a Blue Moon Bakery and Café
HM: Gigi's Cupcakes
Best Barbecue
The Pit
HM: Danny's Bar-B-Que
HM: City Barbeque
Best Breakfast
Brigs Restaurant
HM: La Farm Bakery & Café
HM: Another Broken Egg Café
Best Burger
Five Guys
HM: Tribeca Tavern
HM: Bad Daddy's Burger Bar
Best French Fries
Five Guys
HM: Bad Daddy's Burger Bar
HM: Burger Fi
Best Dessert
Goodberry's Creamery
HM: Angus Barn
HM: Once in a Blue Moon Bakery and Café
Best Special Occasion Restaurant
Angus Barn
HM: Second Empire
HM: Rey's Restaurant
Best Seafood
42nd Street Oyster Bar
HM: Bonefish Grill
HM: Dean's Seafood Grill & Bar
Best Steakhouse
Angus Barn
HM: Jimmy V's Steakhouse and Tavern
HM: Rey's Restaurant
Best Pizzeria
Mellow Mushroom
HM: Anna's Pizzeria
HM: The Original NY Pizza
Best Vegetarian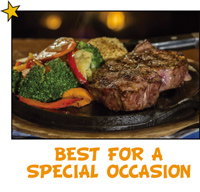 Irregardless Cafe
HM: Neomonde
HM: Greek Fiesta
Most Kid-Friendly
Chick-fil-A
HM: Mellow Mushroom
HM: Moe's Southwest Grill
Best Asian Restaurant
Sushi Thai
HM: An
HM: Red Bowl
Best Mediterranean
Neomonde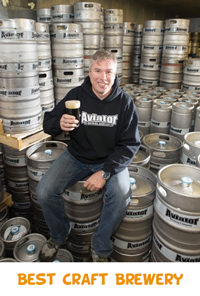 HM: Greek Fiesta
HM: Taziki's Mediterranean Café
Best Italian Restaurant
Daniel's Restaurant and Catering
HM: Bella Monica
HM: Café Luna
Best Indian Restaurant
Saffron Restaurant & Lounge
HM: Cilantro Indian Café
HM: Tangerine Café
Best Mexican/Latin American
Los Tres Magueyes
HM: La Rancherita
HM: La Cocina Restaurante Mexicano
Best Neighborhood Bar
Tyler's Restaurant & Taproom
HM: Hibernian Restaurant & Pub
HM: Ruckus Pizza, Pasta & Spirits
Best Outdoor Dining
Carolina Ale House
HM: Mellow Mushroom
HM: Café Caturra
Best Wine Selection
Angus Barn
HM: UnVine'd Wine Bar
HM: Jimmy V's Steakhouse and Tavern
Best Craft Brewery
Aviator Brewing Company
HM: Carolina Brewing Company
HM: Fortnight Brewing Company
Best Food Truck
La Farm Bread Truck
HM: The Humble Pig
HM: Chirba Chirba
Fun fact 1: Brigs began as Brigham's, but had to change its name to avoid confusion with a Massachusetts ice cream chain!
Fun fact 2: Each Brigs Restaurant serves several thousand eggs per week.
Did you know? Every Brigs owner and manager in Wake County began his Brigs career as a server, host, busser or dishwasher/prep cook!
2: Number of Cary locations, both owned and operated by Mike and Lisa Karner.
Since '06: Brigs has gobbled up the Maggy title for Best Breakfast each year since the launch of the Maggys in 2006!
Monthly specials are especially popular at Brigs, notes founder David Brigham: January's Benedict of the Month is The Three Little Pigs, made with smoked ham, country sausage and applewood smoked bacon. Also on the menu are Brigs' homemade chili and cheese omelet, and griddle special Gingerbread Pancakes.
Since 1996, Daniel's Restaurant & Catering has been serving up Italian wonders to grateful diners, who have voted the eatery Maggy winner every year since the awards began in 2006. (The restaurant also nabbed Best Caterer this year.)
Here's what Janet Perry, co-proprietor with husband Daniel, has to say:
Large menu: "Many of our entrées started as a special feature offered for a few weeks, and became so popular that we needed to add them to the menu. We have many patrons who come in for a specific dish and we hate to disappoint, so the menu has grown over the years because we have such a hard time removing anything!"
Most popular dish: Penne alla Casa, in house, for takeout and off-premise catering. A rich pink sauce made from homemade marinara and cream along with garlic, sundried tomatoes, Romano cheese and baby spinach. Optional add-ins: Sauteed shrimp, pancetta or chicken.
No. 2 dish: Tie between chicken parmesan and homemade lasagna
"Our parmesan dishes (eggplant, veal, and shrimp) are prepared in-house, hand cut, breaded and fried when ordered so they're nice and crisp," Perry said. "We top the entrées with our marinara sauce, and a healthy amount of mozzarella cheese."
Non-traditional dish: Southwest ravioli in Cajun cream sauce
Pizzelles? Not the cookies that Northeners might expect. Instead, these appetizers feature homemade dough cut into bite-size pieces and fried, topped with pepperoni, onions and jalapenos or eggplant, roasted red peppers, kalamata olives, onions and fresh basil. Add pizza sauce and mozzarella, baked so the cheese melts.
900+: Number of bottles on the wine list