Saffron Restaurant
Best Indian is a new addition in this year's Maggy Awards, and Saffron Restaurant & Lounge won handily.
Owners Ravi Bheemarao and Raj Tiwari say that is because of the restaurant's upscale ambiance, fantastic flavors and unrivaled chef. Executive chef Manohar Arya worked in several regions of India and other parts of Asia before accepting the opportunity to open Saffron in Morrisville.
"I wanted a chance to prove myself here by putting my dishes in front of people who aren't accustomed to authentic Indian food," he said.
Arya recently introduced a new menu for Saffron with the goal of adding additional variety to the traditional favorites.
"We want to incorporate all the different states in India," he said.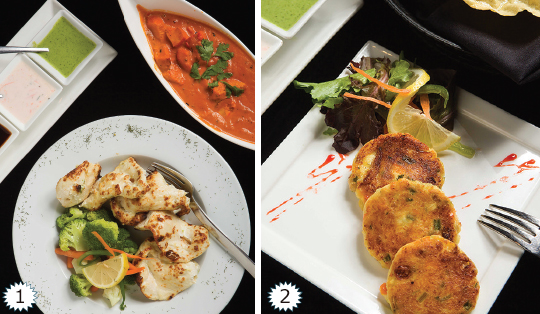 1. Murgh Malai Kebab, chicken breast kebab cooked in the tandoor oven and Chicken Tikka Masala, the most popular Indian dish served in
America, owners say.
2. The Dahi Malai Kebab, a vegetarian dish featuring kebabs made with yogurt, cheese and pimentos, is one of Saffron's signature dishes.

3. The Lucknowi Galouti Kebab, a lamb appetizer that melts in your mouth, inspired the vegetarian Dahi Malai Kebab.
4. The Nihari Lamb Shank is fall-off-the-bone tender thanks to a slow braise.