Like Santa, you'll make your list and check it twice … do your research … then shop, shop, shop.
Just remember to keep it local, because where you shop this holiday season is as important as what you buy.
"There's something great about knowing who made a product and being able to share that story," said Cary Magazine's online community manager, Mor Aframian. "Gift giving should be purposeful, so the recipient has a connection to the gift. A gift should say 'I thought of you,' and something unique or limited edition makes it even more special."
Aframian, who holds a master's degree in social entrepreneurship and economic development and is co-founder of Redress Raleigh, which encourages socially responsible purchasing, also notes the community benefits of shopping local.
"There's the community vibrancy, the place-making, of supporting someone's craft and enabling them to continue it," she said. "Their business can grow, become known elsewhere, and they can become rock stars."
Examples of these "rock stars" include Apex-based Moon and Lola, featured in Oprah's Favorite Things 2014, and Durham's White Whale Bold Mixers, a 2014 finalist in Martha Stewart's American Made contest.
A Blended Approach
One important caveat: "Shop locally" is not the same as "shop local."
The first phrase simply means shopping at stores located near your home, big box or otherwise. The latter means buying from locally-owned small businesses, and/or buying locally-produced goods.
This season, try a blended approach of online research and in-person shopping to discover new businesses or rediscover old favorites; a recent Google survey predicts 2015 as the most "connected" holiday shopping season ever when it comes to online research.
"Watch for upcoming holiday markets, and check the websites of the artists or vendors featured at them," Aframian said. "Get familiar with their products and price ranges to guide your shopping process, and follow them on Facebook to learn about their participation in holiday pop-up shops or to get 'this-just-in' product information.
"Check local downtown and chamber directories online. Then, shop in person," Aframian said.
A Few Practical Considerations
"One, start early. Inventories are limited, so if you see something you want, get it then," she said. "Two, read the website or talk to vendors about what they can and cannot do in terms of return or exchange.
"Online, watch for the order-by dates because small businesses need turnaround time to create their inventories. And at a boutique, it's OK to ask, 'Will you have more of these?' or 'Is there a sale coming soon?'"
While by no means an exhaustive list, our Starting Points will give your gift-giving a push in the local direction, to co-op markets and shopping centers home to numerous locally-owned stores, such as Waverly Place and The Shoppes at Saltbox Village in Cary.
And Cary Magazine "shops local" in each of its We Love features, which can be found online under the self-named tab at CaryMagazine.com.
Happy holiday shopping!
Starting Points
Do your gift-giving research online then "shop local" in person, across Western Wake!
Downtowns
heartofcary.org
apexdowntown.com
fuquay-varinadowntown.com
facebook.com/downtowncaryfoodandflea
Art After Dark,
fuquayvarinaartscouncil.wildapricot.org
Co-ops
caryartloop.org
carygalleryofartists.org
apexartscouncil.org
hollyspringsartscouncil.org
Southern Charm,
facebook.com/SouthernCharmGiftBoutique
Regional
thehandmademarket.com
facebook.com/TheDurhamPatchworkMiniMarket
etsy.com/local
10 Reasons to Shop Local
Protect our local character.
Locally-owned businesses sustain communities, link neighbors and contribute more to local causes.
Decisions are made by people who live here and will feel their impact.
Dollars spent in locally-owned businesses have three times the impact on our community as dollars spent at national chains.
Jobs and wages.
Support entrepreneurship.
Local stores require little infrastructure and make more efficient use of public services.
Vibrant, walkable town centers reduce sprawl, auto use, habitat loss and pollution.
A marketplace of small businesses promotes competition, ensures innovation and lower prices long-term.
Small businesses select products based on the needs of local customers.
— Apex Downtown Business Association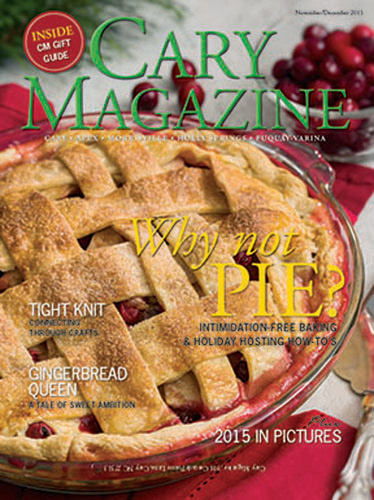 Think Small: Tips on purposeful gift-giving