February One: The Story of the Greensboro Four
February 17 @ 7:00 pm - 9:00 pm
Free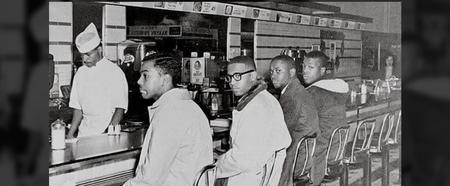 A 2003 film by Rebecca Cerese and Steven Channing, February One is told through the first-hand accounts of those citizens who experienced the four brave college freshmen protest segregation practices at a Greensboro Woolworth's in 1960. The documentary has been nationally broadcast on Independent Lens on PBS and at the Smithsonian National Museum of American History." The film is often screened for high school students.
February One has been a part of the Arts Discovery Educational Program at Carolina Theater for 18 years, and every year it sells out!
There will be a Q&A following the film with Ms. Cerese.