Dirty Logic – A Steely Dan Tribute | Kings
March 30 @ 8:00 pm - 11:30 pm
$12 – $15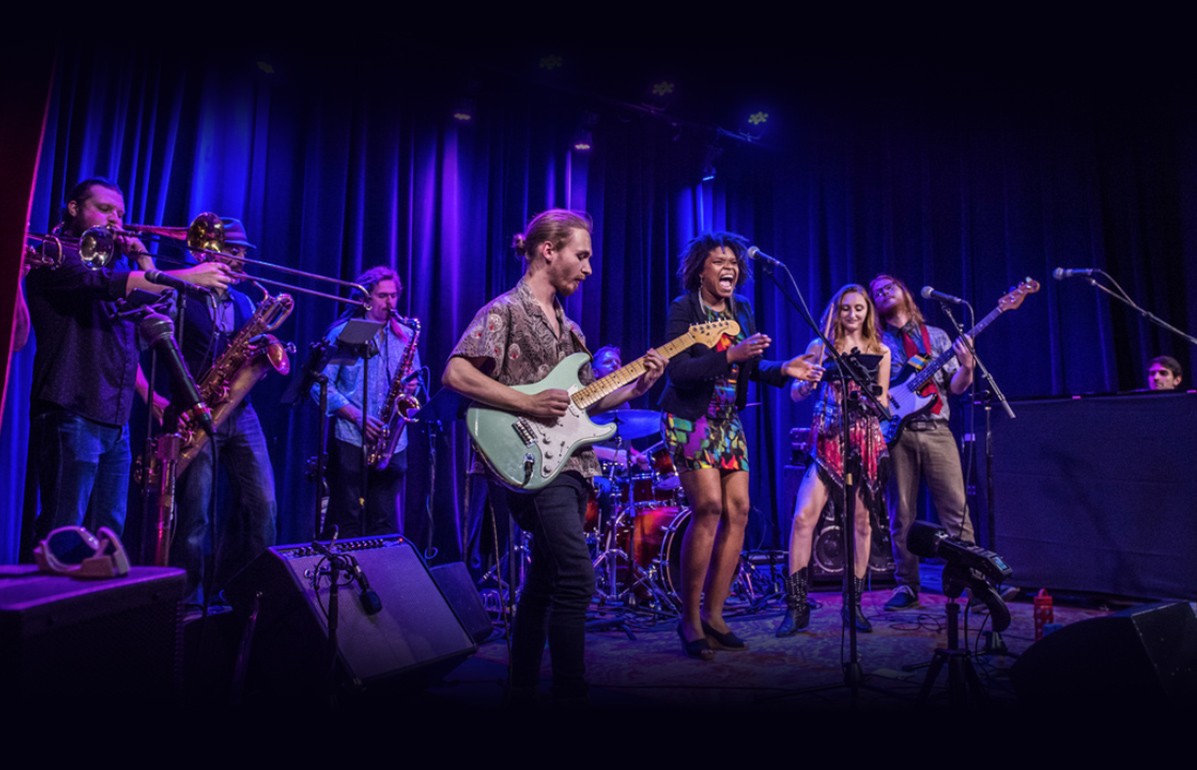 Genre: Steely Dan Tribute
Tickets: adv. $12 / dos. $15
Show: 9PM (Doors: 8PM)
Ages: 21+
Dirty Logic – Asheville Steely Dan Tribute
Comprised of an all-star line-up of some of Asheville North Carolina's best musicians, Dirty Logic started from a conversation after a gig one night. Patrick Armitage (drummer) and Jonathan Cole (saxophonist) were discussing Jesse Barry's (singer) Steely Dan tribute concept… A few of their colleagues were within earshot and immediately wanted in. Three days later, Dirty Logic had their first rehearsal where they played three tracks from Aja; Black Cow, Josie and Peg. Thus the seed was planted, and Jesse's dream was born into reality.
The band works hard to honor Steely Dan… playing their music the way that it should be played, by musicians who are masterful in their craft and share a deep love and respect for the music. With three vocalists, four horns and a full rhythm section, they deliver the experience any true Dan fan craves – THE live Steely Dan concert that you'd expect to see when Walter Becker and Donald Fagen were in their prime.
Steely Dan's live shows would often have funkier, re-harmonized arrangements of their studio tracks. Dirty Logic uses some of these arrangements, and also comes up with some of their own – delivering so much more than just simple covers of the studio tracks. So, while you can expect to hear accurate renditions of the studio recordings and solos that fans know and love, the band also incorporates improvisation providing that live moments are truly alive, and ensuring that each show is a refreshing experience. Their song book currently includes tracks from Aja, Gaucho, The Royal Scam, Pretzel Logic, Can't Buy A Thrill, Countdown to Ecstasy, Katy Lied and the FM soundtrack.
Dirty Logic's members are involved in other national and regional projects such as Yo Mama's Big Fat Booty Band, Empire Strikes Brass, Grammy Award Winning Secret Agent 23 Skidoo, The Travers Brothership, The Business, Jesse Barry and the Jam, Off With Your Radiohead, The Billy Sea, The Juan Benevides Group, Chicago Afrobeat, Mucca Pazza, James Brown Dance Party, A Family Affair, Orange Crush, Larke, Fathead, and The Legendary Tues Night House Band
…Come and see them for yourself, they do not disappoint…
MEMBERS
Josh Clark – Vocals / Bass (Travers Brothership)
Jesse Barry – Vocals (Jesse Barry and the Jam)
Debrissa McKinney – Vocals (Empire Strikes Brass, Secret Agent 23 Skidoo)
Patrick Armitage – Drums / Percussion (Formerly John Stickley Trio)
Dennis Brumback – Guitar (Ashley Heath and Her Heathens)
Alex Taub – Keys (The Business)
Jonathan Cole – Saxophones (YMBF Booty Band, Fathead, James Brown Dance Party, A Family Affair)
Kyle Snuffer – Trombone, Saxophones (Empire Strikes Brass, The Digs, Travers Brothership)
Alex Bradley – Trumpet / Flugelhorn (Empire Strikes Brass, The Digs, Travers Brothership, A Family Affair)
Jacob Wolf – Bass (The Juan Benevides Group, The Billy Sea)
Jeff Thompson – Vocals (Off With Your Radiohead, The BJ Lederman Band)
Garrick Smith – Baritone Saxophone (Chicago Afrobeat, Mucca Pazza)
Pam Jones – Vocals (LARKE, Orange Crush)
web: https://www.dirtylogic.net
vid: https://youtu.be/O9-uHR9G_bA
http://store.cdbaby.com/cd/dirtylogic3