As women, we have all developed our ideas of what is considered pretty. Oftentimes we dress up to feel pretty, meaning what we wear dictates our mood, attitude and persona. Belk's fashion maven Arlene Goldstein suggests you redefine what pretty means with her style picks for a prettier spring and summer.
Get Flirty
Flaunt your sassy style with romantic touches like feminine florals, blush tones and botanical prints.
"Flowers are the single most important motif," according to Goldstein.
Don't shy away from longer necklines, defined natural waists and dropped hemlines to showcase flirty silhouettes. Accessorize with kitten heels, botanical enamel necklaces and fashion cardigans — a necessity Goldstein dubs as the ultimate completer piece.
Be cautious and avoid color palettes that are too pale. Instead, look for soft shades like lilac and vary the saturation levels.
Become an American Beauty
Think red, white and blue. Think of classics like Breakfast at Tiffany's. Goldstein highlights country club chic with checkered prints, stripes, piping and bold gold jewelry. Sail away with maritime influences and yacht-inspired elements.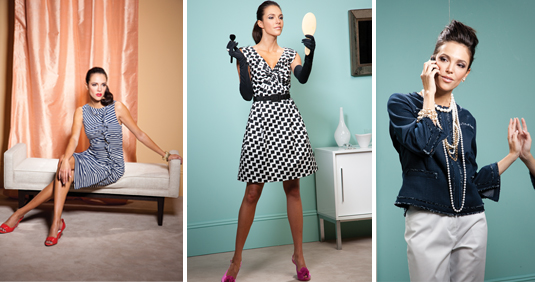 Pay attention to the wrist by stacking bangles, reinventing chains and reworking pearls, Goldstein suggests. Arm candy is the name of the game this season.
Let your toes be free with strappy sandals and espadrilles, while statement belts and Chanel jackets add the finishing touches to any American Beauty.
Take an Urban Adventure
Tough meets tender with this new slant on neutrals. Textiles like crochet, cork and burnished leather punctuate this style with attitude. Eclectic mixes with ethnic patterns, animal prints and classic camo create a cultural collage, Goldstein says.
From military to safari, let these design styles inspire you to mix pieces and take a walk on the wild side with new pocket treatments, distressed denim and heavy metal jewelry. Utility chic is the name of the game when dressing for your everyday urban adventure.
Remember to shop wisely this season and invest in pretty items that will give you mileage out of your wardrobe.
Goldstein said, "I want items that work as hard as I do."
Where to Shop
4325 Glenwood Ave., Raleigh
Additional Triangle locations