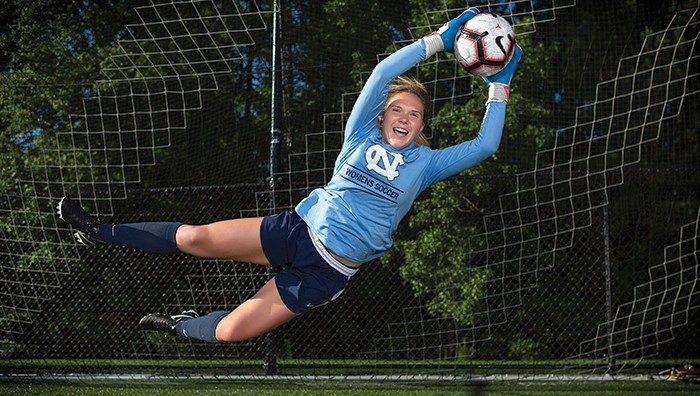 Marz Josephson
Written by Eric Frederick
Don't even try to find the mold for Marz Josephson.
She's an elite athlete with scarce time for class who still excels in academics, a driven achiever who tackles multiple challenges but finds time to give back, and a born leader who loves to serve.
In her 18 years, Josephson, who lives in Apex, has become a soccer phenom while excelling in school, earning a black belt in Taekwondo (while in kindergarten), competing in basketball and track, and helping younger kids as a coach, referee and mentor.
Since her sophomore year in high school, Josephson, a goalkeeper, has been part of the NC Courage Academy, a developmental group of young players who train with the Cary-based Courage professional team in the National Women's Soccer League. And she has left her mark there.
"She's had a massive impact on the culture we've been trying to create," said Nathan Thackeray, goalkeeper coach for the Courage and the academy. "She has set a bar, by staying around and helping, stepping in to coach, doing fundraiser work."
Josephson says she started playing "bumblebee soccer, where all you do is chase the ball" when she was 4 in Ohio. After moving to the Triangle, she made her goalie debut at 9.
"Our coach asked for volunteers," she recalled. "No one had ever played goal, and I was like, 'Sure, I'll do it.' I only played for a half, and I let in eight goals. I was awful. But I remember coming off and thinking, 'That was fun. I want to be better at that.'"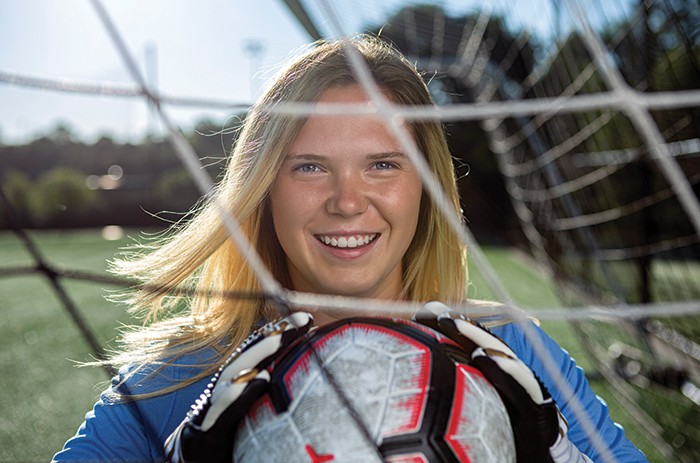 And she was — through several seasons in the Capital Area Soccer League and the Triangle Futbol Club. She made the Elite Clubs National League, a developmental program for some of the country's best players, and the U15 and U17 national teams, which competed against older girls and some boys teams. "Usually we did pretty well," she said.
Then there was the Courage Academy — and training with professionals. At first, that was a bit intimidating.
"I had just turned 16, and all of a sudden they just throw me in the shooting goal," she recalled. "I'd go to move for a ball, and I'd look back, and it's already in the net. And I was like, 'Oh, man, this is a problem.'
"But all the girls were so welcoming, and it really showed me what it takes to be at that level."
Academic goals
Josephson tackles challenges off the pitch, too. She started high school at Apex Friendship, where she put up a stat right out of Ripley's — as a freshman captain of the Patriots varsity team, she led the new school's first team in both saves and goals. But her many sporting ventures hindered her class attendance.
She applied to Crossroads Flex, which opened in 2016 as a flexible-schedule high school, allowing online study for students with demanding pursuits, such as high-level sports and the arts. Josephson graduated from there in January, after also taking college-level courses from Wake Tech.
And although she'll enroll at UNC-Chapel Hill this fall with a scholarship in the Tar Heels' legendary women's soccer program, she is most proud that she won acceptance at UNC academically. Math and arts are her favorite subjects.
Nartarshia Sharpe, dean of students at Crossroads Flex, calls Josephson a "quiet and reserved" student who leads by example.
But when she puts on her goalie gloves (always the right one first) and shin pads (starting with the left), runs out and taps the crossbar and each post, and turns to face the pitch, that changes, Sharpe says.
"The Marz on the field is a 180 from the Marz in the building," she said. "She's constantly calling out, directing, guiding … letting her teammates know what to do." And frustrating her opponents.
'Thinking of others'
Josephson lives with her mother, Jamie, and father, David; and her brothers Alan, 15, and Connor, 13. It's a close family, but not without super-competitive sibling rivalries. (A temporary ban on board games is sometimes necessary, Josephson says.)
In her spare time, she volunteers to mentor younger players, enjoys sushi, binges "Friends" on Netflix, dabbles in string art and pencil portraits, and listens to country music — especially Thomas Rhett. And she pays forward her good fortune.
"She's a member of the National Honor Society, and we did a Christmas drive where we adopted four families from the elementary school down the street" last year, Sharpe said. "Marz had been working as a soccer ref, and she picked up a few extra hours and took the money and bought four box loads of items to donate to the families.
"She's always thinking of others."
At UNC, Josephson wants to major in exercise science and also study art, coaching and sports psychology, pursuing her interest in the mental side of competition. She'll also be an apprentice coach at the Courage Academy.
After graduation, she'd like to play professionally, here and in Europe. "Then I want to coach," she said, "and give back to the sport that has given me so much."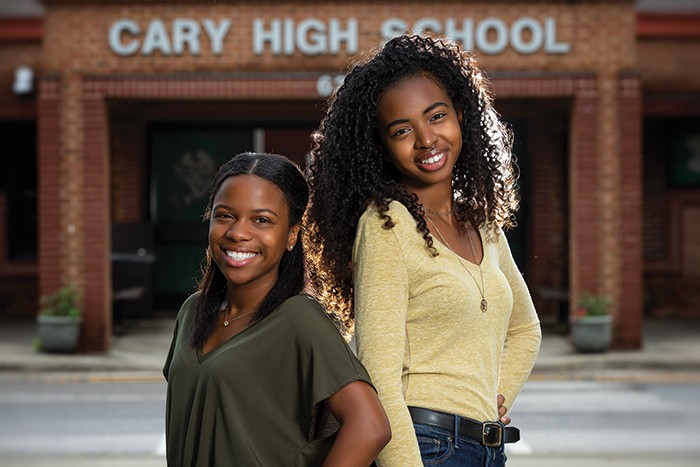 Kandace Moore & Sara Omer
Written by Marine Elia
In December of their senior year, Cary High School students Kandace Moore and Sara Omer fervently refreshed their inboxes waiting for the email.
Would they be chosen as winners of the QuestBridge National College Match, a competitive scholarship that offers high-achieving, low-income students full tuition to the nation's most selective colleges?
Moore, 17, was driving to work as a Starbucks barista when she discovered that she would be attending the University of Virginia for free. Moore was in the car with her sister who read the email out loud.
"I was still driving so I was excited, but I couldn't get too excited because I still had to focus on the road," Moore said. "But the entire time I was at work I was smiling ear to ear."
Both Moore and Omer developed wise time-management skills working 15-25 hours a week after long days packed with Advanced Placement classes. Maintaining high GPAs while balancing various extracurriculars taught them a strong sense of autonomy.
"My parents really wanted me and my siblings to be independent and work to earn our own money; independence is something that I value," said Omer, who will use her scholarship to attend Amherst College.
Omer, 17, whose older sister is also a QuestBridge winner, immigrated to North Carolina from Qatar in 2016. Feeling self-conscious about being the new kid from a foreign country, she struggled with finding the confidence to accept her individuality. Omer recalls one lunch during her sophomore year when she didn't eat her molokhia, a traditional Sudanese dish, until she went home, fearing the reactions of her classmates.
"Although people were really welcoming, it was more of an internal thing of myself not feeling like I fit in," Omer said. "There were culture shocks, I had a bit of an accent as well. But seeing other people at school of other races and ethnicities embrace their culture made me think, 'Oh why shouldn't I embrace mine as well?'"
After immersing herself in the student culture, she quickly shed her shyness. Being a member of student council helped to develop her voice as an elected student representative.
"Before I would be nervous to talk to people I didn't know, but now I can strike up a conversation, and it's something that I'm proud of myself for," Omer said.
For Moore, high school was when she discovered she could help others. During her senior year, she joined the environmental club and worked to organize a screening of the short film "Straws" at Cary High to teach others how to reduce plastic usage. She plans to continue raising awareness of environmental issues at UVA.
"I'm excited to join more college clubs, because they're better equipped for helping people," Moore said. "You have the ability to make a bigger impact."
Both Moore and Omer wish to pursue careers in science.
Moore plans on combining her interests and majoring in neuroscience and minoring in environmental policy. She recalled watching "Gifted Hands: The Ben Carson Story" in her psychology class and her fascination with the surgery the neurosurgeon performed on conjoined twins.
"It later snowballed into me wanting to learn more about the brain and getting books to read about the brain and how to works," Moore said.
She began researching neuroscience and added classes such as anatomy, biomedical technology and health science to her schedule.
Compounded with an interest in science since childhood, Omer's AP biology class solidified her plans to major in biology. She also envisions studying a social science, as she enjoys discussing politics with others.
"Ever since I was younger, I had a fascination with how the body works and how we started as beings," she said.
Both students reflected on their achievements and hard work which earned them the scholarships.
After overcoming the difficulties of entering a new school in another country, Omer sees herself as an example for others.
"As an immigrant, being a QuestBridge winner is quite the honor," she said. "I'm essentially representing immigrants and showing people what can be accomplished as one."
Being raised by a single mother, Moore believes the scholarship sums up all her successes during high school.
"The QuestBridge scholarship means I'm capable of beating the odds and achieving my goals."