It may not be a magic potion, but olive oil certainly has amazing properties.
High in monounsaturated fats, olive oil is believed to help lower the risk of developing heart disease. Common in all olive oils, these fats have been found to reduce total cholesterol and LDL, the bad cholesterol. Studies have also linked olive oil to reduced risk of stroke and diabetes.
All olive oils contain these healthy fats, says registered dietitian Maria Kennedy of Cary, and you don't need much to get their benefits. A simple substitution is an easy way to eat better.
"The key is to choose healthy oils, such as olive oil, in place of less healthy fats such as butter or margarine," she said.
A harder task is choosing among all the different olive oils available to consumers. From single-source imports to supermarket mainstays, which are the best?
Since February is Heart Health Month, it's a good time to explore this slippery topic.
Read the label
When choosing among various olive oils, experts say to first consider the grade of oil and how it will be used.
Extra virgin oil, considered the highest grade olive oil, comes from the first pressing of the olives. It usually has the "fruitiest" flavor and is lowest in acidity, says Kennedy. Virgin olive oil comes from slightly riper olives and has a lighter flavor. Plain or pure olive oil is a blend of refined olive oils with some virgin or extra virgin added in to improve flavor.
"Many high-volume suppliers blend different extra virgin olive oils to achieve a consistent flavor at a competitive price point," said Eryn Balch, executive vice president of the North American Olive Oil Association.
"What is better depends on the job and the value to the consumer," she continued. "Very complex flavors such as those in single-estate or variety-specific offerings may not be noticeable in strong-flavored dishes or when used in roasting or pan-frying."
For cooking, a better choice might be plain or light olive oil, which despite its name doesn't have fewer calories than other olive oils. These refined oils have a higher smoke point, which makes them suitable for grilling, sautéing or frying.
Balch and Kennedy suggest using those top quality olive oils to finish a cooked dish or drizzle on a salad.
"I would choose an extra virgin olive oil that I found to meet my taste preferences to put on foods ready to consume, so that no heat will be added," said Kennedy. "This prevents degrading the delicate flavor and healthful properties of the extra virgin olive oil."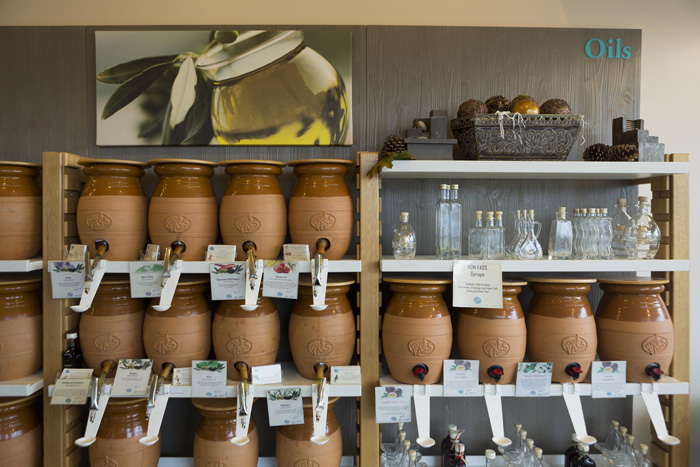 Tasters' choice
When choosing among the single-source extra virgin oils, consumers should be aware that taste can vary wildly.
"Extra virgin olive oil is like wine," said Balch. "There are many different flavor profiles based on the olive variety, where they're grown, time of harvest and the final blend. Flavor profiles can be delicate and fruity, robust and peppery, and everything in between."
Several local retailers champion these differences and encourage consumers to find an oil that suits their tastes.
Raleigh's Flying Olive Farms imports Vrisi 36 olive oil from Greece, supplying area Whole Foods Markets, Taverna Agora, and other specialty retailers.
"There's so many olive oils on the shelf. A lot of them, when you flip the label around, come from one, two, three, four, five different countries," said Pam Skea, Flying Olive managing director. "There's no need for them to come from five different countries.
"If you keep it within the region, the natural resources of the environment will produce the flavor for you."
At Cary retailers VomFass and Peak Olive Oil Company, customers are encouraged to explore the different regional flavors by tasting the oils before they buy.
Premium olive oils also tend to have shorter supply chains, resulting in fresher olive oils on the shelves.
"Our producers use only the oil from the first olive crush," said VomFass owner Julie Ginsler. The oil is then carefully packaged to keep out air and light. "The special care taken in producing and packaging VomFass oils ensures they are the very highest in antioxidants."
Despite all the good properties of olive oil, even its staunchest fans say eating right and maintaining a healthy weight are just as important.
"Olive oil is just one part of the Mediterranean Diet," said Ginsler. "Stay away from processed food; eat more fruits and vegetables. You can't just change one part of your diet. It's a whole way of eating."
One-Pot Greek Lemon Chicken with Potatoes, Mushrooms & Peas
Courtesy of Diane Kochilas and Vrisi 36 Flying Olive Farms
Serves 4
12 small new potatoes, skin on, halved
Salt
6 tablespoons extra virgin olive oil, plus more for garnish
4 boneless, skinless chicken breasts
1 small red onion, finely chopped
2 cloves garlic, finely chopped
1 cup sliced button mushrooms
1½ cups peas, either frozen and defrosted or fresh and shelled
1 lemon, rind on, cut into 6 thin rounds
½ cup dry white wine
1 tablespoon balsamic vinegar
2 tablespoons fresh-squeezed lemon juice
1 tablespoon honey
4 tablespoons snipped fresh dill
3 to 4 tablespoons crumbled feta cheese, (optional)
Bring the potatoes to a boil in a medium saucepan with ample salted water. Boil for 6 minutes, remove and drain well.
Heat half the olive oil in a large, deep, heavy skillet or wide, shallow pot over medium-high and sauté the chicken breasts until browned, turning to color on both sides. Remove with kitchen tongs and set aside, covered, to keep warm.
Add the onion and garlic and sauté until softened and translucent, about 6 minutes over medium heat. Add the mushrooms and stir for a minute or two to soften.
Place the chicken breasts back in the pan. Add the potatoes, peas and lemon slices. Pour in the white wine. In separate bowl, whisk together the balsamic, lemon juice, honey and a half cup of water. When the wine steams up, add the lemon-honey mixture. Season to taste with salt and pepper and simmer, covered, over low heat, for about 20 minutes, or until the chicken breasts and vegetables are tender. Just before serving, drizzle with remaining olive oil and sprinkle in the dill.
Optional: You can sprinkle in a few tablespoons of crumbled feta, just before removing from heat.
Lentil Soup with Kale and Chile Pepper
Courtesy of Diane Kochilas and Vrisi 36 Flying Olive Farms
Serves 6
1/3 cup extra virgin olive oil, plus more for drizzling
1 large red onion, finely chopped
2 garlic cloves, finely chopped
1 pound small brown or green lentils, rinsed and drained
2 bay leaves
1 dried chile pepper (optional)
1½ cups canned chopped tomatoes
3 cups water or vegetable stock
Salt and pepper to taste
3 cups trimmed, chopped fresh kale
2 to 3 tablespoons balsamic vinegar
Heat the olive oil in a large pot over medium flame and wilt the onions, stirring occasionally, about 7 to 8 minutes. Add the garlic and stir for a minute until soft. Add the lentils and stir to coat in the olive oil.
Add the bay leaves, chile pepper, if using, and tomatoes. Pour in the water or stock. Bring to a boil over medium heat and reduce to a simmer. Add additional water or stock if necessary for there to be enough liquid to cover the lentils by 2 inches. Simmer, covered, for 45 to 50 minutes, or until the lentils are softened but al dente.
Stir in the chopped kale and season to taste with salt and pepper. Add more water if necessary. Simmer the soup another 10 minutes or so, until the kale is tender. Stir in the balsamic and adjust seasoning to taste.
Serve in individual bowls and drizzle a tablespoon of olive oil into each serving.