2018 Dreamfest: Living the Dream
January 13 @ 9:00 am - 12:00 pm
Free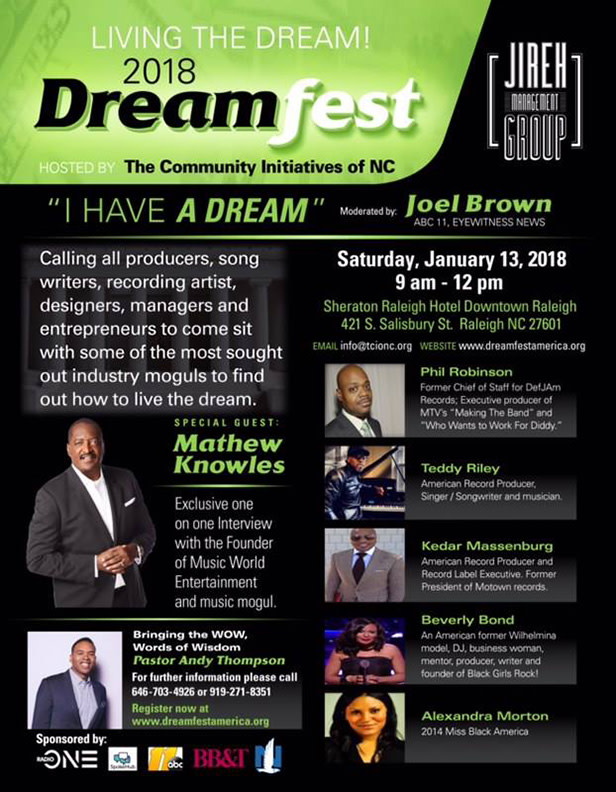 Join us for the 3rd Annual Dreamfest Conference: Living The Dream; Celebrating the life, legacies and lessons of America's most iconic and influential civil rights leader, the late Martin Luther King Jr.. A man who dared to dream in the midst of controversies, obstacles, and personal struggles.
The 2018 Dreamfest Conference – "Living The Dream" is scheduled to be held on Saturday, January 13, 2018 at the Sheraton Raleigh Hotel located in downtown Raleigh.
Science says that 92 percent of people don't achieve their goals. We believe that our panelist can attest and share on how the other 8% of people do achieve their goals. Research also shows that 9 out of 10 people never live their dreams. Actually, 9 out of 10 people don't even remember their dreams. They only know the facts, and the facts are that escaping the 9-5 treadmill is on everybody's mind but only a few are actually taking action. Why is this? Our panelists will be able to help break the mindset of these people and help motivate them into action.
Panelists to include:
1.) Mathew Knowles: Founder, President and CEO of Music World Entertainment; Father to Beyoncé and Solange Knowles.
2.) Phil Robinson: former Chief of Staff for DefJam Records; Executive producer of MTV's "Making The Band" and "Who Wants to Work for Diddy"
3.) Kedar Massenberg: American Record Producer and Record Label Executive. Former President of Motown records.
4.) Teddy Riley: American Record Producer, Singer / Songwriter and musician.
5.) Beverly Bond: An American former Wilhelmina model, DJ, business woman, mentor, producer, writer and founder of Black Girls Rock
6.) Alexandra Morton: 2014 Miss Black America